Discussion Starter
·
#1
·
Women's Tennis Federation
WTF: Open Gaz de France - Draws + Results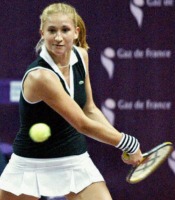 Welcome to the the first event of the re-started WTF Tour! The past few weeks WTF has been recruiting the best players around and now the tour is ready to broadcast the best across the world. Some of the players that will be in this event include Daniela Hantuchova, Shuai Peng and of course Serena Williams! With everyone starting from scratch were are sure to see the bright stars light up in the first tournament.​
Who will win this tournament? Only time will tell​
In this section of this thread you will be find out what your draw is for singles as well as how many points you earn for reaching a round and anyother things you need to know at a tournament such as a schedule.​
The draw was done randomly however the seedings were done by the order in which you signed up for the tournament since we have no past rankings. As well the placement of the seeds was taken from the real Open Gaz de France draw:
Monday February 7th, 2005:
Players arrive to tournament.
Tuesday February 8th, 2005:
Player Party
Wednesday February 9th, 2005:
Points are due
Thursday February 10th, 2005:
1st Round in Progress
Friday February 11th, 2005:
Quarter Finals in Progress
Saturday February 12th, 2005:
Semi-Finals in Progress
Sunday February 13th, 2005:
Finals in Progress​