Hingis Escapes Upset

Top Seed Escapes in Tight Three-Setter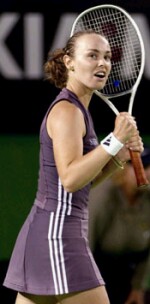 World number two and number one seed Martina Hingis overcame sloppy play and sluggish footwork to defeat number three seed Anastasia Myskina 7-6 (0) 5-7 6-4, to advance to the final of the La Isla Bonita Cup. "It was a weird match, you know," commented Hingis, "I mean, I don't think I should have made it that close in the second, and I don't think she should have made it that close in the third."

The match started off looking very routine for Hingis. She took a 4-0 lead, before Myskina came storming back. The Russian reeled off of five straight games, and held set point. Hingis saved the set point by firing a powerful return of serve down the line for a winner. In the tiebreak, Hingis kept her cool, and calmly closed out the first set. "You know, I figured she'd just tank at that point, so I really was taken off guard," said Hingis.

But Myskina didn't tank. She raced out to a 5-2 lead in the second set, before Hingis stepped up her game. Then at 5-5 in the second set, a disputed line call gave Myskina the break, and she promptly served out the second set. It was starting to look like an upset was in progress on Court 1.

Hingis came on court in the third set with a new attitude and totally on her game. Hingis overpowered, out-ran, and out-thought Myskina, and captured a 5-0 lead in the final set. But just as quickly as Hingis gained the momentum, she lost it. On her first match point, Hingis hit what she thought was a winner, but yet another disputed call gave Myskina the game. Myskina saved four match points, bringing the set back on serve at 5-4, when Hingis finally made good on her fifth chance, with a winner down the line after the longest rally of the match. "That last point was really, really big," said Hingis, "I'm really not sure what would have happened if I lost that one." "I just didn't play my best today for very long periods of time. But you know, I still won. And if I can win against another good player when I'm not playing well, then I mean, I'm good," continued Hingis, "I mean, she obviously played the match of her life."

Myskina promptly exited the court after her defeat.

​