Well i was trying to find a particular picture of Martina and it wasn't until i looked through pages of Google Images of her that i realised, there have been so any memorable moments from her career. A few are offered below - enjoy!
A very young Martina. She had people talking about her potential at a young age. Won French Open juniors at 12 years of age!
Posing with a fellow elite athlete.
In the arms of a Union Kiwi player - i think.
Martina during a trial giving evidence to put a stalker behind bars - rumours surfaced afterwards that she was dating her lawyer.
Martina with her doll.
During her visit to Columbia - one of many visits to underdeveloped countries.
With her Porsche after winning Filderstadt - she won one of these at 15 and had to wait a few years before she had a licence.
Her first singles Slam at 16 years of age. A couple of months later, she went on to become the youngest #1 in the Open era.
With her mother the fro Mel - Molitor had a grand plan for Martina from day 1.
A massive fan following - a piece of art one did commemorating her Wimbledon win in 1997.
A fan with her body double at Madame Tussauts.
The beloved Spice Girls of women's doubles! If both hadn't retired, they could have done incredible things together... on the court that is!
The Spice Girls at a watch launch.
Cute photo i thought.
After winning her 3rd Australian Open in a row.
The disappointment of the 1999 French Open final! :sad:
With a vacuum cleaner on court... hmmmmm.
Hingis and Federer win the Hopman Cup for Switzerland - 2 great champions. :worship:
One of the more glamorous shots.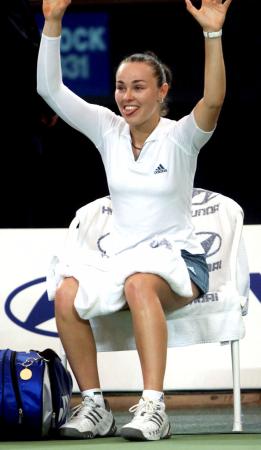 She sported a 1 long sleeve, 1 short sleeve muscle hugging top for most of 2001.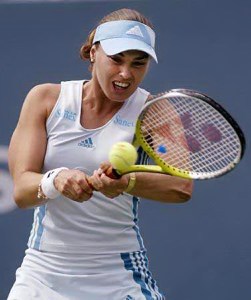 I love her backhand action shots - this one is actually on my desktop at work.
A photo shoot at her house - i think this took place when she was retired.
She certainly has sported some 'interesting' ensembles in her time. Love them or hate them, i'm sure they're expensive!
She certainly isn't camera shy.
Her mailbox apparently - lol!
A mixed doubles title at her first Grand Slam of her comeback.
One of the many shots during her comeback.
Love her or hate her - Martina has been an icon in women's tennis for a number of years. It's great to have her back and i thought maybe some other posters might like to take a trip down Hingis memory lane - enjoy!