The Stars of the WSC Tour have endured the strenuous Australian hard court season for a shot at the first grand slam of the season, The Australlian Open. With loads of points, pride, and opportunity on the table who will thrive? Only time and the tennis williams tell.
Favorites
.
.
.
.
.
.
.
.
.
.
.
.
.
.
.
.
.
.
Venus Williams
After winning the first tour event in Auckland Venus has been on cruise control. The intensity, power, and athleticism she brought to the tour during the first few weeks has slightly diminished in quality;however, that does not mean you should count her out.
.
.
.
.
.
.
.
.
.
.
.
.
.
Marion Bartoli
When healthy and in decent form Marion Bartoli is a complete beauty to watch, she showed that last week in her Brisbane win. To make up for her lack of footwork and movement, she combines the right amount of power, angle, and depth to put all opponents in a defensive position. She is very dangerous and hot at the moment. How far will she go?
.
.
.
.
.
.
.
.
.
.
.
.
.
Maria Sharapova
If you count the SV_Fan Cup, Maria Sharapova is the only woman to have won two titles this season. She has been exteremely consistent and placed well in all her preceding tournaments. No wonder she is the bookies favorite for the title. Maria does have her weaknesses though and she can always come up against a Bartoli or Venus who will give her a hard time.
.
.
.
.
.
.
.
.
.
.
.
.
.
Mashona Washington
The clean hitting Mashona washington has been one of the best non-title winners on the circuit so far. She has been making consistent quarter finals and semi finals to help maintain her top 5 position. She has the game to win the Australian but her attitude can either make her or break her.
Dark Horses
.
.
.
.
.
.
.
.
.
.
.
.
.
.
.
.
.
.
.
.
.
Serena Williams: She showed last week she has the game to step out of Venus' shadow and make her mark on the tour.
Victoria Azarenka: She has sorta disappeared after making the SV_Fan Cup finals, she has the game to beat the top players, but she too inconsistent. Will she hit a gold streak here?
Bethanie Mattek: In her first tour event in Sydney, she ran all the way to the finals and demolishing Maria in the first set before choking away the match she should have won.
My Pick For the Title
.
.
.
.
.
.
.
.
.
.
.
.
.
.
.
.
.
.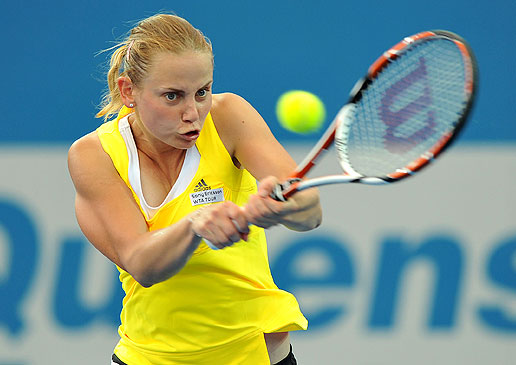 Jelena Dokic has some serious game she is a big hitter who can expose anyone on a good day, as she showed last week. Her movement and serve a good enough to where she can go far. She gave away 5-2 and 5-1 leads in her semi-final against Serena. Another reason she should be favorited for the title, the crowd. She made it to the semis off her big game and the huge support from the crowd. With the confidence she gained from Brisbane, and the huge crowd support she'll will no doubt recieve, she has the recipe for a championship she just has to make it.​