Welcome To Auckland New, Zealand
The stars are arriving from afar to participate in the first tour event of the Season. Congratualations to Maria Sharapova for winning the SV_Fan Cup last week. Who will win this week? Bucket loads of rankings points and money are on the table. Who will take the first cut?
Favorites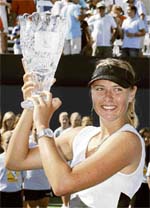 Maria Sharapova would be the favorite for this title after winning last weeks SV_Fan Cup Exhibition. She plays a high risk style of play similar to her training partner Victoria Azarenka. Being the Number 1 Seed her road should be bump free if she displays last weeks form.
Victoria Azarenka will also be a strong contender at this weeks ASB Classic, after making it all the way to the finals last week she should be riding high on confidence knowing she can beat alot of the players. Being the number 2 seed, her road should be fairly easy.
Underdogs
Venus Williams is a fairly consistent player. She would is also one of the most dangerous. She plays a bigger game than both Azarenka and Sharapova however, the mental stability isnt there, but no one wants to see Venus in her side of the draw.
Justine Henin is one of the biggest fighters. Many times last week she came back from the brink to have strong victories. She has so much heart, and give her everything. But will that be enough to go far at this weeks event?
Rebound Ace Points
Venus Williams - 160
Svetlana Kuznetsova - 180
Serena Williams - 190
Aleksandra Wozniak - 170
Nicole Vaidisova - 170
Mashona Washington - 190
Dinara Safina - 170
Martina Hingis - 200
Victoria Azarenka - 160
Maria Sharapova - 200
Justine Henin - 190
Caroline Wozniacki - 180
Maria Kirilenko - 170
Michelle Larcher De Brito - 170
If your name is not on this list then you do you have any surface prefrences
Please copy and paste into the following and send to SV_Fan
Serve:
Return:
Forehand CC:
Backhand CC:
Speed:
Footwork:
Volley:
Lob:
Mental:
Power:
Touch:
Forehand DL:
Backhand DL:
POINTS DUE BY MONDAY May 11th

Have Points From
-Calliope-
Graceful Venus
MarcoTennis
Manutoo
Karat0589
Shafanovic​