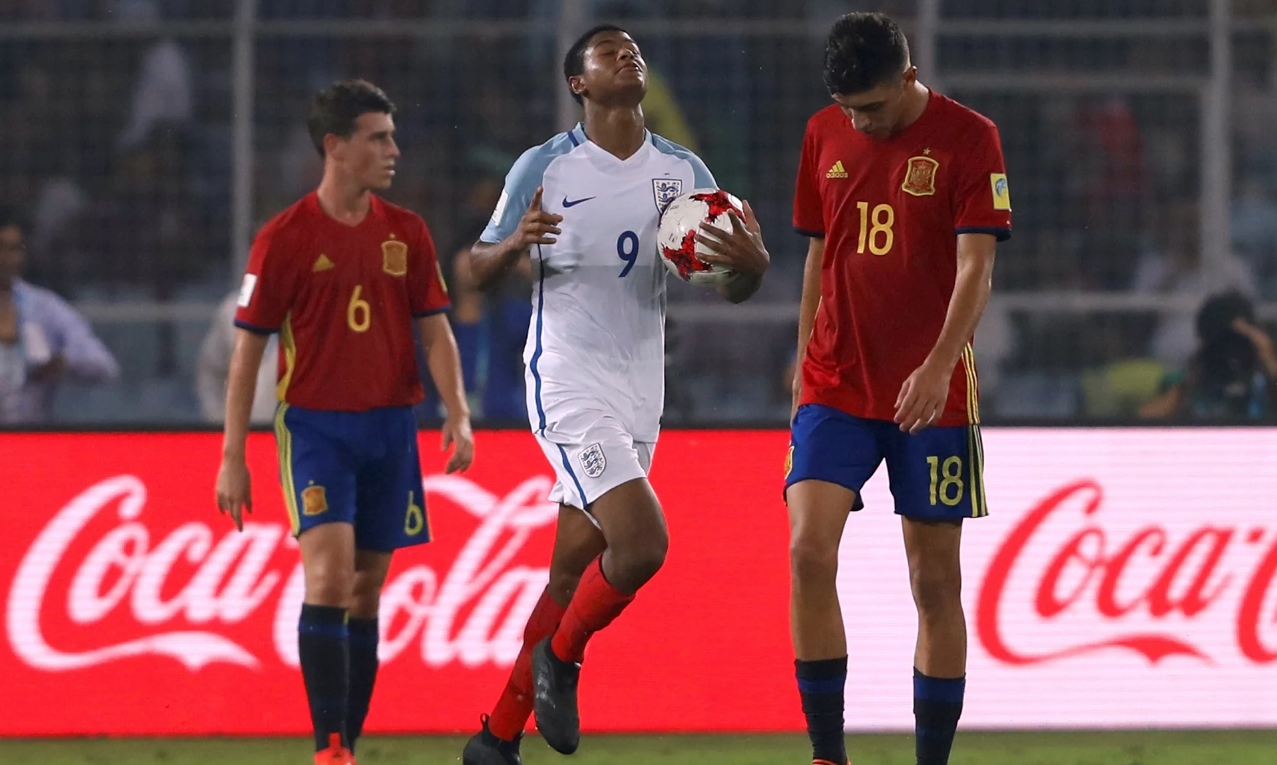 In different circumstances there would be so much else to discuss when Rhian Brewster pulls up his seat for the first major interview of what promises to be a thrilling career. The young man – or boy, really – sitting here is not short of highlights when he looks back on 2017. He is a World Cup winner with England's Under-17s, as well as being the owner of the golden boot trophy from the same tournament, and there will be plenty of other opportunities, almost certainly, in the future to talk about the star qualities that have established him as one of the rising young hopes of English football.
Yet we are here, on his request, because he wants to talk about his other experiences over the past year and go through a story, at the age of 17, that can make you despair. He is speaking with a courage that goes beyond his years and he hopes, in the process, that what he says can go all the way to the top of the sport – if, that is, the relevant people are willing to listen. And, frankly, he could probably be forgiven for having a few doubts.
Uefa, in particular, needs to pay attention because this is a cry for help and it all feels so desperately wrong that over the course of an hour a teenage footballer, still to make his professional debut, can recall seven occasions when he says he has been racially abused or witnessed the same happening to a team-mate. Five of the alleged incidents are from the past seven months. Two have been while playing for England and one occurred in the World Cup final when, amid all the golden memories of beating Spain's Under-17s, Brewster says he can vividly remember one of his team-mates being called a "monkey" by an opposition player.
To speak out takes courage because it cannot be easy for any player, especially one of his age, to go through the more excruciating details. Yet it is also clear that Brewster has been thinking about going public for some time and, importantly, that he has a strong support network in place. Mike Gordon, Liverpool's co-owner, has been personally involved, ringing Brewster several times to let him know he has the backing of the people at the top of the club. Jürgen Klopp, the manager, is aware of this interview and full of admiration for what the teenager is trying to do. Steven Gerrard, one of Brewster's mentors at the club's academy, is the same. Troy Townsend, Kick it Out's education manager, is in regular contact and Alex Inglethorpe, Liverpool's academy director, is here to offer his support, sitting in the next seat as Brewster explains why he feels compelled to speak out. Liverpool, very understandably, are proud of what their player is doing.
"I said to them that I wanted to do it," Brewster explains. "They said I should speak to my parents before doing anything and see what my mum and dad think. My mum and dad are unnerved because this is not the first time. They're angry and they don't want it to keep happening. And they're angry because nothing has been done about it."
"I got fouled," Brewster says. "I was on the floor and I had the ball in my hands. One of their players started saying stuff in Russian to the ref. I said: 'It's a foul, man, what you playing at?' I was still sitting down at this stage. Then their player leaned over me, right down to my face and said: 'Suck my dick, you ******, you negro.'
I didn't even want to put in a complaint [after the Spartak game]. I was walking down the tunnel swearing: 'Fuck the system, it's not going to do anything.' Obviously you have to [make a complaint]. But if something is ever done about it, that's another story
"I jumped to my feet and the ref came running over because obviously he realised something had been said. He [the referee] said to me he couldn't do anything because he hadn't heard it and 'the only thing I can do is report it'. I said: 'Come on, then – let's go and report it.' He started doing something else and I said: 'No, now.' We went over to the fourth official and told him. I told Steven [Gerrard] what had happened and we made a complaint there."
It is jarring, to say the least, to hear the words that were allegedly used. But this, Brewster says, is only the latest in a long line of incidents where he has been targeted this year, starting with England's encounter against Ukraine during the European Under-17 Championship in Croatia in May.
England won that game 4-0, with Brewster scoring the second goal. Yet the striker also angered one of the Ukraine players after chasing a ball into the penalty area and colliding with the goalkeeper. "I didn't mean to hurt the goalkeeper and I said sorry – just left it there. But then there was an incident [with the same outfield player] later in the match. It was a bad challenge and I pushed him. We got into an argument and he called me a ******."
The Football Association lodged an official complaint but Uefa, with no video footage, concluded there was not enough evidence for disciplinary action. Nobody, however, has ever informed Brewster of that decision. To the teenager, it feels like the case "disappeared".
continues here:
https://www.theguardian.com/football/2017/dec/28/liverpool-rhian-brewster-racial-abuse-england-uefa