Discussion Starter
•
#1
•
PYW ITF Midland and Cali
Welcome to Midland, Michigan (USA) and Cali in Colombia! The PYW ITF tour kicks off in 2009 with two spectacular tournaments. Firstly, in America, the 75K in Midland, which features YEC player and top seed Katie O'Brien, as well as injury girls Krajicek and Daniilidou. Favourites to go far also include American "youngsters" Albanese and Brengle, but WTA players Kudryavtseva and Czink surely shouldn't be forgotten. The claycourters are in Cali this week, the #1 there and big favourite is France's Mathilde Johansson. Though there are lots of Latinas around, lead by de los Rios from Paraguay, who will give Johansson a hard time along the way. Finally the PYW ITF season started, so do not hesitate and decide right away who will take 2009's first titles! Enjoy all the action and vote now for the quarterfinals!!
<!-- BEGIN TEMPLATE: bbcode_code -->
Ranking Points Midland:
ITF 75K (32, $75,000):
W - 110
F - 78
SF - 50
QF - 30
R16 - 14
R32 - 1
Ranking Points Cali:
ITF 50K (32, $50,000):
W - 70
F - 50
SF - 32
QF - 18
R16 - 10
R32 - 1
<!-- END TEMPLATE: bbcode_code --><!-- BEGIN TEMPLATE: bbcode_code -->
Previous Finals:

Midland:
2008: Kathrin Woerle GER lost to Sandra Kloesel GER [4] | 6-7 0-6
2007: Kelly Liggan IRL lost to Stéphanie Dubois CAN [5] | 6-4 4-6 4-6
Cali:
New event in 2009.
<!-- END TEMPLATE: bbcode_code --><!-- BEGIN TEMPLATE: bbcode_code -->
The
Favourites:
Midland: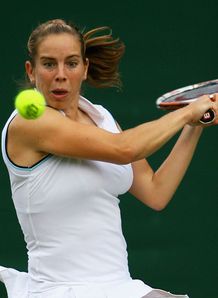 First Quarter: Katie O'Brien GBR [1]
Second Quarter: Michaella Krajicek NED
OUT OF COMPETITION
Third Quarter:
Madison Brengle USA [8,Q]
Fourth Quarter: Stephanie Dubois CAN [2]
Cali:
First Quarter: Mathilde Johansson FRA [1]
Second Quarter: Anastasiya Yakimova BLR [4]
Third Quarter:
Rossana de los Rios PAR [3]
Fourth Quarter: Edina Gallovits ROU [7]
<!-- END TEMPLATE: bbcode_code -->
Midland | Semifinals:
Katie O'Brien GBR [1]
vs
Michaella Krajicek NED

Lucie Hradecka CZE vs
Stephanie Dubois CAN [2]
Cali | Semifinals:
Mathilde Johansson FRA [1] vs
Anastasiya Yakimova BLR [4]

Rossana de los Rios PAR [3]
vs Edina Gallovits ROU [7]