PETERDY, MARTA (nee Marta Popp)
Hungary France
Born 21 February 1923.
Married Oszkar Wolf-Schneider von Arno
[Active 1943-1965]
Born Marta Popp, she changed her surname to Peterdy in 1943. She played as Peterdy-Wolf after marriage. She is a Baroness.
4 time Hungarian national champion (1943, 1951, 1952, and 1956).
Other titles:
Hungarian International (1946), Buadapest (1947) ,Cannes (1957), Paris and St Mo
ritz (1958), and Casablanca (1959).
Rriple winner at the 1946 Hungarian International. Winning the Doubles at Monte Carlo in 1948 (the Iliffe Trophy) with Suzy Kormoczy was one of her career highlights.
Stateless after the Hungarian Revolution in 1956, she wed a Mr Wolf and thereafter resided in France.
She entered Forest Hills only once, in 1962.
Wimbledon record (1947-1949, 1953, 1960-1963, and1965)
Singles: 4-8
Doubles: 3-5
Mixed: 2-4
Photo taken in 1946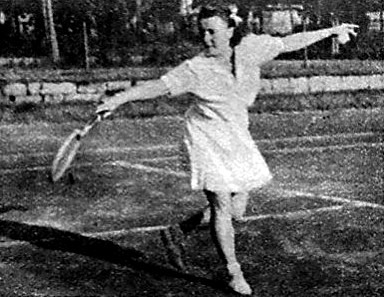 Sources:

Martha Peterdy
thread:
http://www.tennisforum.com/showthread.php?t=811090
http://www.wimbledon.com/en_GB/score...e4b/index.html
http://www.ascot-club.eu/upload/marta-peterdy.html