TUERO, LINDA
United States
Born 21 October 1950 in Metairie, Louisiana
Married (1) William Peter Blatty, 20 July 1975. Later divorced in the 1980s.
Married (2) William Paul
Married (3) Dr. William Lindsley in 2007.
Height: 5' 4"
[Active 1966-1974]
1972 Italian Open winner, earning a world ranking on #10 that year. She was also the US Clay Court finalist 4 years in a row (1969 to 1973), winning in 1970. Tuero was a baseliner noted for ability to play long rallies.
She learned her game on clay in New Orleans. Starting at age 11, she became so proficient that the teen became the first female at Tulane University to be awarded an athletic scholarship. With no women's team she played on the men's team when opposing teams allowed it-her record was 8-1. Fear of losing to a female led to most teams refusing to play against her. While at Tulane she played open events as an amateur, only turning pro in 1972.
In 1969 Tuero faced Gwyeneth Thomas in a nationally televised match in the semifinals of the US Amateur Clay Courts. The points were so boring (One point lasted 12 minutes and 326 strokes) that they were moved to a non-televised court mid-match. The episode gave some an excuse to argue women's tennis was not fit for television. Tuero eventually prevailed in a four hour match.
"I'm glad they got us off TV," said Tuero, eventually the victor, 4-6, 6-1, 6-2. "I wouldn't have watched it 10 minutes myself."
Tuero considers her best win a upset over Nancy Richey in the 1970 semis at the US Clay Courts. Tuero went on to win the event.
Her best result in a major was the quarterfinals of the 1971 French, where she lost in straight sets to ambidextrous Marijke Schaar. Another highlight that year was making the final of the US Clay Court Championships, losing to Billie Jean King.
The Italian Open was the biggest of her 11 known titles spanning from Atlanta in 1966 to Stuttgart in 1972. Also a finalist in the German Open in 1972, she was ranked #10 in the world that year.
In 1973 Tuero was the Fed Cup captain for the United States. She also beat future superstar Martina Navratilova that year:
Just as an amusing side note is that I'm 1-0 with Martina Navratilova. But I must confess she was just 17 and this was her first tournament in America
73 also witnessed two massacres at the hands of Chris Evert. The Floridian double bageled her twice, once in final at Cleveland and again at the US Clay Courts.
On losing to Chris Evert love and love:
She had the same game as me but she was better. I figured, 'I'm never going to get anywhere with her.' I was too embarrassed to keep losing love and love. I kind of lost heart.
1974 was a lean year, with her desire waning and romance blooming she ended ranked #15 in the US.
In 1975 Linda wed Peter Blatty, world famous author of the horror classic
The Exorcist
. Linda was an extra on the set of the movie when they first met. The couple later divorced after two children.. Linda later returned to Tulane to get a Master's degree in Anthropology.
Linda is an inductee at the Louisiana Tennis Tennis Hall of Fame, Tulana Hall of Fame and USTA Southern Tennis Hall of Fame.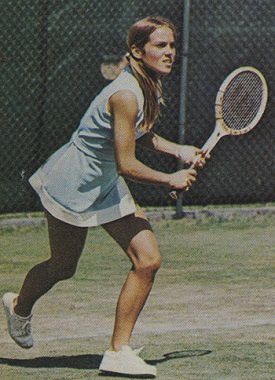 Sources:

Linda Tuero-The Pixie From Dixie (A Blast Thread)
Linda Tuero
http://lindsleymania.com/
1975 World of Tennis, page 285.
https://en.wikipedia.org/wiki/Linda_Tuero
[Thanks to Rollo for this information]