Discussion Starter
•
#1
•
FROMHOLTZ, DIANNE (Dianne Lee Fromholtz)
Australia
Born 10 August 1956 in Albury
Married Claude Maurice Balestrat of France 26 December 1982
Daughter Miel born c 1993.
Height: 5' 4" (165 cm)
[Active 1971-1990]
1977 Australian doubles winner and singles finalist.
The Aussie lefty can be excused for having tennis on the brain-she was born just 2 blocks away from the home of Margaret Court. Starting tennis at the age of 7, she gave up ballet to pursue tennis. Margaret Court was Dianne's mentor during her early years. While she bloomed under Court's tutelage, in some quarters it was felt that trying to emulate Margaret hindered her development. She burst on the scene in 1973 at the age of 16 by winning 10 minor events across Europe. Dianne traveled on this continental adventure in a station wagon big enough for her, her mom, sister, and a traveling companion to sleep in.
Fromholtz was in the world top ten in 1976, one sign of her elite status was being one of only four women to beat Chris Evert all year.
In 1977 she made the final in Australia. A 7-5 6-2 defeat at the hands of veteran Kerry Reid was the closest she ever came to a major. The doubles title in Australia with Helen Cawley was some consolation.
Later that year she had a huge upset over Chris Evert at the Colgate Championships in the round robin. Her failure to beat Martina Navratilova or Virginia Wade in her next two matches deprived Dianne of a spot in the final.
1979 was her best year on the circuit. She won a major event at Boston, reached the semis of the French, and had wins over Evert and Navratilova.
Her career suffered a setback in 1981 when she was involved in two separate serious car accidents. After those incidents she was never quite the same force.

Singles
Career record 429–223
Career titles 23
Highest ranking No. 4 (19 March 1979)
World Rankings
(computer ranking only began in 1975)1975: #20
1976: #6
1977: #8
1978: #10
1979: #6
Grand Slam Singles quality results
Australian Open F (Jan. 1977) QF (1973)
French Open SF (1979, 1980)
Wimbledon QF (1979, 1987)
US Open SF (1976)

Doubles
Career record 134–141
Career titles 6
Highest ranking No. 56 (14 September 1987
At the 1977 Colgate Championships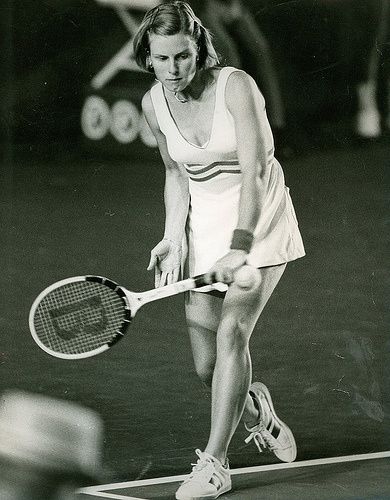 Sources and Links:
https://en.wikipedia.org/wiki/Dianne_Fromholtz
1980 WTA Media Guide, page 65.