Iga Świątek: next year will be difficult. Awaiting Olympics and final high school exams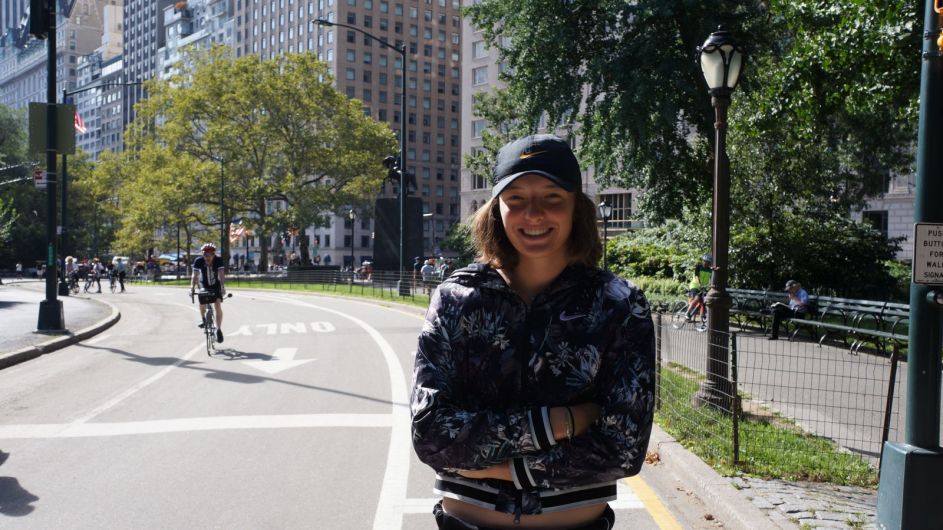 Iga Świątek admitted that after she lost in the second round of the US Open she feels unsatisfied because of unfulfilled expectations. -
My mental attitude was the reason, so I'm working with a mental coach
," said the 18-year-old tennis player.
Are you satisfied with your performance at the US Open?
I have mixed feelings. I'm glad that I had a chance to improve my game and work on the match play. However, it really made me think that I wasn't able to meet my expectations before the tournament. I feel unsatisfied because I realize that while keeping the same concentration in the second set as in the first set, the match against Latvian Anastasia Sevastova was to be won.
You also played doubles with Magda Linette. You lost in the 2nd round.
I am very satisfied because this year I haven't had a chance to play doubles yet on tour. Even when there was such a chance, I was not able physically or I couldn't qualify. I think that we will play more often with Magda and this is the beginning of something cool.
- What were your expectations before the US Open?
After I played with Caroline Wozniacki and Naomi Osaka in Toronto, I knew what I was able to achieve. I knew that I was able to pull a win against Sevastova. It's easier to approach the match with an attitude that the opponent is the favorite and she's under pressure. I played it a little wrong and talked about it with my training staff. We came to the conclusion that apart from the cold, the bad attitude was also the reason for my defeat. However, this was only my first US Open.
You seemed to be in control of the match against the Latvian. This cold was the main cause of the defeat
I think there were a few things that made this defeat happen. The cold made me unable to focus properly. There was a general fatigue because I had spent a total of six weeks in the USA and Canada.
Did this time away from home and the constant travels have an impact on that?
- A bit, yes, but with each trip I get more and more accustomed to it. I'm getting older and I'm trying to facilitate my relationship with my team. This is probably the most difficult when we spend such a long period of time together. So far we have no problems with one another.
Have you got used to matches with big opponents in front of a large audience?

- I haven't got used to it yet. However, I noticed that they are also human beings and they also make mistakes. Earlier I had an idealised image of the top players. Now I know what to strive for. I realized that my goals are real.
So you used to treat your famous opponents as idols before?
- Before the match with them I tried to fight against these thoughts. However, when I went out on the court I didn't think about it at all. After the match with Naomi Osaka I was struck by the idea that I had played a tight match with the world ranking leader. I still remain her fan to some extent.
Did this match with Osaka give you confidence?
Of course. Apart from the fact that I lost, I felt much more confident. This match showed me that we are going in the right direction.
Were you stressed before walking out to the US Open centre court?
I have been working with a psychologist since February and it was working with her and my previous experience that made an impact on my attitude. When I played on centre court of Roland Garros, I was not able to cope with my emotions. We learned from it and now it was much better. In New York, I was more excited than nervous.
Do you have any role models now?
I've never had a tennis idol. I've always tried to follow the example of the people around me. Of the tennis players, Rafael Nadal still has impressed me the most, both as a man and an athlete. However, I do not have a competitor to follow as my role model. First of all, I try to create my own style and go my own way.
Do you feel that as you arise the expectations towards you are growing?
- I effectively cut myself off from it. While being in Poland I often feel it, but it does not surprise me. I understand this state of affairs and I am glad that people are interested in my results. Every competitor is in a similar situation. The question is how he will deal with it. You can't fight it, because it's part of the sport. After all, without the fans there would be no point in playing.
- How do you react to comparisons with Agnieszka Radwańska?
- Actually, everyone set their minds on the fact that I would react negatively. It's natural to compare our results at this stage of our career. I am glad that I am compared to the best ever Polish tennis player, because it bodes well for the future. But the fact that we both won the junior Wimbledon doesn't mean anything. I don't want it to be assumed in advance that I will achieve at least as much as she does. I have the impression that this is what the comparisons come down to.
- Are you satisfied with the results you achieved this year?
- Very much so. I'm a little bit dissatisfied with my ups and downs periods. I played well at the Australian Open, but it didn't work out in the Indian Wells and the Miami tournament. I had a good season on clay but it was much worse on grass courts. In the US and Canada I played evenly, maintaining a high level for three weeks, but it was weaker at the US Open. I'm not satisfied with the lack of stability. However, the top WTA and ATP athletes have problems with that so I'm calm about it.
- What are the first conclusions after the US Open?
- Generally I have to improve everything. There is no element that I would be 100% satisfied with. First of all I would like to work mentally to avoid life chaos. When I'm in Warsaw, I divide my time between studying and training and often I don't have time to even eat something. I would like to put this in order, because next year will be very difficult for me. I have Olympic Games and final high school exams ahead of me. I'm a perfectionist and when I start to stress with my final high school exams, I'll study at nights, and that won't affect my form well.
- What are the nearest plans?
- I need to rest and cure my cold and then I will take part in one of the Asian tournaments. I have never been to this continent and I want to see how my body will react to the local climate and cuisine. This will be another new experience.
https://sport.tvp.pl/44215404/iga-swiatek-przyszly-rok-bedzie-trudny-czekaja-mnie-igrzyska-i-matura