Many thanks from Ria Bartok (somewhere up above), winner of Game 23 with the song "C'est l'amour" ("This is love").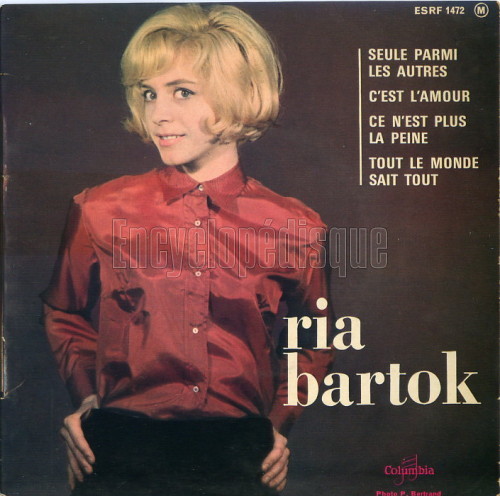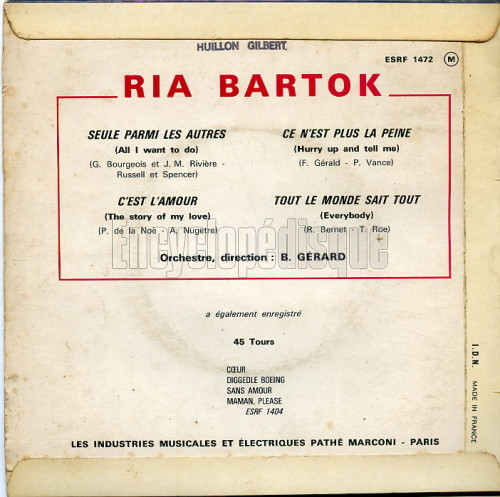 Game 1
:
Jackie DeShannon
-
(1963)
My favourite song ever if I have to pick one, but that is only because I have decided so if i'm ever asked the question. Pure fancy, actually. Some other big favourites of mine are Dionne Warwick's "Walk on by", the Ronettes 's "Be my baby" and John Lennon's "Imagine", to mention songs already picked in this game (so far). Many others too, that I don't mention cause I may pick them for this game sooner or later. Why do I like this song so much? It has something to do with the voice, the sound, the style, the mood... that sound is something that makes me happy, magically happy. And believe it or not, I like to be happy, how strange is that? :lol:
Game 2
:
Jolie Holland
-
(2008)
Here it's the voice and the melody that enchants me. I can't get sick of it, it's like drinking something sweet, intoxicating. The way she makes "whoooooo" without words is irresistible. And there's a Dylanian thing in that song. It reminds me of his romanticism circa 1966, the
Blonde On Blonde
mood. This is coherent since it's a tribute to the Beat spirit (about Joan Vollmer, killed accidentally by her husband William Burroughs in Mexico City in 1951).
Game 3
:
Dusty Springfield
-
(1963)
Another one of those tuneful songs that make me happy. The sixties decade has hundred of them. And Dusty is probably the best white soul-pop singer.
Game 4
:
Nina Simone
-
I always cry when I play this song. Especially the moment of the piano solo, which is unique.
Game 5
:
Blondie
-
I
ADORE
that band. When I play again this songs list of mine, it's an obvious highlight. So real, so joyful, so lively. One of my favorite rock bands without any doubt. SO seventies as well (well, end of seventies, more accurately, pure moment in time, they called that power-pop or bubblegum-punk or whatever), and Debbie Harry is Inspiration/Charisma personified. A natural, gifted performer. Well, she
was
(question of youth, also).
Game 6
:
Nick Drake
-
(1969)
Hard to be more quiet, secret and wonderful than Nick Drake, an English guy who was so shy he wanted to disappear from the Earth. His music and his soul still breathes around those green English trees. I'm pretty sure it came from there (and from his mother, Molly Drake, that you can listen on YouTube as well).
Game 7
:
Rosanne Cash
-
Well, one of those perfect songs. I probably should have chosen the studio version.
Game 8 (the 80's)
:
Lucinda Williams
-
The intimate tenderness of Lucinda, one of my favourite singer songwriters without any doubt. One of those artists I loved intensely some time in my life (there are a dozen).
Game 9
:
The Shangri-Las
-
(1965) -
Shadow Morton
My favourite girl group if I have to pick one. There was no one else like them. I could have chosen five other songs at least that I like as much as this one.
Game 10
:
Allo Darlin'
-
(2010)
One of my favourite bands from the last decade, at least with their first album. Their inspiration deeply rooted in what we call twee-pop, a marvellous musical movement of the late 70's, mid-80's and early 90's, from both sides of the Atlantic.
Game 11 (movie songs)
:
(1969) -
Les choses de la vie
-
Philippe Sarde
Romy Schneider was unique. As an actress, and singer - she wasn't a professional singer, still her unique charisma inhabits this song from start to finish.
Game 12
:
Dani
-
(1969) -
EPs and singles
-
Alain Goraguer
One of those incredible gems recorded in the sixties. Any singer could only dream of such arrangements! Did you hear that? Those flutes? That piano? That harp? That dreamy trumpet bringing you on its stream? And how about that genuine voice? And those lyrics? To find out those sixties songs makes you feel like a pearl diver or something.
Game 13 (mother's music)
:
Astor Piazzolla
-
(1976)
Tango is probably my mother's favorite music. I remember she listening to this music fondly some of those nights. She likes the blues of it. She loves the blues in general. I like it a lot also. Astor makes that bandoneon weep and die til the end of the night like nobody. Sublime.
Game 14 (duets)
:
Gram Parsons
&
Emmylou Harris
-
(1974) -
The story of a song
Can hardly think of a better vocal duet. Gram and Emmylou? Wow, take your headphones and fall in love.
Game 15 (songs from albums books were written about)
:
Television
-
(1977) -
A masterpiece: Marquee Moon
Orgasmic guitar interplay, exuberant vocals, drums, bass, well, that band was incredibly creative, inspired, a total reference when it comes to play rock music if you ask me.
Marquee Moon
is a masterpiece of an album, indispensible to any collection.
Game 16
:
Crystal Stilts
-
(2011)
One of those great current rock bands. Of course you can hear a lot of references in their inspiration (Joy Division, Velvet Underground, Byrds, Doors, Pink Floyd...). Their sound is exciting. They have it.
Game 17 (covers)
:
The Sex Pistols
-
There was a time when rock had to come to a very end. It peaks here. Johnny Rotten would leave the band right after this concert, the very last of the Sex Pistols (well, before they reformed decades later, don't ask). The fact they cover the Stooges with a dimension of their own enlightens about what this very English, nihilist and chaotic band was about. Rotten was as real as it gets. Great, great performer. Could have been a huge actor if you ask me.
Game 18
:
Catherine Ribeiro
-
(1965) -
EPs and singles discography
Fascinating singer and artist, one of France's very best merging from the sixties. And sadly one of the least known as well. Find out for her catalog, and you should be as amazed as myself (if you have ears and heart). And what a singer!
Game 19 (the 90's)
:
Cub
-
(1995)
Rock was alive in the 90's! Allow me to favour this to Nirvana. No need to do so much noise to find pure excitement, you know. Give me a great little tune anyday. This is like early Beach Boys going do-it-yourself bubblegum punk, or like the Breeders without the hype. Unassuming and real.
Game 20 (songs or artists with capital B)
:
John Lennon
-
(1973) -
origin
The way Lennon covers that song gives an idea of how he loves it, and probably of how many people from his generation loved it. He focused on the beat and made it very sexy. His vocals are priceless here. One moment he says "this is too much... I don't know..." - he may talk of his own performance live (thinking it's only a take that won't be kept as it is - that was for his Rock'n'roll album in 1975), but that's only an assumption. If it's the case, then "I don't know" means he doesn't know where his performance is going, and apparently he took the decision to not keep it for the album after. That was a mistake! What we hear here, is a man showing his love for a song with total disinhibition, and taking risks. That was the best take of the album! Listened to again today, it remains one of Lennon's best performances ever (in the studio anyway). And nothing better than a cover of a song when you actually accentuate what you love about it. That's called going to the heart of the subject. That's called
LIFE
.
Game 21
:
The Vaselines
-
(2010)
Speaking of disinhibition... that one is cool! Simply catchy, the best part of it being that guitar solo in the middle that could have last 2 minutes or more, and even end with it. But the Vaselines are an English band keeping it distant, elegant, and fun. Another attitude.
Game 22 (inspiring music)
:
Elli
&
Jacno
-
(1979) -
EPs and singles discography
-
Elli Medeiros
What is inspiring is what remains fresh. Elli & Jacno were making fresh music. There's no bit of bad taste with them. Jacno - RIP - got through life with unmistakable elegance, and intelligence - and Elli was a perfect singer for his music - of which she sometime wrote the lyrics. And boy, was she lovely. :hearts: (and sharing my birthday, to boot - January 18).
Game 23 (native language)
:
Ria Bartok
-
(1964) -
EPs and singles discography
- "C'est l'amour" is a cover of LaVern Baker's "
" (1963)
Here's my winner (it was tie, though). Very glad for Ria Bartók, real name being Marie-Louise Pleiss, of German origin (born in Einbeck, January 28, 1943). She was among those singers of the French ye-ye movement in the sixties. Those singers made many US hits covers, and Ria Bartók was quite a tasty picker. She was adorable if you ask me, and a fine singer. But the yé-yé movement didn't last, and only a few stars merged from that movement (but many records are re-discovered through YouTube, the sixties are a goldmine!). This woman tragically died in a fire in March 1970. I can understand why "C'est l'amour" won the 23rd contest of this game: it's catchy, joyful, lovely, short enough, we call that a hit. Was it a hit in 1964? I don't think so. It's not remembered as one of her best songs, but if anything this game proves it aged well. On a side note, I find the LaVern Baker original every bit as fine if not better.
Game 24 (sadly deceased)
:
Amy Winehouse
-
Great document saying almost everything about Amy. Great singer, without a doubt, and great song.
Game 25
:
Jorge Ben
&
Gal Costa
-
-
(Gal Costa w/Caetano Veloso, 1969)
Gal Costa is my favourite Brasilian singer (so far at least, as I don't know them all). I do love Brasilian beat and music, and this live document shows what's so instinctive and physical and affective about it. Jorge Ben is the guy who wrote and composed that gem, "Que pena", and it was famous recorded by Gal on her first 1969 album (in duet with Caetano Veloso). It makes me dance, it makes me happy. Joy.
Game 26 (songs from your birth year)
:
Fairport Convention
-
(1969) Singer:
Sandy Denny
My birth year is 1969. The video here shows a band able to build a new world. In those times each band was making Noah's ark. There was a movement in England with lots of musicians looking back also, to the roots of their folk music. Fairport Convention was one of those bands. Ashley Hutchings, Richard Thompson, Iain Matthews, Sandy Denny were all part of that band for sometime. They were also influenced by the US West Coast movement, bands like the Jefferson Airplane, and singer songwriters like Joni Mitchell or Bob Dylan (himself influenced by some English folks like Martyn Carthy). I love the world of English folk, which has a color of its own. Fairport Convention pretty much invented the English folk-rock. I own their first four albums and my favourite is the third,
Unhalfbricking
, but I like them all. The fourth (and third of 1969) is also a masterpiece, it's called
Liege and Lief
, and features that song, "Farewell, farewell", sung by Sandy Denny. It's a traditional English folk song re-arranged by Richard Thompson. Fairport Convention's albums show how much the band worked well as a whole, a delightful and subtle quality of collaboration. That sweet little song got through gracefully, and is one of Sandy Denny's best vocal performances, showing how soulful she can sing, with experience and delicacy.
Game 27 (girl groups)
:
The Tammys
-
(1963) -
Lou Christie
-
Twyla Herbert
One of those UFO. What Lou Christie and the Tammys, basically his background singers, were doing belongs to the heart of the sixties, an end-of-party flavor that never dies. With "Egyptian Shumba", the party has yet to reach its end indeed. It's exciting and crazy, unreal and fun. They came to record just that, and it became a classic. They probably weren't aware of it. The Tammys only released a few singles, that you can find on CD with other Lou Christie songs on an RPM (music label of sixties specialties based in England) anthology. It's also on the Rhino 4 CDs boxset
One Kiss can Lead to Another ~ Girl Group Sounds Lost & Found
(in its original mix like everything from that boxset, featuring several dozens of sixties gems, one for the desert island as they say).
Game 28 (2014)
:
Future Islands
-
For 2014 I had to play a pile of 2014 releases I had purchased so far. Submitted the best song I found, and it's a damn good one. It's all in the tune and the beat behind the singer creating an emotional mood. Great band. All the songs from the album are good.
Game 29 (the 60's)
:
Sylvie Vartan
-
(1966) -
EPs and singles discography
-
The music of Gérard Bourgeois (composed for)
I'm fascinated by Sylvie Vartan. But she only was, in the sixties, one of those trees (with Françoise Hardy, France Gall and Sheila) hiding a forest of yé-yé girls. Chris (Shvedbarilescu) and me are sharing a passion for those. Check that list: Gillian Hills, les Gam's, Ria Bartók, Nathalie Degand, Evy, Anne Kern, Marie Laforêt (another tree actually), Charlotte Leslie, Marianne Mille, Stella, Marie-Blanche Vergne, Alice Dona, Eileen, Chantal Goya (sixties), Jocelyne, Valérie Lagrange, Christine Lebail, Catherine Ribeiro, Michèle Torr, Estella Blain, Liz Brady, Claire Dixon, Elsa (Nicole Darde), Anna Karina, Katty Line, Les Petites Souris, les Roche Martin (featuring Véronique Sanson), Annie Philippe, Ariane, Cléo, Dani, Chantal Kelly, Christie Laume, Christine Pilzer, Pussy Cat, Violaine, Zouzou, Clothilde, Jacqueline Taieb, Victoire Scott, the list goes on and on.... YouTube is a goldmine to find them. And how about Brigitte Bardot? As for "Ballade pour un sourire", it's one of Sylvie's best songs. Her recording output between 1961 and 1971 is excellent, and especially tasty between 1965 and 1967 if you ask me.
Game 30 (eurovision singers)
:
Sandie Shaw
-
You can hardly be more English than Sandie Shaw, right? This fine singer recorded some gems, "Girl don't come" among them. I still have a boxset to go further into.
Game 31 (country music)
:
Skeeter Davis
-
(live 1961)
She's my favourite country artist (at least from the classic golden era), though (or due to the fact?) she tended to verge on pop. Produced by Chet Atkins. Her voice is charming and moving. Especially known for the big classic "The end of the world", her "essential collections" shows she recorded many other tuneful stuff, happy or sad.
Game 32 (close encounters)
:
Lucienne Boyer
-
(1930) -
(she was 75 years old, and the song had the same magic!)
Game 33 (personal theme)
:
Neko Case
-
(2001)
The
Canadian Amp
EP may be not Neko Case's masterpiece, but it's my special favorite. It's recorded very simply, and the choice of songs is tasty, mostly covers. "Dreaming man" is among my favourite songs from this EP, but hard to choose between "In California" (written by Lisa Marr, leader of Cub), "Favorite" (Neko's very first song penned by herself), "Alone and forsaken", "Andy", etc... as for the theme, well, it reflects what I am essentially. Neko is my generation, I follow what she does since I found out about her around 2000. I share a lot of her opinions and sensibility. She's of those singers I love not only technically, but for her taste and vision in arts. To my ears she's a great singer not because her voice is perfect, but because she's free of doing what she wants with it, and I connect to it.
Game 34 (song that makes me dance like crazy)
:
The Gun Club
-
(1981)
You can't go wrong with this band's first album,
Fire of Love
.
Game 35 (should have been singles)
:
Throwing Muses
-
(1986)
That fascinating track opened the first Throwing Muses album and should have been released as single to promote this album. They chose other tracks whereas this is easily the best one, and one of the best in their whole career (they would make more catchy stuff later - such as the delightful "Not too soon" signed Tanya Donelly, the pop side of the band - Kristin Hersh being the razor one, and behind the "Call me" approach). On a side note, "Call me" also appeared on a cassette release only one year before the first album, that is available on CD. The original mix of that cassette was different, and even better (but is not on YT right now - though it was for a while).
Game 36 (songs from Asia)
:
Aleksandr Borodine
-
(1869)
About Polovtsian Dances
-
I was 14 years old when I first heard the
Polovtsian dances
, thanks to a music teacher in school. I was immediately enchanted by the melody of the first dance, called "The gliding dance of the maidens". It was the instrumental version. The following dances are lively enough as well. Later I found the choral version, and that dancing one on YT, and was enchanted again. That "dance of the maidens" melody remains one of the most beautiful - and romantic - melodies I've ever heard. It's one for a lifetime. It was composed by Borodine, who happened to have been also a great defender of the womens cause in his own time. I think the slavic is my favorite romanticism, and there's something with Russian music that always deeply touched me. It's magic.
Game 37 (in the mood for lust)
:
April Stevens
-
(1959)
For this game I tried to find what sounds sexy without the help of images. April Stevens's delivery wasn't late to come to my mind. To be in the mood for lust, I need to be charmed in the first place. I wish they would still do it with that kind of simple but subtle and fresh craft. Apart from that, a very emotional and sensual music can give sex a noble dimension of beauty. It reveals and underlines the epic of desire. "Les parfums, les couleurs et les sons se répondent" (Charles Baudelaire).
Game 38 (reality TV songs)
:
Patty Griffin
-
(live 2008)
One of the most confusing threads of this game, as players were allowed to pick original songs instead of Reality shows covers, thus offering a quite uneven mix (how could you favour a candidate's cover to anything by Ella Fitzgerald?). Knowing nothing about US reality music shows, I submitted an original. I'm a fan of Patty Griffin and God, does she deliver in a soulful way - I wish the candidates of Reality TV shows could learn from such a performance: a pure breath of soul without any "look how I can scream in tune" circus. FEELING FIRST. Stay true and listen to your own heart: real stars shine alone in the dark. As a listener, I can tell you my heart is caught from start to finish during that Patty griffin performance, not a second is wasted. Yes, me too, I want to lie down in the peaceful valley, heart filled with desperate hope, eyes lost in the starry vault and skin soothed by a soft, fresh breeze.
Game 39 (songs under 2:40)
:
Marianne Faithfull
-
(1964)
One of those magical songs. Graceful tune signed Jagger-Richards (underrated as composers, despite being legendary in their own right). They knew how to keep it simple. As for Marianne, she really had a special voice and a kind of quiet charisma. She was just radiant, as well as tasty and intelligent.
Game 40 (dramatic live performances)
:
Jacques Brel
-
(1966)
I grew up with Jacques Brel (and Georges Brassens and Léo Ferré). My parents had many discs of them and we were playing them often in the house. So I have no idea of what it is to "discover" Jacques brel, but I guess it must be something, since he's obviously an original. "ces gens-là" always was one of my big favourites from him, along with "Amsterdam" (also submitted in this game, coincidentally) and another song I may submit also one of those days.
Game 41
:
Joan Baez
-
(1968)
My parents had a beautiful record called
Bachianas Brasileiras
. Amazing voice. Later, much later, I decided to go further in Joan Baez's influencial body of work, and found it was filled with gems, including this cover, which happens to be one of my favourite Bob Dylan songs.
Game 42 (let's hear it for the boys)
:
Scott Walker
-
(1969)
Let's hear it for the boys? All right: I looked for a man whose voice could have the grace, the elegance of some women's ones. Scott Walker is among them. Certainly on that beautiful song, he has the kind of male voice I find nearly graceful and haunting. Of course it could only be a song sharing fascination for... a woman.
h:
Game 43 (un-nominated artists and songs)
:
Millie Jackson
-
(1974)
In the 70's, soul music really got interesting with new kinds of topics (if anything, the weakness of the genre belongs to the endless topics about love and relationship), a sense of fun going with the groove. That didn't keep that groove and sound from being soulful, entertaining, thrilling. In that respect,
Caught Up
is one of my favourite soul albums. Kinda like Gainsbourg in France playing with any kinds of topics without neglecting the quality of the music, Millie Jackson and her team weren't afraid of being provocative (and fun), using sublime arrangements in the making, even making of her talking a music itself. Cause her "talking" here is absolutely artful, sensual, rhythmic, playing with crescendi, expert breaks and all. Guitars, piano, strings, you have everything on that song called "The rap", centerpiece of the original LP, which is conceptual and musical at once. Yes, a masterpiece. I wish they would do more albums that way. The 70's were the decade of such albums. In the 70s, albums were trips. You listen to "The rap", and you're like entering a movie. Or a private affair, in this case. Very original angle, here, if you ask me.
In that song alone, "The rap", you have darkness and sunshine. The day and the night. You get through and into lights and sounds. Millie has a great voice.
Game 44 (autumn songs)
:
Ron Sexsmith
-
(1999)
I don't especially think of that song as an autumn song, but thought it could fit. My first concern in this game is to submit songs I LOVE (thus songs I'm willing to share). If some categories ever bug that concern of mine, I may skip them eventually, but will keep listening others submissions and can still put them in my keepers threads below.
My comment about "Seem to recall".
(which I could sum up with "Ron Sexsmith makes the most beautiful music ever").
Game 45 (your love life in a song)
:
Solomon Burke
-
(1961)
About the song
Game 46 (color songs)
:
Anne Briggs
-
(1971)
The most surprising thing with the old traditional English folk is the stuff recorded "a cappella". A lot of old songs are sung that way, of celtic origin, or from the British Isles. It's certainly not the most easy listening stuff, and it has links with the old time music of the Appalaches sometime, as well as with medieval stuff and old French street-songs. Anne Briggs was found in a village of England during a tour of folk singers, she just joined the group cause she had a lovely voice. And she recorded very young as well, almost like a kind of prodigy. That's how free the folk world was, and that's why Bob Dylan had started as a folk singer, despite being a fan of rock'n'roll: because you had more freedom, didn't compromise with any kind of market. You made the music you wanted to make, and people were coming to you - or not. Those were the early sixties. Anne Briggs remained totally uncompromising, and stopped recording soon cause she hated her own voice. Can you believe it?
Game 47 (sinister)
:
The Cramps
-
(1980)
Game 48 (vocal jazz)
:
The Boswell Sisters
-
(1935)
Game 49 (positive message)
:
Doris Day
-
- from the movie
Romance on the High Seas
(1948)
The movie excerpt I submitted, the "happy ending" of Romance on the High Seas (1948), a movie I have never watched from start to finish, has an infectious positiveness inhabited by Doris Day who, by her acting and singing, communicates many emotional elements that compose the essence of Happiness: genuineness, simplicity, sincerity, humbleness, vulnerability, steadiness, youth, sensibility, heart. All that gets to me through this excerpt alone. Doris voice gets right to my heart and moves me with a mix of emotion and happiness. Doris Day was just divorced by then, and she had her shares of misfortunes in her life so far (she wanted to be a dancer but had an accident and turned out to be a singer instead). When Doris starts singing "you siiiiiigh, the song begins, you speak and I hear violins"... my heart takes off and is already up there in emotional sunshine. There's a kind of unpredictable and uncontrollable magic in happiness, that's what the song says, and it comes from episodes of life. It's also a feminine thing I think. Many female singers sing about that. French singer songwriter Barbara sang a lot about that.
Game 50
:
Sugar Pie DeSanto
-
(1964)
To be continued in post #16