PEREZ, HELEN (nee Helen Stella Pastall)
United States
Born 07 May 1929 in Venice, California
Died 12 December 2005 in Litchfield, Connecticut
Married Robert "Bobby" Perez on 11 November 1948.
Height: 5' 7"
[Active from 1946 to 1955]
US Nationals QF in 1949 and 1953. Helen also won the prestigious Pacific Southwest Championships twice in 1949 and 1950. Tall and lanky, her speedy retrieving style was limited on grass but paid dividends on her native California hard courts.
Helen took up tennis at age 12. "I was a real tomboy", she declared, recalling how she outran the boys in the neighborhood as a child.
As Helen Pastall she won the US Girl's title in 1946 and was finalist to Nancy Chaffee in 1947. Ranked #16 in the US in 1947-by 1948 she had progressed to #8 in the US under the tutelage of "Teach" Tennant.
1949 was her breakout year with a great performance at Forrest Hills. Helen upset #4 seed Shirley Fry to reach the quaterfinals, where British player Betty Hilton beat her 6-2 6-3. Just a couple of weeks later Perez went on a tear at the PSW. As the #5 seed she upset #3 Pat Todd in the quarters, #1 Doris Hart in the semis, and #4 seed Beverly Baker 7-5 5-7 4-1 retired in the final. This huge win earned her a top ten world ranking for the year-her first and only foray into such exalted company.
For much of 1950 she was undefeated until she lost to Maureen Connolly on grass in the final at Merion 6-2 4-6 6-3. It was her first defeat all year. Another loss to Connolly and a disappointing early defeat at Forest Hills was followed by a defense of her Pacific Southwest title.
Efforts to develop a more potent net game and serve never paid off, though she had flashes of brilliance. Childbirth also meant stops and starts-her daughter Paula being born on 01 January 1952, which explains her absence from the US Nationals in 1950 and 1951.
For example, Helen made another quarterfinal at Forest Hills in 1953, losing to Louise Brough by the score of 8-6 6-3.
At one time or another Perez bear nearly all the greats of her era. According to her husband Bobbie she had wins over Nancy Chaffee Kiner [6 wins]; Darlene Hard [3]; Angela Buxton [2]; Pat Canning Todd [2]; Magda Rurac [3]; Shirley Fry [2]; Doris Hart [2]; Gussie Moran [3]; Dorothy Bundy Cheney [3]; Beverly Fleitz [3]; Louise Brough [3]; Maureen Connolly [3 out of l6] and Althea Gibson [2].
Helen and Bobby, himself a world class player, quit the game in 1955 to raise a family. They would have 3 children: Paula Kelly, Annie Beals and a son Rob.
Helen later taught tennis at the Los Angeles Tennis Club, where she developed a celebrity clientele and ran clinics for underprivileged youth.
Quote:
Maureen "Mo" Connolly on Perez: You must be an exceptionally good runner and loaded with fight to apply defense strategy all the time. The defensive player is one who hits every ball back and waits for the opponent to make the error. Shirley Fry and Helen Pastall Perez are the greatest retrievers I have ever played against, and yet they can both switch to offensive tactics whenever necessary--from her book
Power Tennis
.
United States Record
(entered 1948-1950 and 1953-1954)
Singles: 10-5 (QF in 1949 and 1953)
World Top Ten Rankings


1949: #4 (according to Ned Potter) or #7 (according to Pierre Gillou)
United States Top Ten Rankings
1948: #8
1949: #5
1950: #9
1953: #6
1954: #9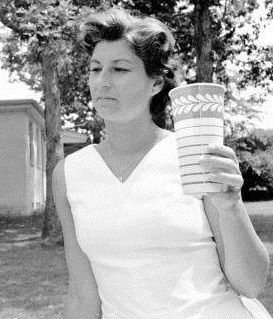 Sources
:
Helen Perez-the Californian Comet [A Blast Thread]
Helen Pastall Perez-Californian Comet
"Ranked at Five: She's Aiming Higher!", by Robert Perez.
American Lawn Tennis,
March 1950, pages 4-5 and 26.
California Birth Index.
Connecticut Death Index.
[Thanks to Rollo for this information]