·
The Comeback Begins - January 2010.
Grand Slams & the "Ruling Houses"... UPDATE: Anastasia Myskina and Mary Pierce!!!
NOTE: Only CURRENTLY ACTIVE PLAYERS IN WTA are mentioned in here... no retirees!! ​
:worship: AUSTRALIAN OPEN:worship: ​
Ruled By:- House of Hingis
Current Ruler:- Martina Hingis (Winner 1997 - 1999)​
Second-In-Command: Serena Williams (Winner in 2003, 2005, 2007)​
Reason: So why Martina Hingis, and not Serena Williams. The answer lies in 3 major factors. One, Martina won it 3 times in a row, while Serena didn't do so. Two,, Martina were in more finals than Serena (6 finals by Martina to 3 by Serena). And finally, to gloss it off, Martina had won 4 AO Doubles title too during her career. Therefore, this puts Martina on the throne of the AO. However, Serena fans will argue that she has won all the 3 finals she was in, while Martina only won half of them (3 out of 6 finals). This debate will definately rage on, but one thing's for certain, the ruler is a Hingis.​
:worship: FRENCH OPEN:worship: ​
Ruled By:- House of Henin
Current Ruler:- Justine Henin (Winner in 2003, 2005, 2006)​
Second-In-Command: Serena Williams (Winner in 2002)​
Reason: There's no absolute question whatsoever who currently rules this tournament - the Pride of Belgium, Justine Henin! With 3 titles under her belt so far, she proved that clay is her home, and definately the one to beat. And the Second-In-Command deserves her place as well. Serena Williams is the only currently active player on tour which had won on all four different surfaces, and she achieved her glory on the red clay in 2002. No one (and maybe none at all) could match her 8 Grand Slam titles at this moment. Even so, Justine seems undefeatable on her home turf.... and it would take some time (and effort) to dethrone the Queen of Clay herself in the future.​
:worship: WIMBLEDON:worship: ​
Ruled By:- House of Williams
Current Ruler:- Venus Williams (Winner in 2000, 2001, 2005)​
Second-In-Command: Serena Williams (Winner 2002-2003)​
Reason: When everyone speaks about Wimbledon, one player comes to mind - Venus Williams. Winning it once is an achievment, twice is a brilliant, and three times... magnificent! And grass seems to be the favourite surface of the Williams. Venus' sister, Serena, had also won it twice and could equal the number of titles won by Venus if she wins this year. However, there are others who are trying to replace Serena (and possibly Venus). Both should be vary of Maria Sharapova (who beat Serena in the Wimbledon 2004 final) and Amelie Mauresmo (the defending champion), both with one titles each. Still, Venus rules SW19, and it could be for a long, long time.​
:worship: US OPEN:worship: ​
Ruled By:- House of Williams
Current Ruler:- Serena Willams (Winner in 1999 and 2002)​
Second-In-Command: Venus Williams (Winner in 2000-2001)​
Reason: A role-reversal by the house of Williams here - while Venus rules the green pastures of Wimbledon, Serena is in command of the concrete jungle which is New York. Both had won the title twice, but Serena's win is much more recent that Venus. Furthermore Venus is already the defacto ruler of Wimbledon. and therefore Serena should be the incumbent ruler of the US Open. "So why not Maria Sharapoava then?" her fans might ask. Well, the reason would be that she has only won it once instead of twice (even though she is the current holder of the title). With that, Maria will have to wait in the shadows for the throne or the Second-In-Command position.... unless she does something about it (and that's winning the US Open title once again) ​
=========================================================
THE SUB-HOUSES
("Sub-Houses" refer to those who have won at least a Slam, but not in a ruling or Second-In-Command Position - they are considered as "Nobles". Their position can change anytime though if the ruler(s) or Second-In-Command(s) were to retire or step down, or they had won more Slams than them).​
House of Sharapova - MARIA SHARAPOVA
Current Status: 2 titles (Wimbledon 2004 and US Open 2006)
Possible replacement: US Open (Ruler and Second-In-Command), Wimbledon (Second-In-Command)​
If any of the rulers and Second-In-Command should look out for, it would be the Siberian Tigress herself - Maria Sharapova. Her best bet might be the US Open throne or Second-In-Command, and judging from her photo, she's "looking" at upstaging Serena and Venus. Wimbledon would be her other option, but it would take a mighty effort to dethrone either Venus or Serena. While her form might be suspect at this moment, she might pounce on an unsuspecting moment... and the US Open 2007 is still far, far away.​
House of Mauresmo - AMELIE MAURESMO
Current Status: 2 titles (Australian Open 2006 and Wimbledon 2006)
Possible replacement: Wimbledon (Second-In-Command)​
When you talk about the 2006 season, one will surely mention about Amelie Mauresmo's feat in winning the AO and Wimbledon titles. Add in the Player of The Year Award, and you have a very serious challenger for the throne in the future. Her best bet at this moment is the Second-In-Command position currently owned by Serena, and she have the chance to do so this year with Wimbledon only a few months away. Injuries might be hampering her effort, but she won't go down without a fight.​
House of Pierce - MARY PIERCE
Current Status: 2 titles (Australian Open 1995 and French Open 2000)
Possible replacement: French Open (Second-In-Command)​
Ah... Mary Pierce. Turned pro in 1989, she had managed to win two Slams (and also pride to France) during her long, illustrious career. Arantxa Sanchez-Vicario was her 1st "victim" when she bagged the Australian Open title in 1995. The second, and best of all, would be the win against another Spainard, Conchita Martinez, in front of her home crowd in 2000. While she is missing the first half of 2007 due to an unfortunate injury, nevertheless one of the remaining "old guards" of the WTA will be back soon... and might sprung up a surprise to win her third (and maybe last) Grand Slam.​
House of Clijsters
-
KIM CLIJSTERS
Current Status: 1 title (US Open 2005)
Possible replacement: US Open (Ruler and Second-In-Command)​
Belgium has two heroes... one is Justine Henin, and the other is Kim Clijsters. While she is the lesser of the two in terms of success, she is much more liked by others than Justine. This is her swansong year though, and she still has only one title with her - the US Open 2005. If she wins this year's edition though, she might take over as the ruler or Second-In-Command... albeit for a brief moment. Nevertheless, she is a fighter, and everyone would be hoping that she will be able to achive it before she departs the WTA forever.​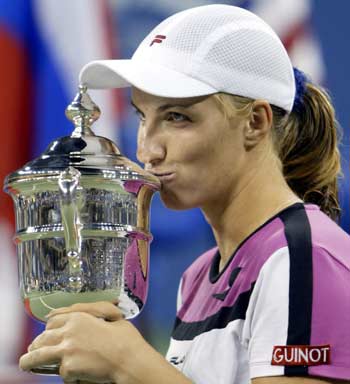 House of Kuznetsova -
SVETLANA KUZNETSOVA
Current Status: 1 title (US Open 2004)
Possible replacement: US Open (Ruler and Second-In-Command)​
The country Russia is blessed with a wealth of talent. There's Maria Sharapova, Elena Dementieva, Anastasia Myskina and not forgetting Svetlana Kuznetsova herself. The winner of US Open in 2004, she displayed superb tennis against her Russian counterpart Elena Dementieva in the Final. While she might have not won anything more since (she did come very close in French Open 2006, only losing to Justine), she's still young and have abundance of time to find more titles to her name.​
House of Myskina -
ANASTASIA MYSKINA
Current Status: 1 title (French Open 2004)
Possible replacement: French Open (Second-In-Command)​
When the Queen of the Red Courts had to "vacate" her throne in 2004, there was a frantic search for her replacement. "Who would it be?" the crowd bellowed from the stands. Step up one of Mother Russia's finest - Anastasia Myskina. In an All-Russian Final, Myskina showed no mercy to her rival in the quest to sit on the throne of Roland Garros. She might only be the Queen for a year, but the legacy of her rule in 2004 will be remember throughout the pages of history.​
INFORMATION:-
No one can be the ruler of two or more Grand Slams. If this exists, another person shall become the incumbent ruler based on the following order - number of Slams won; current holder of Slam; and year(s) the Slam(s) were won.​
So, are you agreeable to the above? Or do you want to dispute it? State and debate them here... who knows, your post might change "history"!
​