1939 FRENCH CHAMPIONSHIPS
Dates: June 8-18
Venue: Stade Roland Garros, Paris, France
Surface: Clay
-----------------------------------------------------
Singles (Draw=32)
1st Round
Sarah Fabyan (US) [2] d. Micheline Inglebert default
Anne-Marie Simon d. Nina Brown (GB) 6-3 3-6 6-2
Marguerite Lebailly d. Alice Florian (Yug) 6-1 6-4
Annie Kerckhoff (Neth) d. Nelly Landry default
Jadwiga Jedrzejowska (Pol) [3] d. Jacqueline Goldschmidt 6-2 6-1
Daisy Speranza-Wyns d. Simone Laffargue default
Arlette Halff [6] d. Rita Jarvis (GB) 6-4 6-1
Simone Kleinadel d. Henriette Morel-Deville 6-3 6-1
Suzanne Pannetier d. Madzy Rollin Couquerque (Neth) [5] 7-9 6-2 6-2
Klara Somogyi (Hun) d. Hella Kovac (Yug) 6-3 6-3
Gracyn Wheeler (US) d. Jacqueline Horner 6-0 6-3
Mary Hardwick (GB) [4] d. Cosette St. Omer Roy 6-4 6-2
Zofia Sioda (Pol) d Billie Yorke (GB) default
Alice Weivers (Lux) d. Susan Noel (GB) 6-3 6-2
Paulette Mellerio d. Leila Claude-Anet 3-6 6-4 6-3
Simone Mathieu [2] d. Suzanne Barbier 4-6 6-0 6-1
2nd Round
Fabyan [2] d. Simon 4-6 7-5 6-1
Lebaiily d. Kerckhoff 6-2 6-0
Jedrzejowska [3] d. Speranza-Wyns 6-0 6-1
Halff [6] d. Kleinadel 6-2 2-6 6-4
Pannetier d. Somogyi 8-6 8-6
Hardwick [4] d. Wheeler 10-8 7-5
Weivers d. Sioda default (unable to obtain a visa)
Mathieu [2] d. Mellerio 6-4 6-2
Quarterfinals
Lebailly d. Fabyan [2] 6-1 6-1
Jedrzejowska [3] d. Halff [6] 4-6 6-2 6-4
Pannetier d. Hardwick [4] 7-5 6-4
Mathieu [2] d. Weivers 6-3 6-3
Semifinals
Jedrzejowska [3] d. Lebailly 6-3 2-6 6-3
Mathieu [2] d. Pannetier 6-2 6-2
Final
Simone Mathieu [2] d. Jadwiga Jedrzejowska [3] 6-3 8-6
Jedrzejowska (on left) and Mathieu (to right)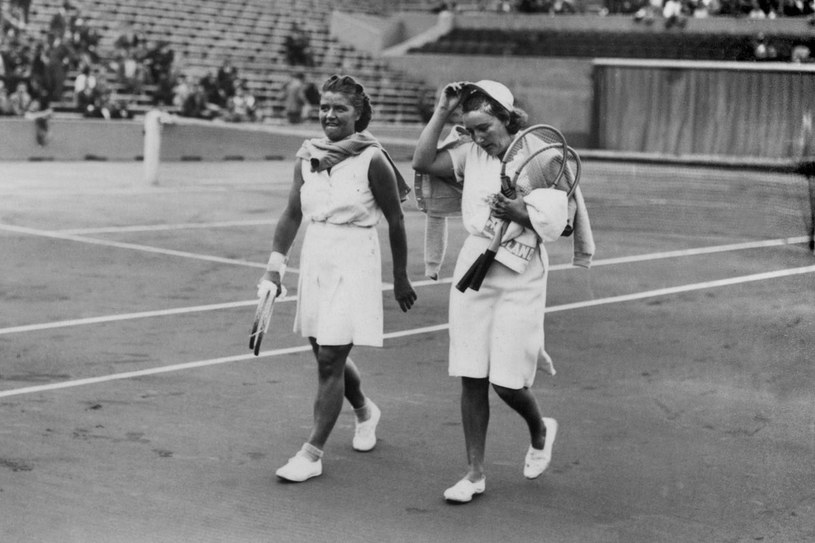 -----------------------------------------------------
Doubles (Draw=14)
1st Round
Sarah Fabyan (US)/Gracyn Wheeler (US)-bye
Jacqueline Goldschmidt/Jacqueline Horner d. Nelly Landry/Simone Laffargue default
Alice Florian (Yug)/Hella Kovac (Yug) d. Susan Noel (GB)/Billie Yorke (GB) default
Simone Barbier/Mlle Kerckoff (Neth) d. Zofia Sioda (Pol)/Klara Somogyi (Hun) default
Cosette St. Omer Roy/Alice Weivers (Lux) d. Marguerite Lebailly/Suzanne Pannetier 12-10 6-0
Nina Brown (GB)/Rita Jarvis (GB) d. Leila Claude-Anet/Henriette Morel-Deville 6-1 6-3
Madzy Rollin-Couquerque (Neth)/Arlette Halff d. Paulette Mellerio/Anne-Marie Simon 8-6 6-1
Jadwiga Jedrzejowska (Pol)/Simone Mathieu-bye
Quarterfinals
Goldschmidt/Horner d. Fabyan/Wheeler 6-4 0-6 6-1
Florian/Kovac d. Barbier/Kirchhoff 6-3 9-7
St. Omer Roy/Wewers d. Brown/Jarvis 8-10 6-3 6-4
Jedrzejowska/Mathieu d. Couquerque/Halff default
Semifinals
Florian/Kovac d. Goldschmidt/Horner 4-6 6-3 6-2
Jedrzejowska/Mathieu d. St. Omer Roy/Weivers 6-3 6-3
Final
Jadwiga Jedrzejowska/Simone Mathieu d. Alice Florian/Hella Kovac 7-5 7-5
-----------------------------------------------------
Mixed Doubles (Draw=at least 20)
1st Round
Mary Hardwick (GB)/Charles Hare (GB)-bye
Cosette St Omer Roy/Raymond Rodel-bye
Jacqueline Goldschmidt/Gene Smith (US)-bye
Alice Florian (Yug)/Ferenc Puncec (Yug)-bye
Sarah Fabyan (US)/Elwood Cooke (US) d. Rosie Saoutchik/Jacques Bonte 6-0 6-1
Leila Claude-Anet/Emil Gabory (Hun)-bye
Susan Noel (GB)/Jean Borotra-bye
Alice Weivers (Lux)/Toto Brugnon-bye
Klara Somogyi (Hun)/Otto Szigetti (Hun) d. Rita Jarvis (GB)/Henry Billington (GB) 6-4 6-4
Jacqueline Horner/Hans Van Swol (Neth)-bye
Suzanne Pannetier/Roland Journu-bye
Jadwiga Jedrzejowska (Pol)/Adam Barawowski (Pol) d. Madzy Rollin Couquerque (Neth)/Pierre Geelhand (Bel) 6-1 6-2
Gracyn Wheeler (US)/Bobby Riggs (US) d Paulette Mellario/Roger Dessair 6-4 6-1
Nina Brown (GB)/Frank Wilde (GB)-bye
Hella Kovac (Yug)/Dragutin Mitic (Yug)-bye
Simone Mathieu/Franz Kukuljevic (Yug)-bye
2nd Round
Hardwick/Hare d. St Omer Roy/Rodel 6-0 4-6 6-4
Goldschmidt/Smith d. Florian/Puncec 6-3 6-4
Fabyan/Cooke (US) d. Claude-Anet/Gabory 6-4 7-5
Noel/Borotra d. Weivers/Brugnon 6-4 1-6 6-3
Somogyi/Szigetti d. Horner/Van Swol 6-3 6-4
Pannetier/Journu d. Jedrzejowska/Barawowski (Pol) 3-6 6-4 6-3
Wheeler/Riggs d. Brown/Wilde 6-2 6-2
Mathieu/Kukuljevic d. Kovac/Mitic 7-5 6-1
Quarterfinal
Goldschmidt/Smith d Hardwick/Hare default (Hare tore arm ligaments)
Fabyan/Cooke d Noel/Borotra 6-2 7-5
Pannetier/Journu d Somogyi/Szigetti 6-4 1-6 6-3
Mathieu/Kukuljevic d Wheeler/Riggs 6-3 6-2
Semifinals
Fabyan/Cooke d Goldschmidt/Smith 6-2 6-2
Mathieu/Kukuljevic d Pannetier/Journu 5-7 6-3 6-1
Final
Sarah Fabyan/Elwood Cooke d Simone Mathieu/Franz Kukuljevic (Yug) 4-6 6-4 7-5
-----------------------------------------------------
Draw Notes
:
Mme JP Claude=Leila Claude-Anet according to The Grand Slam record book, but this was her maiden name and her married name was Mme de Verrerier. This is probably explained by her taking her father's initials.
Frank Wilde is listed as HD (Henry David) Wilde.
Only 6 known seeds in the singles.
There may be other missing 1R mixed results, especially considering the size of the draws. A mixed draw of 28 to 32 is more likely.
-----------------------------------------------------
Sources
:
http://ww2.fft.fr/rolandgarros/pdfpalmares/femmes1939_en.pdf
British Lawn Tennis
The New York Times
The London Times
Paris-Soir
Leidsch Dagblad | 12 juni 1939 | pagina 10 - Historische Kranten, Erfgoed Leiden en Omstreken
[unique mixed results]
-----------------------------------------------------
Summary
:
"Auteil is a pleasant place even if the French Championships are far from being what they were." (London Times, June 11, p 6)
No German entries at all, as tension and rumours of war in Europe run high. Running so close to Wimbledon also discourages many entries. The event used to be held in May.
Gracyn Wheeler, traveling independently of the USTA, has a set point taken from her by a bad line call in a late afternoon match vs Mary Hardwick. The winner went right into the corner and was called out at 6-5. She ended up losing the set 10-8 and the steam went out of her gradually, having played a match earlier in the morning. The #4 seed finally won as the sun sank.
Most of the seeds held until the quarterfinals, only #5 Dutch player Rollin Conquerque falling. Then the major surprises came.
A seriously off form Jadwiga Jedrzejowska barely survives a tight third set vs Halff in the quarters. Her famous forehand was flying everywhere and too often wildly missing. Pannetier lulled Hardwick into playing from the baseline, winning despite her underhanded serve. Mary had a 3-1 lead in set one and played with caution, playing right into Suzanne's steady hands. Hardwick looked like coming to life when she tied at 4-4 in the second with splendid volleys, but then dropped the next 8 points for the match.
"Miss Fabyan was another grass court player to be caught in the toils of this slow rubble", getting only 2 games from Mme Lebailly. The lefty used the dropper repeatedly as Sarah dug her won grave in the dirt with numerous backhand and volley errors.
The semis ended the run of the unseeded semifinalists. Lebailly fought well and extended the Pole to 3 sets ,"but for all her nice control on the backhand, this was largely because Mlle Jedrzejowska's flaming forehand was so loose. Then Mlle S Pannetier had nothing like the necessary strokes to take on so shrewd an opponent like Mme Mathieu...even though she be the French #2."
Could the popular Pole finally win a major in her third final? It was not to be. Jaja pulled up from a set and 3-5 down to tie at 5 all, but consistency won over brilliance as it usually does on hard courts. As the Times noted, "against a shrewd adversary like Mme Mathieu, hitting one winner to two losers was of little use.Then Mlle Jedrzejowska made some telling moves with the drop shot, yet Mme Mathieu got to most of them and was prepared to volley the return; one has rarely seen her covering a court so quickly."