EJTA Tour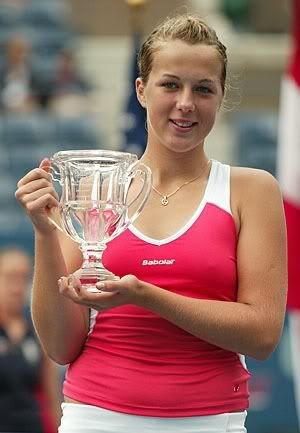 Welcome to the
Elite Juniors Tennis Association
. In order to join this game you must do the following:
1) Choose an ITF junior player who is of course 18 years or younger and has played at least
three
ITF junior events in the past year.
2) Choose your favorite surface and choose your weapon.
3) Send in points, write articles, have fun!
How to Play
Points
You will get
120 points
for each set to split among
13 games
and you will do this
3 times for 3 sets
. Whoever has the most point in each game wins the game. Pretty self-explanatory.
There is NO doubles in this game.
Favorite Surface
You must also choose your
favorite surface
. You will get
20 extra points
for your favorite surface.
The surfaces are:
Rebound Ace
,
Clay
,
Grass
, and
Hardcourts
.
Your Weapon
Then you must choose a weapon. Depending on which weapon you choose, you will get 5 extra points added to which ever surface goes with your weapon.
The weapons and their surfaces are:
Serve - Grass
Forehand - Hardcourts
Backhand - Rebound Ace
Speed - Clay
Ranking Points

Grand Slam

R16: 2
QF: 70
SF: 150
F: 200
W: 400

Grade A

Q: 3
R16: 1
QF: 50
SF: 120
F: 160
W: 250

Grade 1

R16: 1
QF: 30
SF: 100
F: 140
W: 190

Year-Ending Championships

Round Robin Wins: 40 points each
Round Robbin Losses: 2 points each
Reaches Semifinal & Wins: 50 pts (+ Round Robin Points)
Reaches Semifinal & Loses: 20 pts (+ Round Robin Points)
Reaches Final & Loses: 35 pts (+ Semifinal Points + Round Robin Points)
Reaches Final & Wins: 80 pts (+ Semifnal Points + Round Robin Points)

Finishes #1 in Group: 10 bonus points
Finishes #2 in Group: 5 bonus points


Quality Points

Defeats #1: 20
Defeats #2: 15
Defeats #3: 10
Defeats: #4: 7
Defeats #5: 5


Schedule

Rebound Ace Season
1. Optus Nottinghill International GA - Melbourne, Australia
2. Loy Yang Power Traralgon International G1 - Victoria, Austrlia
3. Australian Open Junior Championships GS - Melbourne, Australia

Clay Season
4. Banana Bowl G1 - Brazil
5. Trofio Bonfiglio GA - Milano, Italy
6. Roland Garros Junior Championships GS - Paris, France

Grass Season
7. Gerry Weber Junior Open G1 - Halle/Westfalen, Germany
8. Roehampton GA - London, Great Britian
9. The Junior Championships, Wimbledon GS - Wimbledon, Great Britian

Hardcourt Season
10. Canadian Open Junior Championships G1 - Quebec, Canada
11. US Open Junior Championships GS - Flushing Meadows, New York
12. Orange Bowl Tennis Championships GA - Key Biscayne, Florida


Year-Ending Championships
Top 8 players will play in Madrid, Spain for the EJTA YEC Title.
The surface is INDOORS and all top 8 players will use 120 points for this event.


EJTA Tour Competitors

1. Sacha Jones (NZL) - kittyking
2. Sharon Fichman (CAN) - stevos
3. Naomi Cavaday (GBR) - TennisPlayingFox
4. Anastasia Pavlyuchenkova (RUS) - Sharapova's_Boy
5. Tamira Paszek (AUT) - Patty<3
6. Amina Rakhim (KAZ) - AjmoJeca
7. Caroline Wozniacki (DEN) - Tennace
8. Ayumi Morita (JPN) - -jenks-
9. Julia Cohen (USA) - tennisbuddy12
10. Yanina Wickmayer (BEL) - Highlandman
11. Nicole Gibbs (USA) - pancake
12. Ksenia Milevskaya (BLR) - Nomarcland
13. Kristina Antoniychuk (UKR) - Cat's Pajamas
14.Dominice Ripoll (GER) - Karim A
15. Chelsey Gullickson (USA) - Dan23
16. Katharina Killi (GER) - Germanstar
17. Jessica Moore (AUS) - Edge​