Discussion Starter
•
#1
•
Does Women's Tennis Need Kim Clijsters?
By Ken Miller, Lawn Tennis Analyst, Posted: Friday, April 17, 2009 3:27pm PST USA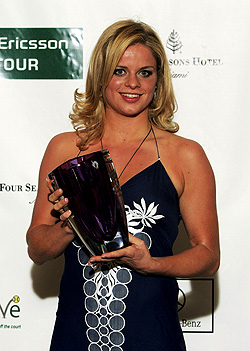 Does Women's Tennis Need Kim Clijsters, Lawn Tennis Magazine Los Angeles--(lawntennis.org) Just as the Williams sisters appear poised to once again dominate the grand slams, Dinara Safina of Russia is set to claim the WTA Tour's top ranking Monday, despite her never having won a grand slam title.
Next week the second ranked Safina will share her rankings topping achievement with the currently fourth ranked Jelena Jankovic of Serbia who also last year reached the tour's top ranking while never taking a slam.
The Williams sisters, Serena Williams, the Australian Open and US Open champion, and Venus Williams, the Wimbledon champion, have won the last three grand slams. It's a feasible possibility that either sister could win May's French Open to then complete the Williams family grand slam despite the sisters' tendencies to favor hard or grasscourts and shorter points. In 2002, Serena defeated Venus in the Paris final to win her lone French Open title.
The sisters' dominance has again resulted in increased excitement and a higher level of play on the tour which is not a bad consequence, not at all. But it could be nicer for fans and the game overall if the Williams sisters had a rival other than each other.
Full Article:
http://www.lawntennis.org/news2009/april/does-womens-tennis-need-kim-clijsters-17001.html