FERNANDEZ, "GIGI" (Beatriz Fernandez)
United States (Puerto Rico)
Born 22 February 1964 in San Juan, Puerto Rico
Height: 1.70 M (5; 7")
Plays Right-handed (two handed-backhand)
[Active 1983-1997]
One of the greatest ever in doubles. Gigi 14 of 17 slams in doubles won with Nataha Zvereva. Together they were the dominant pair of the 1990s.
Fernandez also won the Olympic gold medal doubles twice, in 1992 and 1996. Both times her partner was Mary Joe Fernandez.
The feisty Fernandez won a doubles major 8 consecutive years from 1990 to 1997.
After a two tear stint of college tennis at Clemson Gigi hit the tour full time when she turned pro in 1983.
[From the International Hall of Fame site]
In October 2014, espnW voted Gigi Fernández the 10th-most-influencial Hispanic athlete in history. The big-serving and hard-hitting native of San Juan, Puerto Rico was the first female athlete from her country to become a professional in any sport, and she carved out a legacy, largely based on astounding doubles success, a scant few in the sport have ever achieved.

Fernández, who was fiery, tenacious, exuberant, and displayed her emotions on the court freely – both a blessing and a curse at times – won 17 major doubles titles with four different partners. Fourteen of those titles were shared with Natasha Zverera, who complimented her spirited partner perfectly. While the duo weren't complete opposites, Zvereva's all-court game balanced her partner's aggressive mantra and while Fernández was fire, Zvereva was ice. Appropriately, the pair entered the Hall of Fame together in 2010.
Their fun sense of humor and antics on and off court earned Fernandez and Zvereva a reputation for being entertainers par excellence. Fun or not, they were a deadly combo. They won 6 consecutive majors from the 1992 French through Wimbledon 1993. Only Martina Navratilova and Pam Shriver (with 8 consecutive slams) can top that. Gigi and Natasha won 14 of 18 major finals.
The biggest dissapointment for the dynamic duo came at the 1993 US Open where, having won the other 3 majors that year, they were chasing the Grand Slam. They fell in the semifinals to Arantxa Sanchez Vicario and Helena Sukova 1-6 6-3 6-4.
Tagged as a future Martina Navratilova in her youth, Gigi never developed as her early idol had. Some put it down to a lack of work ethic or discipline. For others it was mental. "Her grace at net was overshadowed at times by her trigger temper." (Crouse) As she matured with years on tour the mental lapses lessened, Gigi also cited relaxation techniques learned from the Deepak Chopra Center in 1992.
Though her tennis was primarily geared towards doubles the flashy Fernandez could make inroads in singles on faster surfaces. 1994 saw the most success in slams, as Gigi made the semifinals at Wimbledon losing 6-4 7-6 to Martina Navratilova) and the quarters at the US Open a couple of months later.
Fernandez retired in 1997 at age 33. That same year Gigi met former pro golfer Jane Geddes, who became her life partner. After many months of trying, Gigi bore twins after a friend donated eggs. Carson and Madison Fernandez-Geddes were born in April 2009.
Fernández was named Puerto Rico's "Female Athlete of the Century" in 1999. In 2010 she entered the International Tennis Hall of Fame next to her former double partner Natasha Zvereva.
Doubles
Career record 664–184
Career titles 69
Highest ranking No. 1 (March 4, 1991)
Grand Slam Doubles results
Australian Open W (1993, 1994)
French Open W (1991, 1992, 1993, 1994, 1995, 1997)
Wimbledon W (1992, 1993, 1994, 1997)
US Open W (1988, 1990, 1992, 1995, 1996)
WTA Finals W (1993, 1994)
Singles
Career record 270–232
Career titles 2
Highest ranking No. 17 (October 6, 1991)

Grand Slam Singles results
Australian Open 4R (1990, 1993)
French Open 2R (1986, 1987, 1991)
Wimbledon SF (1994)
US Open QF (1991, 1994)
Olympic gold with Mary Joe Fernandez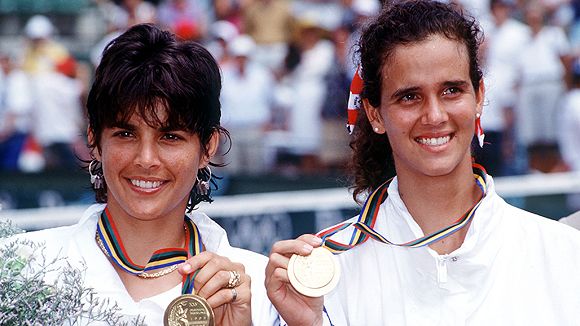 Sources:
https://www.tennisfame.com/hall-of-famers/inductees/gigi-fernandez/
https://en.wikipedia.org/wiki/Gigi_Fernández
What about Gigi? - TennisForum.com
[A Blast thread]
Crouse, Karen. "A Dream Deferred, almost Too Long."
New York Times (1923-Current file)
, Aug 30, 2010, pp. 2
, ProQuest Historical Newspapers: The New York Times with Index
,
https://search.proquest.com/docview/...ccountid=10274
.
[Thanks to Rollo for this information]