Discussion Starter
•
#1
•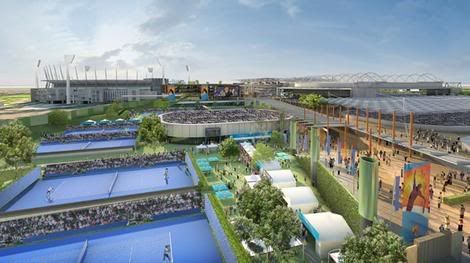 A FACELIFT for Rod Laver Arena and a new roof for Margaret Court Arena are among revamped tennis facilities the State Government hopes will keep the Australian Open in Melbourne until 2036.
A town square for tennis fans in the centre of the venue, partly covered with a lightweight roof, will also feature in the redevelopment, believed to be worth between $300 and $500 million.
The revamp will include a link between Melbourne Park and Birrarung Marr, new Tennis Australia headquarters and better player and media facilities.
Premier John Brumby yesterday pledged $5 million for a capital works program as well as detailed design and costings for the project's first stage, due to be completed by 2016.
"You are looking at the total cost here over many years of hundreds of millions of dollars," he said. "If we did nothing, you'd say the event post-2016 would be a question mark. But we are not going to do nothing."
The Age revealed in October that Sydney had launched a bid to snatch the Open. There had also been interest from Shanghai, Dubai and Madrid.
Melbourne Park, home to the Australian Open for the past 21 years, has far more spectator traffic than the sites of the other three grand slams. But unlike Wimbledon, Flushing Meadows and the French Open's Roland Garros, it has not undergone any significant structural improvements in recent years.
Last year, the players' restaurant was extended after some players complained.
Mr Brumby said the redevelopment would be undertaken "over the years so that the Open can be continued to be conducted with minimum disruption".
Some works are not expected to begin for more than six years.
Tennis Australia president Geoff Pollard said that at 15,000 seats, Rod Laver Arena was the right size for a centre court and still one of the best in the world.
"There is no bad seat at Rod Laver Arena. It just needs a bit of sprucing up," he said.
Mr Brumby said a proposal to cover the railyards east of Federation Square would probably remain shelved for decades, as it was too expensive.
The Open, which last year attracted 605,000 patrons, injected $164 million into the Victorian economy , while television broadcasts promoted the event and Melbourne to more than 240 million viewers worldwide.
Mr Pollard said that despite some players' protests about the Open's January start, mainly about the heat and a gruelling tour schedule, there were no plans to change the event dates.
"Australia owns January as far as the world is concerned in terms of sport and that's how we are going to continue," he said.
"My personal view is that the US Open finishes too late."
■ Modernised Rod Laver Arena
■ Roof for Margaret Court Arena
■ Covered, piazza-style town square for fans
■ Walkway linking Melbourne Park to Birrarung Marr
■ New Tennis Australia HQ
■ More practice courts
■ Better facilities for players and media