I've known for some time that Roddick reminded me of someone I didnt like. But I've only just realised who it is: Donald Duck.
Andy Rodduck?
Consider the evidence:
They both waddle.
They both have prominent backsides. Andy likes to stick his out as part of an elaborate service motion, Donald, well, he just can't hide his.
They both have voices that go "Waa-Waa-Waa!" without saying very much.
Both have been known to make extremely dubious headwear decisions:
Incredibly similar forehand preparation:
Service technique: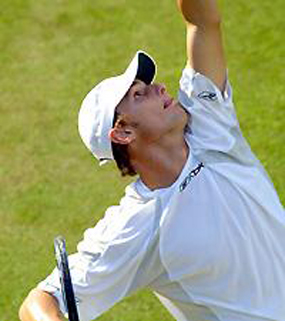 'Flashy' retrievals:
Pencil-thin physique:
Eyes too close together:
The evidence is there, now you decide: Have I got too much time on my hands?