10,000$ Bogota I, Colombia
Copa Clariant Babolat
Surface: Clay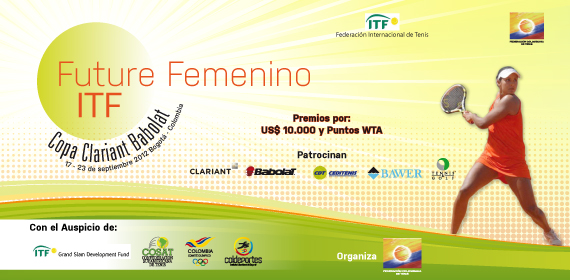 Bogotá—officially named Bogotá, D.C. (D.C. for "
Distrito Capital
", which means "Capital District"), formerly called Santa Fe de Bogotá, is the
capital city
of
Colombia
, as well as the largest and most populous city in the country, with 6,776,009 inhabitants (2005 census). Bogotá and its metropolitan area, which includes municipalities such as
Chía
,
Cota
,
Soacha
,
Cajicá
and
La Calera
, had an estimated population of 7,881,156 [1] according to the 2005 census.
Originally called by the
Muiscas
Bacatá meaning "planted fields".[2] It was the center of their civilization before the
Spanish explorers
colonized the area, and it sustained a large population. The European settlement was founded in
August 6
,
1538
, by
Gonzalo Jiménez de Quesada
and was named "Santa Fé de Bacatá" after his birthplace Santa Fé and the local name. "Bacatá" had become the modern "Bogotá" by the time it was made the capital of the
New Kingdom of Granada
, which was then part of the
Viceroyalty of Peru
, and later of the
Viceroyalty of New Granada
. The city soon became one of the centers of Spanish colonial power and civilization in South America.
Bogotá is located in the centre of the country, on the east of the "sabana de Bogotá", 2640 meters (8661 feet) above sea level. Although "sabana", as it is popularly called, is literally "savanna", the geographical site is actually a high plateau in the Andes mountains. The extended region is also known as "altiplano cundi-boyacense" which literally means "high plateau of Cundinamrca and Boyaca"
Previous Winners:
new tournament in 2012

2012 Draws

SINGLES QUALIFYING DRAW
(1) Emily FANNING NZL vs Tanya SAMODELOK RUS 63 61
Ana Maria SANCHEZ COL vs Alicia Andrea RODRIGUEZ CASTILLO COL 16 57
Diana MONSALVE COL vs Camila Andrea VELASQUEZ MORENO COL 61 60
Arantxa SANCHEZ COL vs Camila TOBAR COL 64 46 16
Laura D'ARCINIEGAS COL vs Vilma Y. GOMEZ COL 61 36 46
Maria GOMEZ SALDARRIAGA COL vs Lina MIRANDA COL 61 61
Blair SHANKLE USA vs Hitomi HASEBE COL 60 61
Melissa MINNITI USA vs Andrea PRISCO COL 26 06
Nellyy GARCIA-SANCHEZ COL vs Yulieth Eliana BLANCO MOLINA COL 62 75
Samantha PALACIO COL vs Laura SANCHEZ COL 62 60
Maria Camila TRUJILLO HOYOS COL vs Paula RODRIGUEZ COL 36 16
Emma HAYMAN NZL vs Angelica Maria OCHOA MARTINEZ COL 63 61
Marjorie ONDECK USA vs Daniela ALONSO MEJIA COL 75 64
Jade SCHOELINK NED vs Ivania MARTINICH CHI 64 61
Stephanie KENT USA vs Andrea TERNERA COL 62 61
Natalia KATTAH COL vs Ana Paula NEFFA DE LOS RIOS PAR 06 46
2nd round
(1) Emily FANNING NZL d. Alicia Andrea RODRIGUEZ CASTILLO COL 61 61
Camila TOBAR COL d. Diana MONSALVE COL 62 60
Maria GOMEZ SALDARRIAGA COL d. Vilma Y. GOMEZ COL 64 62
Blair SHANKLE USA d. Andrea PRISCO COL 64 36 62
Samantha PALACIO COL d. Nelly GARCIA-SANCHEZ COL 62 60
Emma HAYMAN NZL d. Paula RODRIGUEZ COL 62 60
Jade SCHOELINK NED d. Marjorie ONDECK USA 60 62
Stephanie KENT USA d. Ana Paula NEFFA DE LOS RIOS PAR 75 64
------------------------------------------------------------------------------------------
SINGLES MAIN DRAW
(1) Patricia KU-FLORES PER vs Yelena NEMCHEN KAZ 61 62
wc Laura UCROS COL vs Jazmin BRITOS PAR 62 64
q Camila TOBAR COL vs Naomi TOTKA HUN 57 63 64
(8) Gabriela COGLITORE VEN vs wc Maria Fernanda HERAZO GONZALEZ COL 06 06
(3) Cecilia COSTA-MELGAR CHI vs Marcela GOMEZ COL 60 60
Casey ROBINSON USA vs Maria Paulina PEREZ GARCIA ESP 36 26
q Emily FANNING NZL vs Ashley MURDOCK USA 26 60 61
(6) Ingrid Esperanza VARGAS CALVO PER vs Louise BRUNSKOG SWE 16 63 67
(7) Kamila KERIMBYEVA KAZ vs Libby MUMA USA 26 76 61
q Samantha PALACIO COL vs wc Daniella ROLDAN USA 36 76 61
q Jade SCHOELINK NED vs q Stephanie KENT USA 75 76
(4) Anastasia KHARCHENKO UKR vs wc Paula Andrea PEREZ-GARCIA COL 64 63
(5) Nathalia ROSSI BRA vs q Blair SHANKLE USA 16 26
Natalie LOZANO COL vs q Maria GOMEZ-SALDARRIAGA COL 16 06
q Emma HAYMAN NZL vs Paula SANCHEZ COL 62 62
(2) Yuliana LIZARAZO COL vs Laura PIGOSSI BRA 61 64
2nd round
(1) Patricia KU FLORES PER d. wc Laura UCROS COL 62 64
wc Maria Fernanda HERAZO GONZALEZ COL d. q Camila TOBAR COL 62 64
(3) Cecilia COSTA MELGAR CHI d. Maria Paulina PEREZ GARCIA COL 61 63
q Emily FANNING NZL d. Louise BRUNSKOG SWE 60 60
(7) Kamila KERIMBAYEVA KAZ d. q Samantha PALACIO COL 63 63
(4) Anastasia KHARCHENKO UKR d. q Jade SCHOELINK NED 64 60
q Blair SHANKLE USA d. q Maria GOMEZ SALDARRIAGA COL 62 60
(2) Yuliana LIZARAZO COL d. q Emma HAYMAN NZL 75 62
QF
(1) Patricia KU FLORES PER d. wc Maria Fernanda HERAZO GONZALEZ COL 62 62
(3) Cecilia COSTA-MELGA CHI d. q Emily FANNING NZL 75 63
(7) Kamila KERIMBAYEVA KAZ d. (4) Anastasia KHARCHENKO UKR 63 60
(2) Yuliana LIZARAZO COL d. q Blair SHANKLE USA 64 76
SF
(3) Cecilia COSTA-MELGAR CHI d. (1) Patricia KU-FLORES PER 63 63
(2) Yuliana LIZARAZO COL d. (7) Kamila KERIMBAYEVA KAZ 64 21 ret
Final
(3) Cecilia COSTA-MELGAR CHI d. (2) Yuliana LIZARAZO COL 16 63 64
------------------------------------------------------------------------------------------
DOUBLES MAIN DRAW
(1) Cecilia COSTA-MELGAR CHI/Anastasia KHARCHENKO UKR vs Louise BRUNSKOG SWE/Nathalia ROSSI BRA 64 62
wc Alicia Andrea RODRIGUEZ CASTILLO COL/Daniella ROLDAN USA vs Yilma Y. GOMEZ/Natalia KATTAH COL 62 75
(3) Gabriela COGLITORE VEN/Patricia KU FLORES PER vs Emily FANNING NZL/Ashley MURDOCK USA 63 76
Blair SHANKLE USA/Laura UCROS COL vs Natalie LOZANO/Laura SANCHEZ COL 60 61
Jazmin BRITOS PAR/Naomi TOTKA HUN vs wc Samantha PALACIO/Paula RODRIGUEZ COL 61 61
(4) Maria Paulina and Paula Andrea PEREZ-GARCIA COL vs wc Ana SANCHEZ/Andrea TERNERA COL 60 62
Maria GOMEZ SALDARRIAGA/Angelica Maria OCHOA MARTINEZ COL vs Emma HAYMAN NZL/Jade SCHOELINK NED 26 16
(2) Yuliana LIZARAZO COL/Nathalia ROSSI BRA vs Maria Fernanda HERAZO GONZALEZ/Camila TOBAR COL 63 76
QF
(1) Cecilia COSTA-MELGAR CHI/Anastasia KHARCHENKO UKR d.

wc Alicia Andrea RODRIGUEZ CASTILLO COL/Daniella ROLDAN USA 60 63
Blair SHANKLE USA/Laura UCROS COL d. (3) Gabriela COGLITORE VEN/Patricia KU FLORES PER 46 64 10-5
Jazmin BRITOS PAR/Naomi TOTKA HUN d. (4) Maria Paulina and Paula Andrea PEREZ-GARCIA COL 64 57 10-8
(2) Yuliana LIZARAZO COL/Nathalia ROSSI BRA d. Emma HAYMAN NZL/Jade SCHOELINK NED 63 64
SF
Blair SHANKLE USA/Laura UCROS COL d. (1) Cecilia COSTA-MELGAR CHI/Anastasia KHARCHENKO UKR 62 67 10-3
(2) Yuliana LIZARAZO COL/Nathalia ROSSI BRA d. Jazmin BRITOS PAR/Naomi TOTKA HUN 16 61 10-6
Final
(2) Yuliana LIZARAZO COL/Nathalia ROSSI BRA d. Blair SHANKLE USA/Laura UCROS COL 62 62