Helen Pastall Perez-Californian Comet
---
PEREZ, HELEN (nee Helen Stella Pastall)
United States
Born 07 May 1929 in Venice, California
Died 12 December 2005 in Litchfield, Connecticut
Married Robert "Bobby" Perez on 11 November 1948.
Height: 5' 7"
[Active from 1946 to 1955]
US Nationals QF in 1949 and 1953. Helen also won the prestigious Pacific Southwest Championships twice in 1949 and 1950. Tall and lanky, her speedy retrieving style was limited on grass but paid dividends on her native California hard courts.
Helen took up tennis at age 12. "I was a real tomboy", she declared, recalling how she outran the boys in the neighborhood as a child.
As Helen Pastall she won the US Girl's title in 1946 and was finalist to Nancy Chaffee in 1947. Ranked #16 in the US in 1947-by 1948 she had progressed to #8 in the US under the tutelage of "Teach" Tennant.
1949 was her breakout year with a great performance at Forrest Hills. Helen upset #4 seed Shirley Fry to reach the quaterfinals, where British player Betty Hilton beat her 6-2 6-3. Just a couple of weeks later Perez went on a tear at the PSW. As the #5 seed she upset #3 Pat Todd in the quarters, #1 Doris Hart in the semis, and #4 seed Beverly Baker 7-5 5-7 4-1 retired in the final. This huge win earned her a top ten world ranking for the year-her first and only foray into such exalted company.
For much of 1950 she was undefeated until she lost to Maureen Connolly on grass in the final at Merion 6-2 4-6 6-3. It was her first defeat all year. Another loss to Connolly and a disappointing early defeat at Forest Hills was followed by a defense of her Pacific Southwest title.
Efforts to develop a more potent net game and serve never paid off, though she had flashes of brilliance. Childbirth also meant stops and starts-her daughter Paula being born on 01 January 1952, which explains her absence from the US Nationals in 1950 and 1951.
For example, Helen made another quarterfinal at Forest Hills in 1953, losing to Louise Brough by the score of 8-6 6-3.
At one time or another Perez bear nearly all the greats of her era. According to her husband Bobbie she had wins over Nancy Chaffee Kiner [6 wins]; Darlene Hard [3]; Angela Buxton [2]; Pat Canning Todd [2]; Magda Rurac [3]; Shirley Fry [2]; Doris Hart [2]; Gussie Moran [3]; Dorothy Bundy Cheney [3]; Beverly Fleitz [3]; Louise Brough [3]; Maureen Connolly [3 out of l6] and Althea Gibson [2].
Helen and Bobby, himself a world class player, quit the game in 1955 to raise a family. They would have 3 children: Paula Kelly, Annie Beals and a son Rob.
Helen later taught tennis at the Los Angeles Tennis Club, where she developed a celebrity clientele and ran clinics for underprivileged youth.
Quote:
Maureen "Mo" Connolly on Perez: You must be an exceptionally good runner and loaded with fight to apply defense strategy all the time. The defensive player is one who hits every ball back and waits for the opponent to make the error. Shirley Fry and Helen Pastall Perez are the greatest retrievers I have ever played against, and yet they can both switch to offensive tactics whenever necessary--from her book
Power Tennis
.
United States Record
(entered 1948-1950 and 1953-1954)
Singles: 10-5 (QF in 1949 and 1953)
World Top Ten Rankings


1949: #4 (according to Ned Potter) or #7 (according to Pierre Gillou)
United States Top Ten Rankings
1948: #8
1949: #5
1950: #9
1953: #6
1954: #9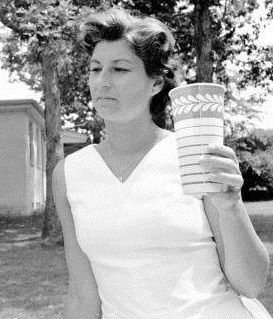 Sources
:
Helen Perez-the Californian Comet [A Blast Thread]
Helen Pastall Perez-Californian Comet
"Ranked at Five: She's Aiming Higher!", by Robert Perez.
American Lawn Tennis,
March 1950, pages 4-5 and 26.
California Birth Index.
Connecticut Death Index.
[Thanks to Rollo for this information]
---
Last edited by Rollo; Oct 13th, 2015 at

03:11 AM

.
Re: Helen Pastall Perez-Californian Comet
---
This article was published soon after Helen passed away in the Hartford Courant:
Helen Perez Belongs In Tennis Hall Of Fame - tribunedigital-thecourant
Helen Perez Belongs In Tennis Hall Of Fame
January 17, 2006|By OWEN CANFIELD
The story of Helen Pastall Perez, sent to me by her husband, Bobby Perez of Goshen, was a tribute to and a recollection of her tennis accomplishments. But it was more than that.
Helen and Bobby had 57 married years together. They were a strong team on the tennis court and off. And so, not surprisingly, her story as told by her husband, was something of a love letter, too.
This is my favorite paragraph: ``Helen was about 5-feet, 7-inches and weighed somewhere between 135 and 140 pounds [forgive me honey] in her prime. She ran like a deer and fought like a gored bull. I might add that she had lovely dark hair and was beautiful!'' The last line of the account is ``God Bless you, Helen.'' Both his pain and his pride in his late partner come alive in those lines.
``She battled cancer for 20 years,'' Perez said by phone. Helen was 76 when she died at their home in December.
Perez, 81, with the help of daughters Paula Kelly and Annie Beals and son Rob, is carrying on as he knows he must and all of us must when a beloved spouse is taken. But Perez harbors a special hope about his departed wife, who won a number of national tournaments and was popular, widely known and highly ranked. Perez has carried this hope for a long time:
``She should be in the [Tennis] Hall of Fame,'' he said. ``Just look at the record.'' And he provided the record. Part of it anyway.
The record, according to Perez's report, shows that for nine years, from 1946 to 1955, she was consistently ranked among the top 10 players in the USA, rising as high as No. 4 in 1948. If you remember most of these tennis toughies from days gone by you'll remember most of the following.
Quoting Bobby Perez: ``[Helen] often prevailed against tough opponents, including Nancy Chaffee Kiner [6 wins]; Darlene Hard [3]; Angela Buxton [2]; Pat Canning Todd [2]; Magda Rurac [3]; Shirley Fry [2]; Doris Hart [2]; Gussie Moran [3]; Dorothy Bundy Cheney [3]; Beverly Fleitz [3]; Louise Brough [3]; Maureen Connolly [3 out of l6] and Althea Gibson [2].
They were some of the great female players of the day. Gibson was the first black player to win a grand slam event. Maureen Connolly was a great champion, known as ``Little Mo'' who lost her own battle with cancer decades ago; and Gussie Moran was known as ``Gorgeous Gussie'' because, in part, of her flamboyant dress on the court.
According to Perez, Gibson wrote in her first autobiography that she never felt she was a world champion because she lost twice to Helen [at Orange and in the 1954 U.S. Nationals.] He also provided tributes about Helen from Connolly and Billy Jean King.
Helen Perez played competitive age-group tennis and was a champion, until the year 2000, when she fractured a hip. Later she had two hip replacements. And then on a trip to Tuscany that year, Helen began to limp. The cancer, which had been in remission, had returned. It was a difficult road from there, but she was courageous to the end.
She left terrific memories of competitive tennis and social times, experienced on the West coast and elsewhere. Perez named names of acquaintances like Mary Tyler Moore, Johnny Carson, Ann Jefferies and Jim Murray, the Los Angeles Times Hall of Fame columnist, who wrote glowingly of Helen.
Perez, himself a tennis player of note, had one grand life with his Helen, to hear him tell it, and by the way, it's great entertainment to hear him tell it. I hope the Tennis Hall of Fame committee takes a look at the record and selects Helen Perez next time they meet.
Re: Helen Pastall Perez-Californian Comet
---
[From the Los Angeles Sports Hall of Fame]

HALL OF FAME INDUCTION CEREMONY APRIL 26, 2015 17 TENNIS Helen Pastall Perez Fremont 1946 Helen Pastall Perez began life as an invisible child with a very tough home situation. Encouraged to take up tennis, the sport saved her life and gave her a place to show her talents. She won the Dudley Cup three straight years (1945-47) Beginning in 1946 (as a high school junior) she was rated in the U.S. Top Ten every year through 1955. Her number five ranking in 1955 was her highest. During that decade she enjoyed victories over such tennis luminaries as Maureen Connolly, Darlene Hard, Althea Gibson, and Louise Brough. Marrying USC tennis great Bobby Perez, she excelled in senior tennis events and teaching tennis. At the Los Angeles Tennis club she instructed such Hollywood stars as Mary Tyler Moore and Farrah Fawcett, but she also found time to conduct tennis clinics for underprivileged children. She provided tennis rackets and tennis balls for those children.
Senior Member
Join Date: Mar 2007
Posts: 452
Re: Helen Pastall Perez-Californian Comet
---
no offense to her, but WHEN did those victories come against connolly?
Posting Rules

You may not post new threads

You may post replies

You may not post attachments

You may not edit your posts

---

HTML code is Off

---