1924 Australian Draw
---
Thanks all for your help so far..
Moving forward to 1924
1924
Dates: January 19-30
Site: Albert Park, Melbourne
Surface: Grass
---------------------------------------------
Singles
(Draw= 22)
1st round
Sylvia Lance [3] d Mavis McIver 6-2 6-1
Flora Rowe d. Mollie Muirhead 6-1 6-0
Marjorie Todd [8] d. Frances Hoddle-Wrigley 6-3 6-3
Vera de Bavay-bye
Kath Le Messurier [6] -bye
Minnie Richardson-bye
Vera Howett (GB)-bye
Mall Molesworth [1] -bye
Esna Boyd [2] d. Nell Thyne default
E Johnson d. Lily Addison [5] default
Gwen Hack d. Jessie Salter 6-3 7-5
Mrs JA Simpson-bye
Daphne Akhurst [4] -bye
Ursula Bere-bye
J Ferguson-bye
Violet Mather-bye
*#7 seed Meryl O'Hara Wood did not appear in the singles draw.
2nd Round
Lance d. Rowe 6-3 6-2
Todd d. Bavay 6-1 6-1
Le Messurier d. Richardson 6-3 6-1
Molesworth d. Howett default
Boyd d. Johnson 6-1 6-1
Simpson d. Hack 6-3 6-8 6-4
Akhurst d. Bere 4-6 7-5 6-0
Mather d. Ferguson 6-2 10-8
Quarterfinals
Lance d. Todd 1-6 6-4 6-1
Le Mesurier d. Molesworth 7-9 6-3 8-6
Boyd d. Simpson 6-1 6-1
Akhurst d. Mather 6-1 6-4
Semifinals
Lance d. Le Messurier 6-2 6-2
Boyd d. Akhurst 6-1 6-4
Final
Sylvia Lance d. Esna Boyd 6-3 3-6 6-4
-------------------------------------------------
Doubles
(Draw=16)
1st Round
Daphne Akhurst/Sylvia Lance [1] d. Kathleen Roberts/Jessie Salter 6-1 6-1
Minnie Richardson/Mrs Simpson d. Lily Addison/Dorothy Hope 6-3 6-4
Mall Molesworth/Dorothy Rendall [3] d. M Farnsworth/I Morton 6-4 6-1
Youtha Anthony/Frances Hoddle Wrigley d. Mrs M Grant/Hester Phillimore (GB) default
Esna Boyd/Gertrude Todd [2] d. Violet Mather/Marjorie Mountain 61 6-2
Mrs Bodington/Nell Thyne d. Ruby Mercer/Isabel Wade 6-3 6-1
Kath Le Messurier/Meryl O'Hara Wood [4] d. Vera de Bavay/Ursula Bere 6-2 6-1
Gwen Hack/Flora Rowe d. Mrs GB Goodes/Helen Outhwaite 6-8 8-6 7-5*
Quarterfinals
Akhurst/Lance [1] d. Richardson/Simpson 6-3 6-2
Molesworth/Rendall [3] d. Anthony/Hoddle Wrigley 6-3 6-2
Boyd/Todd [2] d. Bodington/Thyne 9-7 6-3
Le Messurier/O'Hara Wood [4] d. Hack/Rowe 6-2 6-1
Semifinals
Akhurst/Lance [1] d. Molesworth/Rendall [3] 6-3 6-1
Le Messurier/O'Hara Wood [4] d. Boyd/Todd [2] 6-4 6-3
Final
Daphne Akhurst/Sylvia Lance [1] d. Kath Le Messurier/Meryl O'Hara Wood [4] 7-5 6-2
-------------------------------------------------
Mixed Doubles
(Draw=16)
1st Round
Daphne Akhurst/Jack Willard [4] d. Flora Rowe/Frank Drews 6-2 6-4
Mall Moleworth/Norman Roberts d. Hester Phillimore (GB)/Noel Heath 6-4 6-2
Dorothy Hope/Bob Schlesinger d. Meryl O'Hara Wood/Pat O'Hara Wood [1] 3-6 6-2 6-4
Minnie Richardson/Colin Newton d. Gwen Hack/Clive Fitts 6-2 1-6 6-4
Sylvia Lance/Ian McInnes [2] d. Vera de Bavay/Rupert Wertheim 7-5 6-1
Kath Le Messurier/WH Smith d. Quentin Winter-Irving/ Basil Henty 6-2 3-6 9-7
Marjorie Todd/Jack Clemenger d Ursula Bere/Alex Sandral 6-3 4-6 6-1
Esna Boyd/Gar Hone [3] d Mavis McIver/Timothy Fitchett 6-2 7-5
Quarterfinals
Akhurst/Williard [4]d Molesworth/Roberts 6-3 6-0
Hope/Schlesinger d Richardson/Newton 4-6 6-2 6-3
Lance/McInnes [2] d Messurier/Smith 6-0 6-3
Boyd/Hone [3] d Todd/Clemenger 6-3 6-3
Semifinals
Akhurst/Willard [4] d. Hope/Schlesinger 7-5 6-2
Boyd/Hone [3] d. Lance/McInnes [2] 6-1 6-4
Final
Daphne Akhurst/Jack Willard [4] d. Esna Boyd/Gar Hone [3] 6-3 6-4
-------------------------------------------------
Draw Notes:
Rain on the last few days delayed the event-it concluded on Wednesday, January 30.
The first year seeding was used.
Meryl O'Hara Wood was the #7 seed in singles but not in draw. Did she default before the event started? Note th edefault of #5 seed Addison, presumably after the draw was already made.
* The score from this 1R doubles between Gwen Hack/Flora Rowe d. Mrs GB Goodes/Helen Outhwaite may be may be 6-3 3-6 7-5. For now I am sticking with the score from the Argus, as it is a primary source.
Adela Gwendoline Hack went by "Gwen"
Mrs Dorothy Agnes Hope is the sister of Richard (Bob) Schlesinger. She wed Rodney Hope on 18 August 1921 in South Yarra.
Vera Howett listed as Miss VM Howett.
Mrs JS Simpson= nee Miss JG Keltie of Tasmania.
Nell Thyne listed as HM Thyne
Mrs J Todd= nee Marjorie Mountain, Md to a Mr J Todd in November 1923.
-------------------------------------------------
Summary
:
Molesworth was the favorite again this year but fell in the quarters to Kath Le Messurier 9-7 3-6 6-8. This match was different to the usual women's matches of this time as both women drove fiercely from beginning to end. Le Mesurier who had improved greatly over the last 12 months led in every set. Molesworth pegged her back from 3-5 to win the first. Le Messurier's off-backhand caused problems for Molesworth, jamming her on the backhand side, to give her the second set and two match points at 5-2 in the 3rd. Molesworth hit her away back to 5-5 but Le Messurier steadied to win 8-6.
A young 20 y/o Daphne Akhurst won her quarterfinal with one reporter getting quite carried away:
"Miss Akhurst an artist to her fingertips, belied her delicate Victorian
appearance
that suggested she had slipped out of one of Jane Austen's novels by sifting cayenne pepper shots from a never-failing supply.
Sylvia Lance recovered from a bad start to beat the Victorian Mrs. Todd 16 64 61 and Boyd beat Simpson to complete the semi lineups. Boyd carried this form to beat Akhurst by pinning the Sydney youngster against the backnetting with the depth and power of her forehand, the most feared shot in Australian women's tennis. Lance defeated Le Mesurier 6-2 6-2 by adapting her game to the soft court by slicing and chopping, in which the lack of pace told against le Mesurier who handled Molesworth's power the round before."
Lance looked to be in full control against Boyd when she led 6-3 3-0 and 40-15, but Boyd struggled back to duece and then after 6 more dueces took the game and the next 5 to win the set. This effort took its toll and Lance gained a slight advantage at the start of the 3rd and held on to 6-4.
It was a tense and interesting contest, but the same reporter who found Akhurst such a delight was not that impressed:
"As a spectacle the match fell short of realising the requirements of championship tennis of the tonic quality which, reinforced by vigour, carries the hallmark of high distinction. Both
players
were over-cautious and bent on making a success of the engagement in an entirely unbrilliant way. There was some evidence of the artistic quality that appeals to the doctrinaire or dilettante but too much harmless hitting of the mercerised near silk quality to provide the exciting interest associated with an inspiriting contest."
We have this great summary thanks to Louloubelle
..and From AustinRunner comes interesting instructions from the organizers of the 1924 Australasian Championships:
"The first Australasian championship meeting to be held under the new conditions in Melbourne from January 19 to January 28* will comprise seven events only - the singles, doubles, and mixed, women's singles and doubles, and junior (boys) singles and doubles; each event carrying with it for 12 months the title of championship of Australasia. The principle conditions are as follows:-
(1) Entries must be made on the prescribed form; and when entrance fees are payable they must accompany all entries. Any holder of a championship of the previous year, if wishing to compete, must enter and play through.
(2) No entry will be accepted from any player residing in Australia unless such player be a member of a club affiliated to a State Association or a member of such association.
(3) The committee reserves the right to refuse the entry of any player, or to determine if such player is not eligible to enter, or has not the necessary ability to compete, and shall not be required to give a reason.
(4) In all events the draw will be seeded by the committee in accordance with the rules.
(5) Play shall be continuous from the first service till the match be concluded, provided that after the third set - or when women take part, the second set - either player is entitled to a rest which shall not exceed 10 minutes.
(6) Entries for all events will close at 5 p.m. on Saturday evening January 5 with the secretary of the L.T.A.V., Mr. J. F. Koch, at the club house, Glenferrie Road, Kooyong.
There appears to exist in the mind of many players doubt as to who is eligible to enter. Owing to its being a championship meeting pure and simple, it is certainly not intended to accept entries from anyone who may come along; otherwise the events, or the preliminary rounds in them, would become a farce. It is intended to receive entries from all A grade players of both sexes, and possibly from the best of the B grade, and from any promising juniors, the committee finally determining who are eligible. Should any entries be refused on account of the players not being considered of sufficient standard to compete, the entrance fees will be refunded."
-------------------------------------------------
Sources:
GeeTee
The Melbourne Argus
---
Last edited by Rollo; Feb 18th, 2012 at

04:25 PM

.
Re: 1924 Australian Draw
---
Here is the list of Unresolved names

Unresolved names (where we lack a real first name/identity)

Ladies

Bryan-24
Docker, Mrs (from NSW)-22-23
Goodman, RJ-22
Grant, Mrs M (probably from NSW)-22
Hawthorne-24
Mrs Jackson (Qld)-24
Kelly, Miss (from Queensland)-24
Menzies, Miss D-22
Mrs Parkinson (Qld)-24
Rock, Miss (could she be a relation to Nina Rock?)-22
Schultze, Miss-22
Stevens, Mrs GB (most likely Mrs George B Stevens (nee Cora Smith) but cannot say definitively.-22
Webber, H (she was from NSW)-22
---
Last edited by Rollo; Feb 18th, 2012 at

04:20 PM

.
Re: 1924 Australian Draw
---
I've carried over this note from Geetee from the 1923 thread because it is related to 1924
Quote:
Keyden Irving (born 1894) is listed in Qld Birth, Deaths & Marriages (named after her mother Keyden) but no listing of any Winter Irving I can find in Qld(even though that doesn't always guarantee anything). The name Keyden's also mentioned in a number of newspaper reports covering social
tennis
events with other well known players/family names. So I guess I'm fairly confident, but wouldn't bet my life!
There were a bunch of sisters Margaret Helen (Mrs Frederick MEAD from 1925), Joan (Mrs FW HEATH from 1925) and Quentin (Mrs E de LITTLE from 1928) WINTER-IRVING who played club tournaments and at least one played in the Victorian titles in Melbourne,. They seem to be from a well-to-do horse-racing family, but don't appear to be a truly elite players. They had a cousin who also played tennis - Janet WINTER-IRVING (Mrs Keith TOLHURST from 1930).
One of them does seem to have played in the 1924 Australian mixed (not Quentin), but I can't identify which
.
Re: 1924 Australian Draw
---
New names to add to unresolved list

Ladies

M Farnsworth
J Ferguson
Mrs GB Goodes
E Johnson
I Morton
Mrs JA Simpson (we know she was Miss JG Keltie of Tasmania before marriage)
---
Last edited by Rollo; Nov 8th, 2011 at

11:35 PM

.
Senior Member
Join Date: Dec 2004
Posts: 4,482
Re: 1924 Australian Draw
---
Here's a bit. More later.
1924
Miss VM HOWETT GBR
Howett had competed internationally against Suzanne Lenglen and Elizabeth Ryan, playing doubles with Molla Mallory in 1923. She had also pushed Mallory to a 14-12 7-5 result in Monte Carlo.
She travelled to Australia later in the year and competed in the Victorian state championships prior to entering the 1924 Australian titles. At the nationals she gave Mall Molesworth a walkover in R2, after already having received a bye in R1.
Howett played in other Aussie tournaments until late 1925, but did not enjoy much success. Her best result was probably making the SF of the 1923 Victorian Championship plate event, where she lost to Mavis McIver. In the 1924 NSW Championships, she again lost in R1.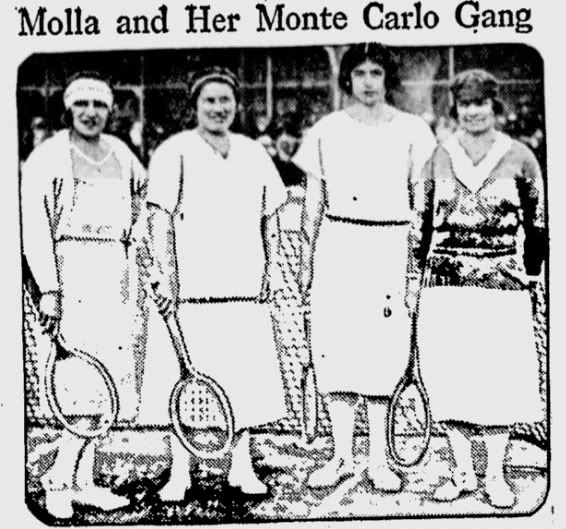 The (poor quality photo) is of Howett (tall one) and the other 'stars of women's world tennis'
Frank Robert DREWS QLD
Noel M HEATH (younger brother of Rodney)
Re: 1924 Australian Draw
---
Added in GT's info. Wow! So we had two Brits in the 1924 draw-as Miss Phillimore was also from Great Britain.
Senior Member
Join Date: Dec 2004
Posts: 4,482
Re: 1924 Australian Draw
---
A bit more:

Fitzroy Bell CORY (married player Margaret WHEATCROFT in 1919)
Clive H FITTS (a Doctor from 1926)
Stewart H HENDERSON
Basil E HENTY
A Colin NEWTON
G Norman ROBERTS
Alexander E 'Alec' or 'Alex' SANDRAL (Younger brother of Prosper W SANDRAL) - played in NZL circa 1930 after his bank job temporarily transferred him there

PS - looks like it was Quentin WINTER-IRVING who played in mixed with Henty

PPS - Dr. Harold Thorburn ILLINGWORTH. He played in England in 1929 and travelled around Australia a fair bit. He appears to have been born in Victoria, gained his qualifications in Sydney (1920), before practising in at least Qld, NSW, SA and WA, playing tennis in most states.

And a few more details:

George Percival 'Percy' LANE
Miss M FARNSWORTH (spelling)
Mrs JA SIMPSON - nee Miss JG Keltie (TAS)
Kathleen ROBERTS
Isabel WADE
Hester PHILLIMORE (GBR)
Violet HOWETT (GBR)

Hester PHILLIMORE had ties to the Countess of Stradbroke, wife of the Governor of Victoria at this time. Hester accompanied Lady Stradbroke to a number of society events in Melbourne around 1923-24. She only seems to have been downunder for about 6 months.

I believe she may be Hester Phillimore, daughter of George Grenville Phillimore, who married Sir Frederick PILE in Britain in 1932 and became known as Lady Hester Pile.
---
Last edited by Rollo; Nov 8th, 2011 at

11:30 PM

. Reason: added more
Re: 1924 Australian Draw
---
Thou art being modest Gee Tee. That's a mountain more!
. Note to self to add these to other threads my name list.
---
Last edited by Rollo; Nov 15th, 2011 at

05:13 PM

.
Re: 1924 Australian Draw
---
Bump up so I can work on adding this to the Aussie player guide.
Junior Member
Join Date: Feb 2012
Posts: 5
Re: 1924 Australian Draw
---
good job
Posting Rules

You may not post new threads

You may post replies

You may not post attachments

You may not edit your posts

---

HTML code is Off

---