Re: May Sutton - The First Overseas Wimbledon Champion, by Alan Little
---
Quote:
Did May win 2 of 3 matches with Molla in 1915? That was the year Molla won the Nationals. In Bjurstedt's defense it was on May's home courts in California, and no doubt the first time Molla played on cement.
Yes. Here are the results from these 1915 tournaments:
Quote:
November 12-14, Women's Round Robin Invitational, San Francisco, California, USA (Hard)
Venue: California Lawn Tennis Club

Nov 12: Molla Bjurstedt (Nor) d. Hazel Wightman 6-4 5-7 6-2
Nov 13: May Bundy d. Hazel Wightman 6-2 4-6 6-4
Nov 14: Molla Bjurstedt (Nor) d May Sutton Bundy 10-8 6-2

A New York Times article declares Molla's win seals her position as the world's best. They note this is Molla's first foray onto hard courts, a surface that favors Bundy. The article also speculates that Molla traveled West to directly confront Bundy, who has played in the east for several years.

Both play a similar style, knocking the cover off the ball on the forehand and standing on the left side of the court to avoid hittinh backhands. May's topspin results in hard balls with greater depth that Molla, whose bullet-like forehand is hit much flatter.

This round robin event basically conincided with, and totally overshadowed, the end of the men's event at the Pacific Coast Chmps.

-----

November 25-27, Dec 11 Women's Round Robin Invitational, Long Beach, CA, USA (Hard)

*An invitational round robin event based on a series on exhibition matches.


Nov 25
May Sutton Bundy d Molla Bjurstedt (Nor) 6-1 6-4
Florence Sutton d Mary Browne 6-4 6-3

Nov 26
Mary Browne d May Sutton Bundy 6-4 6-3
Molla Bjurstedt (Nor) d Florence Sutton 6-4 6-3

Nov 27
Molla Bjurstedt (NOR) d Mary Browne 2-6 6-2 6-4
May Sutton Bundy d Florence Bundy 6-1 6-0


Bjurstedt and Bundy play a "decider" on basis of even 2-1 records in round robin. This was in effect a "final" that was not originally planned.

Dec 11-Final
May Sutton Bundy d Molla Bjurstedt (Nor) 6-3 1-6 6-2


*An invitational round robin event based on a series on exhibition matches.

May's two wins over Molla at Long Beach tilt the head to head in her favor.

The Washington Herald is quite specific in stating Bundy's 6-1 6-4 win was on Thanksgiving Day-cementing the Nov 25 date. The New York Times validates the Nov 25-27 dates with specific results.


May's two wins over Molla at this event even their head to heads at 2-2 if Molla's 2 earlier exhibition matches are counted.
I seem to remember another of those with Hazel winning one of her matches. It was more balanced. I'd need to check again the 1915-1918 results.
Re: May Sutton - The First Overseas Wimbledon Champion, by Alan Little
---
We don't have much vids about May Sutton. We've read a lot about her, but how do we imagine her game? I've read about her forehand topspin, but what enlightens me more also on the following document, is the quality of her movement. The movie is blurred, but still, you can watch May Sutton Bundy at 5:47 here (she was making a comeback back then, since she won Wimbledon in 1905 and 1907, that makes more than 20 years later!). She's facing Betty Nuthall in a 1929 match at the USC. The whole thing starts at 3:35. May Sutton is the smallest of the two. She moves a lot to play on her forehand most of the time, since it was her "weapon". But she moves very well, doesn't she?


Re: May Sutton - The First Overseas Wimbledon Champion, by Alan Little
---
From the archive: May Sutton, America's first female champion - The Championships, Wimbledon 2017 - Official Site by IBM

From the archive: May Sutton, America's first female champion
Wimbledon.com dips into the archive to remember the career of two-time Ladies' Singles champion May Sutton.
By Paul Newman
Share on Google+
Tweet
Share on Facebook
May Sutton, who was born 130 years ago this week, was the first American to win the Ladies' Singles at The Championships, but that was by no means her only claim to fame. Seventeen of Sutton's fellow countrywomen have followed in her Wimbledon footsteps – the United States has produced more champions at the All England Club than any other country - but she is the only American Ladies' champion who was actually born in Britain.
Sutton's family emigrated to the United States when she was just six and went on to become one of the most successful in the history of the sport. Sutton, who triumphed at Wimbledon in 1905 and 1907 and also won the US title in 1904, married Tom Bundy, three times a US doubles champion. Their daughter, Dorothy Bundy, won an astonishing 391 national championships, the last of them at the age of 96, and claimed the Australian national title in 1938. Sutton's nephew, John Doeg, was the US champion in 1930, while her grandson, Brian Cheney, made one appearance at The Championships in 1967.
Born in Plymouth on 25 September 1886, Sutton was the youngest of seven children. Their father, a captain in the Royal Navy, suffered respiratory problems and was advised on his retirement to live in a warmer climate. The family moved to California, where they eventually lived on a ranch near Pasadena.
Sutton's sisters had begun playing tennis while still living in Britain and their parents built a court for them at the ranch. Four of the girls – Ethel, Violet, Florence and May – played to a high level, though it soon became clear who would be the most successful.
May was strongly built and deceptively quick around the court. Although only 5ft 4in tall, she had a very powerful forehand. She won her first tournament at the age of 13 and was soon dominating competitions in southern California. At 17 she travelled to Philadelphia to compete in the US national championships, where she won the singles and doubles titles at the first attempt.
The following year Sutton crossed the Atlantic to become only the second American woman to compete at The Championships. The 1899 US champion, Marion Jones, had reached the quarter-finals on her only appearance at the All England Club in 1900.
Given her background there was much interest in Sutton, which was only heightened by her attire. Because of the heat, she wore a shorter skirt than was customary and rolled up the sleeves of her blouse, thus exposing both her ankles and her wrists, which to British eyes was quite shocking.
If Sutton's dress stunned the crowds at Worple Road, where The Championships were held until 1921, her tennis had a similar effect. The American won her first three matches for the loss of only eight games before being pushed hard by Ethel Thomson, whose clever touch play took her into a 5-2 lead in the first set before Sutton won 8-6, 6-1. A 6-4, 6-0 victory over Agatha Morton took Sutton into the All-Comers' Final, in which she beat Constance Wilson 6-3, 8-6.
Until 1922 the defending champions went straight through to the Challenge Round, in which they faced the winner of the All-Comers' Final. Dorothea Douglass, who had won the title in 1903 and 1904, took the first game against Sutton, but her opponent quickly took charge by winning the next five. Targeting Douglass' backhand, May dominated the rallies from the back of the court, her forehand proving especially effective, and won 6-3, 6-4.
Having also claimed the title at the Northern Championships in Manchester before heading to the All England Club, Sutton went on to triumph at the Welsh Championships at Newport. She returned home having won three titles in Britain without losing a set – all at the age of 18.
The 1905 final at The Championships was the first of three in a row contested by Douglass and Sutton. Douglass earned her revenge one year later, winning a fiercely competitive contest 6-3, 9-7, but was well beaten in 1907, Sutton winning 6-1, 6-4, having again swept through her matches without dropping a set.
For the next five years, until her marriage in 1912, Sutton continued to compete regularly in the United States. Thereafter she focused on raising her four children, though she started entering tournaments again – mostly in doubles – in 1918. Three years later she made a comeback in singles and reached the semi-finals of the US national championships.
In 1925, at the age of 38, Sutton represented the United States against Britain in the Wightman Cup at Forest Hills. One of her opponents was 46-year-old Dorothea Lambert Chambers (nee Douglass), 18 years after their last meeting at The Championships.
Sutton finally retired in 1929 at the age of 42, but only after one last visit to The Championships, which by now were being staged at Church Road. Remarkably, she reached the quarter-finals by beating the No 4 seed, Eileen Bennett, who had been born 11 days after Sutton's 1907 Wimbledon triumph. Sutton's final match was a 3-6, 2-6 defeat to Joan Ridley.
Thereafter it was the turn of Sutton's daughter, Dorothy, to pick up the family baton, which she did by becoming the first American to win the Australian national title in 1938. Sutton, who continued to play tennis well into her eighties, died at her home in Santa Monica at the age of 89 in 1975.
Sutton serves to Dorothea Lambert Chambers at Wimbledon. Note the pony roller, which was used to role the lawns.
---
Last edited by Rollo; Oct 5th, 2016 at

03:08 AM

.
Re: May Sutton - The First Overseas Wimbledon Champion, by Alan Little
---
May's gravestone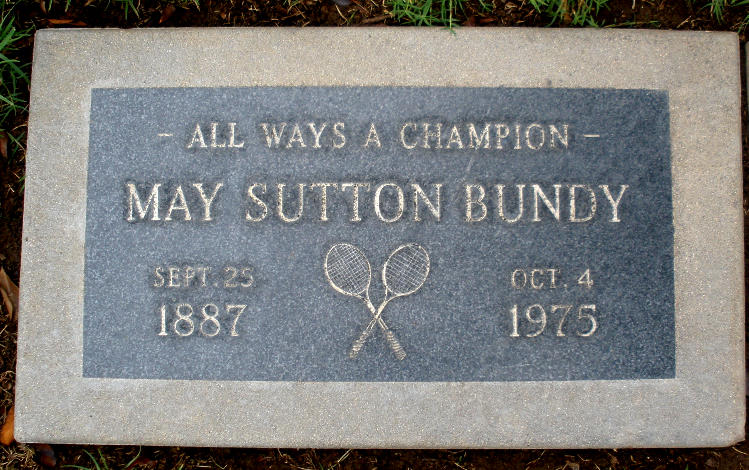 Re: May Sutton - The First Overseas Wimbledon Champion, by Alan Little
---
A youthful May. Hand blisters must have been common, as leather grips were nor common until well until the 1920s. Notice how large the grip is in this picture; another common feature of tennis racquets.
Re: May Sutton - The First Overseas Wimbledon Champion, by Alan Little
---
An unknown ball boy-Norman Brooks-May Sutton-Blanche Hillyard and George Hillyard. Taken probably at the Hillyards home of Thorpe-Satchville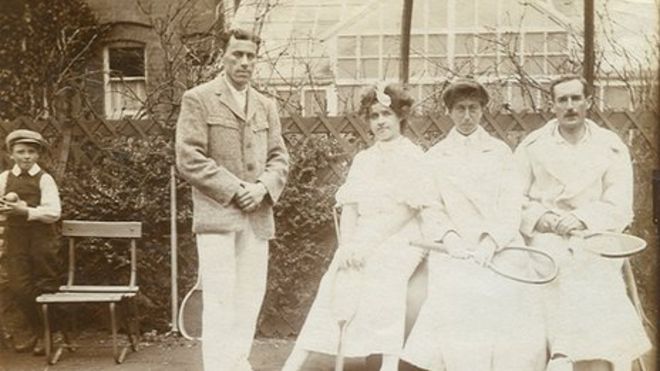 [From Alan Little's book]
Quote:
1905 was a year of adventure and enormous success for May. In early May she retained her Ojai Valley title by beating Florence in the final, 6-0, 6-3. A few weeks later, May made the 11,000 miles journey from California to England, crossing the Atlantic unaccompanied and landing at Liverpool towards the end of May. For a few days she practised on the courts of the North Lonsdale Club at Grange-over-Sands before staying with George and Blanche Hillyard at Thorpe-Satchville, their home in Leicestershire, to further acclimatise herself to the English conditions. She carried with her a letter from Marion Jones, who wrote in glowing terms about the visitor's play. When Hillyard first saw May they formed the opinion that she was too heavily built for speed about the court and that she posed no threat to the British players. They were proved otherwise when, the following day, May demonstrated her prowess in beating Mrs Hillyard, a six-time Wimbledon champion, and Miss Constance Wilson, another leading player. Other front-ranked players, who were guests of the Hillyards that week, soon came to the conclusion that May would be a force to be reckoned with at Wimbledon.
Re: May Sutton - The First Overseas Wimbledon Champion, by Alan Little
---
A snippet from American Lawn Tennis in 1919 (15 May 1919 issue, page 78) informs us that May won a self reported 8 of 9 events in 1911. her lone defeat was to Hazel Hotchkiss (later Mrs Wightman) at Niagara on the Lake.

On a soggy court May lost 0-6 7-5 6-0.

Her 1911 titles and scores in final

1. Coronado: d. Mrs B. O. Bruce (her sister) 6-0 6-2

2. Long Beach Mid-Winter: d. Hazel Hothkiss 6-2 6-0

3. Pacific Coast Chmps at Santa Cruz: d. Mary Browne 6-4 6-1

4. Pacific Northwest: d. Mary Browne 6-1 6-1

5. Niagara-on the-Lake: lost to Hazel Hothkiss 6-0 5-7 0-6.

6. Buffalo: d. Florence Sutton 6-1 6-2

7. Cleveland: d. Florence Sutton 6-1 6-1

8. Pittsburgh: d. Florence Sutton 6-4 6-1

9. Pasadena: d. Elizabeth Ryan 6-2 6-0
Posting Rules

You may not post new threads

You may post replies

You may not post attachments

You may not edit your posts

---

HTML code is Off

---