Senior Member
Join Date: Jul 2009
Posts: 13,178
Blanche Hillyard (1863-1946) - Six Times Wimbledon Singles Champion
---
This piece is a combination of the entry on Blanche Hillyard in the 2004 "Oxford Dictionary of National Biography" and original research by me. (This piece hardly does justice to a player who won many singles, doubles and mixed doubles titles over a period of more than twenty-five years, but details of virtually all of her tournament victories can be found within the results section in this website.)
--

Blanche Hillyard

Blanche Bingley was born on 3 November 1863 at Stanhope Lodge, Greenford, Middlesex, England, the daughter of Charles Bentley Bingley, "gentleman", formerly proprietor of a tailoring business in Great Marlborough Street, London, and his wife, Elizabeth, née Harrison. Blanche had [three] siblings – Emma (born 1845), Florence (born 1849) and Roselie (born 1851). By 1881 they were all living at 3 Portland Place, a very fashionable address near the centre of London. Also in the house were 14-year-old Ethel Field, daughter of Florence, by then Mrs Field and a widow.

There was also a retinue of no less than eight servants, all "living in". These included a footman, a Swiss lady's maid, a French lady's maid, a housekeeper, a parlour maid and a cook. In those days, of course, it was not unusual for well-to-do, or even quite modestly off, people to employ domestic staff, though the fact that Blanche Bingley's family could afford to employ eight servants is a strong indication of her background.

Blanche Bingley's remarkable career in competitive tennis spanned three decades. In 1884, aged twenty, she burst upon the tennis scene when she was among the field of thirteen in the first ladies' singles championship at Wimbledon. After winning two matches, she lost to the eventual champion, Maud Watson, in the semi-final. In 1912, aged forty-eight, after twenty-eight years of first-class tennis playing and six singles titles, she was again a semi-finalist at Wimbledon, but lost to Ethel Larcombe, who went on to win the title. Her twenty-fourth and last Wimbledon followed the next year, when she went out early to Ethel Hannam.

She first won the Wimbledon Championship in 1886, when she defeated Maud Watson, who had retained her singles title in 1885. She won again in 1889, as Blanche Hillyard, against Lena Rice. Blanche had married Commander George Whiteside Hillyard RN (born 1864) in Greenford on 13 July 1887. They would have one son and one daughter. She won again in 1894 against Edith Austin and in 1897, 1899 and 1900 against Charlotte Cooper (later Mrs Sterry).

Blanche Hillyard was thus the first mother to win the ladies' singles title at Wimbledon (in 1894, three years after giving birth to her son, Jack Montagu). She won the title three times (1897, 1899 and 1900) as a mother of two children, her daughter, Marjorie, having been born in 1896. Only three other mothers have subsequently won the same title. Charlotte Sterry (1908) won the ladies' singles title at Wimbledon once (1908) as the mother of two children, while Dorothea Lambert Chambers did it once (1910) as the mother of one child and twice (1913, 1914) as the mother of two children. The only mother to win the same title is Evonne Cawley (née Goolagong), who had had her first child when she won the ladies' singles title for the second time in 1980.

Blanche Hillyard's only superior in the early days was Lottie Dod, five-time champion and the greatest sportswoman of her age. Between 1885 and 1901, except on the four occasions when she did not compete, she was either Wimbledon champion or runner-up. The fourteen-year span between her first and last Wimbledon is the longest in history while her last title at age thirty-six still distinguishes her as the second-oldest ladies' singles champion (Mrs Sterry was nearly thirty-eight when she won in 1908). Her thirteen appearances in the singles final are a Wimbledon record, and Martina Navratilova is the only other player to have won the singles title in three different decades.

In addition to her Wimbledon successes, Blanche Hillyard won an amazing number of other singles, doubles and mixed doubles championships, including the Irish, Welsh, North of England, South of England (eleven times between 1885 and 1905), London, Cheltenham, Middlesex, Buston, Exmouth, English Covered Courts, All England doubles, mixed doubles and married couples, Wimbledon non-championship doubles, German, South of France, and Monte Carlo titles. A tireless tennis enthusiast, she continued to play in public long after her skills had waned, rather than allowing protection of her reputation to interfere with a pastime that gave her immense pleasure.

Blanche Hillyard was the first woman player whose standard of performance could be described as formidable. Her style was not particularly varied and like most of her contemporaries, she played a baseline rather than a volleying game; her backhand was defensive and relatively weak and her overhand serve, although an unusual stroke for a woman in her day, was not especially strong. What gave her play distinction was a remarkable natural forehand that had topspin and was much more powerful and accurate than those of her contemporaries, her follow-through going so far that the impact of her right hand and wrist badly bruised the upper part of her left arm and shoulder. Excellent footwork and great agility and speed, along with clever tactics, good judgement and intense concentration were also major assets, as were her fierce competitiveness, tremendous, determined, dogged persistence and unfailing self-control.

Blanche Hillyard never knew when she was beaten or what it was to be too tired to play on. By her own description, her most memorable match was the 1889 Wimbledon final against Lena Rice, who won the first set 6-4 and led in the second set by 5 games to 3 and 40-15 in the ninth game before Blanche Hillyard staged an extraordinary comeback to take the set 8 games to 6 and went on to win a well-fought third set 6-4.

Unlike many sportswomen, Blanche Hillyard did not give up serious competition with marriage and motherhood, although she never allowed her love of tennis to interfere with domestic duties and her championship record is marked by breaks of family building. Her courtship with George Hillyard was frequently conducted on the tennis court, and both played competitive tennis on their honeymoon. Commander Hillyard, a fine cricketer and tennis player (especially at doubles), also competed at Wimbledon, although with less success than his wife. More than that, he was one of the founders of the Lawn Tennis Association (1888), a distinguished umpire and, from 1907 to 1924, as Secretary of the All England Lawn Tennis Club, he was a great power in the tennis world. Their son, Jack, enjoyed modest success when he played competitive tennis during the 1920s.

The Hillyards' estate at Thorpe Satchville, near Melton Mowbray in Leicestershire, included a private golf course and tennis court, and exuded an uninhibited sporting atmosphere. The Hillyards adored dogs and allowed their pack of pocket beagles and other terriers to wander in and out of the house at will. Hunting and tennis parties, including most of the leading tennis players of the day, were common. Indeed, according to Dame Mabel Brookes, the wife of Norman Brookes, the first Australian to win Wimbledon, Thorpe Satchville was "an institution rather than a house".

Blanche Hillyard was a tall, plain, athletic-looking woman with a bold, clear signature that reflected her definite, businesslike manner on and off court. A sports all-rounder who was an excellent horse- and huntswoman (she hunted with the Quorn fox hunt for thirty years) as well as a tennis player, she was known for her exceptional sportsmanship and pleasantness to opponents weak and strong: the frowns that characterised her tennis play resulted from concentration rather than annoyance. She was known also for a minor sartorial eccentricity in that she always played in soft white leather gloves, evidently to ensure a firm grip on the racket.

As one of the pre-eminent women tennis players of her age, Blanche Hillyard was asked to contribute articles on tennis to various journals, including Herbert W.W. Wilberforce's "Lawn Tennis" (1890) and Lady Greville's edition of "The Gentlewoman's Book of Sports" (1892). These reveal that, although far from advocating "women's rights", she believed in dress reform in sport and that participation in sport advanced the position of women. "In tennis," she wrote, "our sex can compete with a certain amount of equality with the 'lords of creation'"; for playing "promotes … that coolness of head and judgement which we are so often taunted with lacking".

Commander George Hillyard died on 24 March 1943 at the age of 79. Blanche Hillyard's full life and "direct approach kept her bravely active, until at a great age and crippled with arthritis, she cried 'enough' and passed on" (Brookes, 73) at her home, Greenford, Mare Hill, Pullborough, Sussex, on 6 August 1946. She was 82.
-----
Indexed
---
Last edited by Rollo; Sep 26th, 2010 at

01:56 PM

.
Re: Blanche Hillyard (1863-1946) - Six Times Wimbledon Singles Champion
---
My Most Memorable Match---Blanche Bingley Hillyard--from Lawn Tennis for Ladies by Dorothy Chambers Lambert, 1910

"One of the most exciting matches I remember was the final for the championships at Wimbledon, played on the Centre Court on July 6, 1889, between Miss Rice and me.

I started very nervously, as Miss Rice had given me rather a fright in the Irish Championship the month before, when she appeared in Dublin as a "dark horse". On that occasion I had only scraped through 7-5 7-5. I began the match at Wimbledon by serving a double fault, and lost several games by doing the same thing in the first set. My length was awful and Miss Rice was playing well from the start. She had a very fine forehand drive, but, like myself, a bad backhand. She led a 3 games to 1, and took the first set at 6-4.

In the second set I regained my confidence a little, winning three love games out of the first four; but Miss Rice won the next four games in succession, the score being called 5-3 and 40-15 against me.

At this point, in my despair, I said to Mr. Chipp, who was umpiring the match, "What can I do?". His grim answer was, "Play better, I should think."
I then fully realized that I had not been playing my best game and that to win I must hit harder. This I did, with the result that my length improved and I snatched this game from the fire -although Miss Rice was three times within a stroke of the match- and I eventually won the set at 8-6.

The last set was well fought out, for, although I began well and led at 3-1, Miss Rice won the next three games in succession and rached 40-30 in the following game. This was her last effort, as I ran out at 6-4, winning the Championship for the second time. I think it was one of the closest matches I ever played, and I see that I only won 18 games to her 16, and 110 strokes to her 100, and I felt I was most lucky to win at all."
Re: Blanche Hillyard (1863-1946) - Six Times Wimbledon Singles Champion
---
With May Sutton in a ladies doubles at Wimbledon, circa 1906 to 1907. Both at the baseline. Mrs Hillyard is playing in chamois gloves while Sutton is barehanded and exposes her arms. The British press dubbed Sutton "the Pasadena Washerwoman".
Blanche never received similar public criticism for being unladylike.
Re: Blanche Hillyard (1863-1946) - Six Times Wimbledon Singles Champion
---
Blanche (near court) vs Charlotte Cooper Sterry at Eastbourne in 1901. She won the South of England Championship 11 times.
Re: Blanche Hillyard (1863-1946) - Six Times Wimbledon Singles Champion
---
A "legend" in relation to Mrs Hillyard and an overindulgence at tea time!
http://britishstandardnews.com/2014/...n-just-tennis/
Quote:
Legend has it that in 1907, Mrs Blanche Hillyard (photo4), already a six-time champion, was knocked out after guzzling bread and butter, cakes, bath buns, and 3 plates of strawberries during a rain interval. Unfortunately, she was then required to continue her match
a more detailed account
Quote:
Late June, when The Championships begin, is the prime growing season for English strawberries and a newspaper report from 1907 of a women's match that was interrupted by rain tells of how the fruit may have helped dash one player's hopes.

The pause in play permitted Blanche Hillyard, one of the repeat women's champions, to eat what the London newspaper described as a 'fearful' tea that included sugar-rich Bath buns, seven slices of bread and butter, three slices of cake and three plates of strawberries.

"No sooner had she finished than the referee requested her to play. She lost her semi-final match and complained bitterly to the committee and to the Daily Mail," Godfrey said, reading from her account of the newspaper's report.
---
Last edited by Rollo; Jun 28th, 2015 at

07:18 AM

.
Re: Blanche Hillyard (1863-1946) - Six Times Wimbledon Singles Champion
---
A formal studio photograph.
Re: Blanche Hillyard (1863-1946) - Six Times Wimbledon Singles Champion
---
Lunging for a backhand.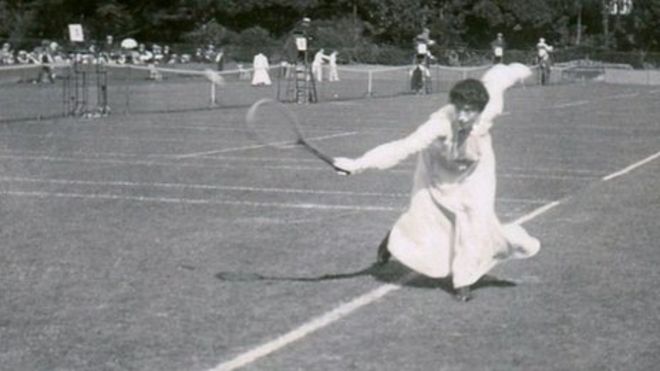 Re: Blanche Hillyard (1863-1946) - Six Times Wimbledon Singles Champion
---
Her husband George, who as secretary of Wimbledon moved the location from Worple Road to its present venue on Church Road in 1922.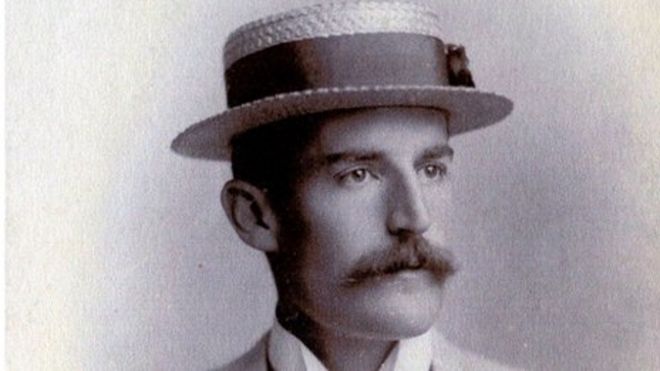 Re: Blanche Hillyard (1863-1946) - Six Times Wimbledon Singles Champion
---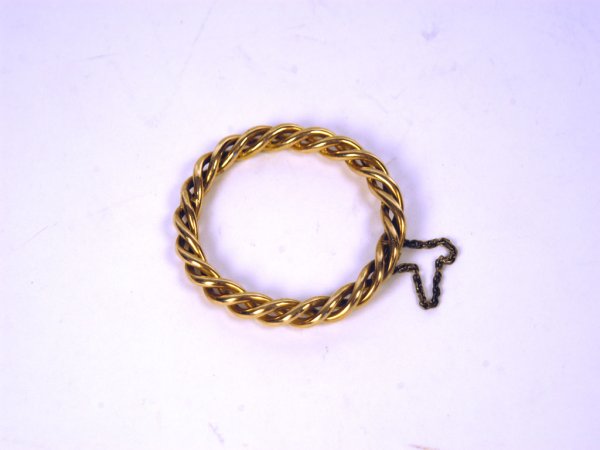 Gold bracelet given to Blanche Bingley by the All England Lawn Tennis Club as the prize for winning the 1886 Wimbledon Women's Singles Championship. It is engraved: "All England Championship 1886". It has been exhibited at the Wimbledon Lawn Tennis Museum.
---
Last edited by Rollo; Jul 12th, 2015 at

04:44 PM

.
Re: Blanche Hillyard (1863-1946) - Six Times Wimbledon Singles Champion
---
This was originally posted by Newmark at:
https://www.tennisforum.com/79641870-post4652.html
The following unsigned interview with Blanche Hillyard was published in 'Lawn Tennis' on August 4, 1897, not long after 33-year-old Blanche had won the fourth of her six singles titles at Wimbledon. In the interview she reveals quite a lot about herself, not just about her lawn tennis career, but also about her personal life. She also mentions her two children – 6-year-old Jack, who would become a successful lawn tennis player himself, and 2-year-old Marjorie Anastasia Hillyard (1895-1953). Marjorie was born mentally handicapped and did not take up lawn tennis.
---
From 'Lawn Tennis', August 4, 1897
A Chat with the Lady Champion – Mrs Blanche Hillyard
[Unsigned]
There was considerably more than a substratum of truth in a remark overheard by the writer at the recent [Wimbledon] Championship meeting, when the subject of the present sketch had beaten Miss Charlotte Cooper, and thus repossessed herself of the premier title. Quoth an enthusiastic bystander as the winning stroke was made – 'Well, I call Mrs Hillyard a wonder; she's like Tennyson's brook – goes on forever!' Considering that the lady in question first became champion in the year 1886 – more than a decade ago – and that she still holds that title, many persons (including the writer) will feel inclined to endorse the above remark.
'Men may come and men may go' – and women too, for that matter – but the present lady champion is apparently impervious to the wear and tear of time. Most of her contemporaries of either sex of ten years ago – Miss Louisa Martin is one of the few exceptions – have passed from the ken of the players of today, and their methods are rapidly becoming traditions only. Where, now, among the ladies are Miss Lottie Dod, Miss Maud Watson, Miss May Langrishe, Miss Margaret Bracewell, Mrs Edith Cole, Miss Lena Rice and Mrs Lilian Pine-Coffin, all names to conjure with a decade ago? Echo answers, where?
Mrs Hillyard, then Miss Blanche Bingley, first entered for the Championship in the year of its institution – 1884 – and reached the third round [semi-final] before she was beaten by Miss Maud Watson – who won the title – in a three-set match. In the following year she again had to play second to the holder – on this occasion in the final, Miss Maud Watson playing through that year. In 1886 the conditions were altered; the holder of the Championship stood out, and played the winner of the All-Comers' Prize. In the year in question Miss Bingley succeeded in turning the tables on her conqueror of the past two years, and thus for the first time in her career achieved premier honours.
In 1887 that incomparably fine player, Miss Lottie Dod, made her first appearance at Wimbledon, and carried all before her, beating Miss Bingley very easily in the Challenge Round. This was the last match the latter engaged in under her maiden name, for the following week she was married to Mr George W. Hillyard, then and since well known as a cricketer, who himself was destined subsequently to gather laurels on the lawn tennis courts. The newly-married couple, it may be mentioned en passant, signalised the beginning of their wedded life by winning the ladies' and gentlemen's doubles at the Chiswick Park meeting the week following their marriage.
Miss Lottie Dod repeated, a year later at Wimbledon, her victory over Mrs Hillyard, but the latter recovered the title in 1889, defeating Miss Lena Rice in the final of the All-Comers' after a very closely contested three-set match. As Miss Dod had expressed her intention of resigning the title, the match in question became the Championship round. The year following Mrs Hillyard in her turn retired, and Miss Rice succeeded to the vacant honour, Miss Dod again being an absentee. The latter emerged from her seclusion in 1891, however, defeated Mrs Hillyard in that year, and in 1892 and 1893 (a three-set match), but retired in 1894, when Mrs Hillyard again won, only to be conspicuous by her absence in 1895 and 1896.
This year [1897], as everybody knows, sees her once more at the head of affairs. Apart from the Championship, to enumerate Mrs Hillyard's various performances would probably fill a number of 'Lawn Tennis', and when viewing her numerous trophies, she may with justice apostrophise herself as in classic terms, and exclaim, 'Si monumentum requiris circumspice' ('If you seek her monument, look around').
In addition to the Championship she has held the Irish, Welsh, Northern and South of England Championships. Curiously enough, although a lover of hard courts, she has never yet entered for the Covered Court Championship. Her record for other events is almost equally good, for more than once she has won, partnered by Mr Ernest Renshaw, and subsequently by Mr Wilfred Baddeley, the All England Mixed Doubles, and with Miss Bertha Steedman, the All England Ladies' Doubles Championship.
She is a baseline player pure and simple, and has been called a Herbert Lawford in petticoats, her forehand stroke reminding one not a little of that famous player's drive. She places to a nicety either down the lines or across the court, and has on occasions been known to win an ace with a volley. Her weak point is her backhand, which possesses not a tithe of the pace which characterises her forehand, and is, moreover, returned rather high over the net. Still, the length is generally good, and therein lies her salvation with regard to this stroke. Well aware of her weakness, she not infrequently runs round the ball. And – to mention another characteristic feature of her game – she has never been known to play without gloves. To do so would probably handicap her more heavily than any point of odds, however severe. Handicappers might note this with a view to future imposts, though probably the objection of interference with the liberty of the subject would be raised.
--
"I can't remember," was her reply to a question of the writer as to when she began to play the game. "I can't remember, but I think I began when I was 17, and I have been playing a good many years now. I never can remember dates. The other day someone asked my how many times I had won the Championship, and I could not say, nor can I say now. I know I have only missed Wimbledon three times since the Ladies' Championship was started [in 1884]. Of course, I consider lawn tennis a most excellent game, and I think that, if possible, I am keener than ever, and you must remember I've played the game hard for about 15 years. The hardest match I ever played? Well, I think it was the match against Miss Lottie Dod at the Northern in 1893, in the Championship round. We were set-all, and I led her at 5 games to 4, and 40-15, and then lost. She took to lobbing [moon-balling] towards the end of the match, and I failed to go for my stroke, as I ought to have done under the circumstances."
"You have often played matches under difficult conditions, I expect?"
"Yes, I have seldom played a match except under difficulties – rain, wind or bad light, and sometimes all three combined, as, for instance, at Manchester this year, when it actually blew a gale with heavy rain. In one match I remember we were playing quite late – 8.15 p.m. – and it was almost dark. I personally consider wind much less embarrassing than rain or bad light, but most people do not agree with me."
"Do you like singles, doubles or mixed doubles best?"
"I like singles best of all, and then mixed doubles. I greatly dislike ladies' doubles as they used to be and still are played – all four players at the back of the court. But with two back players and two volleyers it is not at all a bad game. For instance, Miss Ruth Dyas and Miss Helen Jackson have been playing Miss Bertha Steedman and myself in practice the last few days, and we have had some excellent sets, as the rests [rallies] were never long, the volleyer either making the stroke or losing it."
"You must possess quite a collection of trophies?"
"Yes, I have a great many nice prizes, but I think this last Championship gave me the most pleasure of all, both for the honour of again winning it, and also because the prize is a very handsome one – a silver mirror for the dressing-table. It is now eleven years since I first won the Championship."
"What sort of dress do you advise for match play?"
"Well, I find the most comfortable is a white serge skirt, a white flannel blouse and a sailor hat. But I know most ladies play hatless, and in duck skirts and cotton blouses. Chacune à son gout [To each her own]."
"Have you played abroad?"
"Yes, I have played at Cannes, Nice and Monte Carlo, on sand courts. I much prefer hard to grass courts, as the former are always true, and grass so seldom is – especially at tournaments where, with few exceptions, little trouble is taken to make the grass courts good. The only tournament where, in my experience, one ever finds good courts are those held on cricket grounds, such, for instance, as Brighton and Liverpool. Wimbledon is the solitary exception that occurs to me."
"Do you intend your children to learn the game?"
"Well, at present they are too young to begin. My boy is only six and my girl two. But Jack often knocks the ball about with a racket, and I have been seriously thinking of getting him a 10 oz Tate. He has quite a good idea of hitting the ball – quite as much as many grown-up people have whom I have seen playing at garden parties. But please don't imagine that I occupy myself exclusively with lawn tennis. I can do other things, too, and I hate people to think that lawn tennis players can do and think of nothing outside the one game – that lawn tennis is the end and aim of their existence. It is a prevalent idea, I know, but quite a mistaken one.
"At all events, I can answer for myself. I hunt four days a week, run with the beagles twice a week, and I am a very keen cyclist. Last year I organised a mixed – lawn tennis terms will cling to one, you see – a mixed tandem bicycle tour, and succeeded in getting together seven tandems – men and girls. We rode about 70 miles a day – through Cambridge, Cromer, Grantham &c. I am very fond of music, too, and used to a good player – the piano was my instrument, although I am sorry to say I never touch a note now. Animals, too, have a warm corner in my heart, and I keep dogs, cats, doves and horses. There, I think I had better stop or your readers will be bored."
Posting Rules

You may not post new threads

You may post replies

You may not post attachments

You may not edit your posts

---

HTML code is Off

---