Re: Alice Marble
---
Alice with actress Carole Lombard
---
Last edited by Rollo; Dec 31st, 2018 at

12:41 AM

.
Re: Alice Marble
---
A photo for a radio promo. Alice expanded outside tennis by doing radio play by play and writing.
At net-playing with a cap was a Marble trademark
Re: Alice Marble
---
Alice striding on court with Kay Stammers
The scene is the 1939 Wimbledon final. It was now or never for Alice to win Wimbledon, as World War II was just weeks away. Marble won easily.
Stammers was a great beauty in her day. Future US President Jack Kennedy was one of her boyfriends.
Re: Alice Marble
---
Marble and Bobby Riggs dancing at the 1939 Wimbledon ball. Both won the singles, doubles, and the mixed. legend has it Riggs made a fortune betting on himself to win the triple.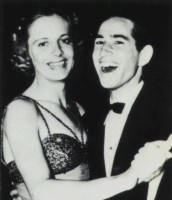 ---
Last edited by Rollo; May 2nd, 2019 at

02:50 PM

.
Re: Alice Marble
---
With Althea Gibson
Re: Alice Marble
---
Bump up.
Re: Alice Marble
---
Thanks Djo-Coeur
It's a good read and very inexpensive to buy online.
Alice pretty much skips over how her letter pushed to USTA to allow Althea Gibson to play Forest Hills. I suspect the new biography will cover this in detail. It deserves coverage as Alice was heroic in pushing tennis in the right direction.
In Courting Danger Alice came out with a few things that the press and tennis writers have parroted hook, line, and sinker.
None of the assertions below have ever been confirmed by another source
.
1. She claims to have married Joseph Crowley in 1942. According to Alice he was shot down and killed in late 1944. She then had a miscarriage and attempted suicide by swallowing pills.
The problem? No one has ever found a Joseph Crowley who died in World War II who would be a realistic candidate to be her husband.
2. Just weeks after attempting suicide the US government (which seems to know a lot about Alice) hires her as a spy to get information on a former lover in Switzerland in the closing weeks of the war. Her cover is a series of Swiss tennis exhibitions. In the course of spying she get shot in the back and survived after several weeks in the hospital.
The problems? Where do we start?
1. Hans (a made up name) was her supposed lover. Alice met him briefly in Le Touquet in 1938 after Wimbledon. They have sex on the beach and don't meet again for several years. According to Alice they made the French gossip columns in 1938. If we can place Alice in Le Touquet in the summer of 1938 and find the publicity about her we have Hans.

2. If the OSS really knew that much about Alice wouldn't they know about her suicide attempt? And knowing that, would they really hire a potentially unstable woman (and a famous person) and put her in danger? So she sort of maybe would hook up with a former lover to get information on him? I don't see the logic of it.
3. Lets assume I'm wrong. There still a HUGE problem-as there is no evidence, not a sliver, that Alice ever went to Switzerland in 1945. No mentions of it in the New York Times, no mentions in American Lawn Tennis, no mentions in Swiss newspapers. Zippo. A puplicity tour with no publicity. Hmm......

4. Roan checked everywhere in the government for any spy activity. She came up with nothing. The government has stated they have no evidence she was a spy, but this didn't make a lot a news because it wasn't as exciting as "Alice the spy". Contrast that with Julia Child for example, which the CIA is happy to declare was agent.
https://www.cia.gov/news-information...lia-child.html
---
Last edited by Rollo; May 16th, 2019 at

12:31 AM

.
Re: Alice Marble
---
At the end of Courting Danger Marble also claims she had an affair with Rod Serling, the creator of the famous TV show The Twilight Zone.
Re: Alice Marble
---
Double checking the New York Times for mentions of Alice in 1945.

On 30 May she played on exhibition in New York City. There is no mention of her "back from Switzerland" or "recovering from an illness" (presumably a gunshot wound would have taken SOME time to get over.)

On 25 May at an New York City event at the Waldorf-Astoria.

On 13 December 1944 she is at a war benefit.

The lack on info from the NYT from 13 December to 25 May does fit the dates of Alice's story. If the whole spy episode took place in February or March of 1945 it might be possible.
Re: Alice Marble
---
Found this article -which highlights how Alice was involved in promoting the character of Wonder Woman!
https://medium.com/@librarycongress/...e-fbc874dea5d9
It also includes a very snappy photo montage of Alice at the 1937 US Championships.
---
Last edited by Rollo; May 21st, 2019 at

11:12 AM

.
Posting Rules

You may not post new threads

You may post replies

You may not post attachments

You may not edit your posts

---

HTML code is Off

---