Parlez-vous francais? Help needed
---
I suspect this interview is an absolute treasure trove of information on Anne-Marie Seghers in particular, and perhaps French women's tennis of the 1930s to 1960s in general.
Can anyone translate the important parts?
Here is the link to the audio interview-which last a whole hour!
http://www.tcpretro.fr/wp-content/up...ers-3-4-06.mp3
For some background imformation on Mme Seghers I have posted her encyclopedia entry below.
Re: Parlez-vous francais? Help needed
---
SEGHERS, ANNE-MARIE (nee Anne-Marie Simon)
France
Born 15 September 1911
Died in early 2012.
Married Pierre Seghers in September 1939 in Veulettes. Mother of at least three children, players Pierette and Nicole Seghers are her daughters.
Lefthanded
[Active as early as 1934 to 1961]
French singles finalist in 1941, QF in 1949 and 1954.
This grand Dame of French tennis was the first Frenchwoman to wear shorts in 1934. She first played the French Chmps in 1937 as Mlle Simon and rolled on with only short breaks due to childcare until 1962, when her daughter Pierette was also at Roland Garros.
When she made the final in 1941 she was Mme Seghers. The event itself, played under Nazi German occupation, was the Tournoi de France. Anne-Marie lost the final to Alice Weivers 6-3 6-0.
She was also a QF in 1949 and again in 1954 at the age of 41. Her last know title was at Barembach in 1956.
Anne-Marie Seghers celebrated her one hundreth birthday on 15 September 2011, passing away just a few months later.The Veulettes Tennis Club (TCV) has named a court in her honor. She was a member of the club and was wed at Veulettes.
Her son Philippe said of his mother: "She was tenacious and determined, with a rigor and unfailing honesty, a strong sense of loyalty in friendship and hospitality was legendary ... Despite the time spent in tennis, she took care of her children perfectly. "
French Championships record
(entered 1937-1939, 1947-1950, 1952,1954, 1957-1962) *this excludes the Tornoi de France, held from 1941 to 1945.
Singles: 12 wins-14 defeats and 1 default.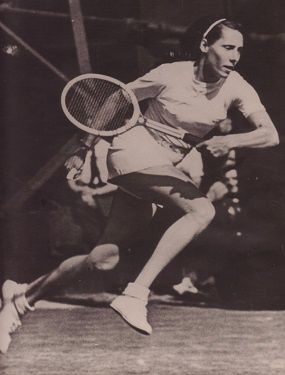 Sources:
https://en.wikipedia.org/wiki/Anne-Marie_Seghers
Décès de notre membre et amie Anne-Marie SEGHERS > IC of France
Archive - Draws Archive : Anne Seghers - 2015 Wimbledon Championships Website - Official Site by IBM
joueuses francaises des 20's aux 70's - Le blog des archives du tennis feminin
Une grande dame du tennis - paris-normandie.fr
---
Last edited by Rollo; Oct 30th, 2017 at

03:50 AM

.
Re: Parlez-vous francais? Help needed
---
Can anyone help with this?
Re: Parlez-vous francais? Help needed
---
I tried, Rollo, but the sound is very low (after I downloaded the thing) and I don't have the sound system to play it louder. To boot I have to avoid headphones to not hurt my ears (I have tinnitus problems). She sures talks a lot and mentions a lot of things, she's apparently checking papers or archives with the interviewer, reviewing her career and results.

Hope someone else can help.
Posting Rules

You may not post new threads

You may post replies

You may not post attachments

You may not edit your posts

---

HTML code is Off

---