Isabel Fernandez
---
FERNANDEZ, "ISABEL" (María-Isabel Fernández de Soto)
Columbia
Born 18 September 1950
Nickname: "Isa"
[Active 1965-1976]
From Cali, Columbia, she was the first Columbian female pro on the tennis tour. Her uncle introduced her to the sport at the age of seven. In 1969 she came to the University of South Florida. After two years Isa embarked on a pro career.
In 1972 Fernandez made an impact in the slams, reaching the quarters of the French and Wimbledon with Cornejo in mixed doubnles and the quarters of the doubles with Bonicelli.
1973 was her best year, getting to the last 16 in singles at the United States Open and the doubles semifinals at Wimbledon with Bonicelli. The next year, she and Martina Navratilova won the doubles at the Virginia Slims of Dallas.
Some results list her as Isabel de Soto or Isa Fernandez, but for the most part went by Isabel Fernandez.
In 1979, Fernandez began teaching in New York City-later teaching at Sawmill.
Titles
South American Open 1968 and 1971
Sources
:
1975 World of Tennis
, page 249.
Isabel Fernandez
https://fr.wikipedia.org/wiki/Mar%C3...Fern%C3%A1ndez
http://www.wimbledon.com/en_GB/score...106/index.html
---
Last edited by Rollo; May 7th, 2016 at

03:42 AM

.
Re: Isabel Fernandez
---
http://www.nytimes.com/2002/01/13/ny...over-slot.html

FOR THE RECORD; A Winning Drop Shot In the 50-and-Over Slot
By CHUCK SLATER
Published: January 13, 2002
MOUNT KISCO—
WHEN Isabel Fernandez was 9 and playing at a tennis club in her native Cali, Colombia, she got some advice from a local teacher. It opened the door to her future.
''I am going to teach you the drop shot,'' the teacher, Heladio Calero, told the energetic young athlete back in 1959. The drop shot is hit seemingly hard but in a way that causes it to go just over the net softly and bounce little, a problem for an opponent near or behind the baseline.
''I said O.K.,'' Fernandez related recently, between giving lessons at the Saw Mill Club here. ''My coach -- he's 86 now and I still call him my coach -- told me that the drop shot would be my best weapon. He said, 'Girls are lazy. They don't like to run. They don't like to sweat. You have to learn the drop shot.' ''
A lot has changed since then. Women run and sweat. But Isabel Fernandez and her drop shot are still winning tennis tournaments. At the National Women's Clay Court Championships in Pensacola, Fla., in October, Fernandez won her first two United States national titles, taking both the singles and doubles in the 50-and-over category.
In the singles, she drop-shotted her way past Pat Keleman, 6-1, 6-1. In the doubles, she won with an old partner from her international playing days, Sue Bramlette, also in a 6-1, 6-1 final.
''The drop shot is super-efficient at all levels,'' said Fernandez, who springs to the net to put away the expected weak return after delivering it. ''It's equally effective at any level. Age is not a factor. It's who can get to it.''
Not many can.
Armed with her favorite shot, a versatile arsenal, energy and talent, Fernandez left Colombia at 19 to accept a tennis scholarship to the University of South Florida. A year later, she left college ''to follow my tennis dream.''
She became the first athlete from Colombia to play on the women's professional tennis tour.
Competing on the world stage from 1971 to 1979, she had her best year in 1973 when she reached the Round of 16 in singles at the United States Open and the doubles semifinals at Wimbledon with Bramlette. The next year, she and Martina Navratilova won the doubles at the Virginia Slims of Dallas.
In 1979, Fernandez began teaching in New York City and continued playing successfully in lesser tournaments.
She gradually drifted into full-time teaching and joined the Saw Mill staff eight years ago.
''But when I turned 50,'' she said, ''I decided to try for a ranking in the 50-and-overs.''
Playing in Naples, Italy, she tore the miniscus in her left knee, costing her a year of competition.
''By this summer I was able to move pretty well again,'' said Fernandez, who now plays with a thick bandage bracing her left knee. ''I won a couple of local tournaments in West Orange and Fairview, so I thought I'd try the nationals.''
Miguel Morales, the tennis director at the Saw Mill Club, can vouch for her teaching skills. ''With her credentials having her brought a lot of prestige,'' he said. ''But she quickly developed a reputation as a straightforward, honest pro who would give you the best possible coaching to improve your game. And she can work with anybody.''
Fernandez said: ''I like my pupils to have fun, and always play with a positive attitude. I have a bunch of 8 to 13-year-olds who are going to be very successful at the high school level.''
Her adult students are also enthusiasts. ''She can translate what you need to do into simple lessons,'' said MaryAn Plumeri of Pleasantville. ''If you're down, she can pick you up -- but she can deflate you, too, if it's needed. She's no pussycat.''
Fernandez remains fervent about her sport. ''Tennis has been everything to me,'' she said. ''If not for tennis, I'd probably be in Colombia raising a family.''
Photo: Isabel Fernandez, working with Spencer Ong at the Saw Mill Club. (Joyce Dopkeen/The New York Times)
Re: Isabel Fernandez
---
Tennis Pros - Saw Mill Club
Isabel Fernandez

Experience:
Won many titles on the Pro Tour in the 70's
Semi-finalist of Wimbledon Ladies doubles in 1973
Round of 16 in Singles at US Open in Forest Hills in 1973
Virginia Slims quarterfinalist several times in singles
Doubles winner of Dallas with Martina Navratilova
Starting teaching in 1975 with the top Colombian up and coming young players
Last 20 years was teaching in Queens, Rockland County, Hastings and Westchester
Education:
University of South Florida in Tampa, #1 singles and doubles positions 1970
Rankings:
#1 in Columbia since she was 15 years old
South American Champion in 1971-71
WTA #21 in singles and #15 in doubles in 1973
#1 Eastern Section Women's 50's 2001-02
...
---
Last edited by Rollo; May 9th, 2016 at

02:20 AM

.
Re: Isabel Fernandez
---
Thanks for posting this Rollo.


Always good to hear about the pioneers of the lesser discussed tennis playing countries, particularly from South America.


Though the Beuno's and Sabatini's don't come around too often.... there seems to be a less tour depth from that region these days.
---
There's more to life than just being happy.
Junior Member
Join Date: Jun 2011
Posts: 67
Re: Isabel Fernandez
---
I remember reading in 'Lloyd on Lloyd' the dual autobio of Chris and John Lloyd that John was romantically involved with Isabella before he met Chris, they were quite serious and were contemplating marriage, though they eventually decided against it.
Re: Isabel Fernandez
---
From Binoxial's wonderful site: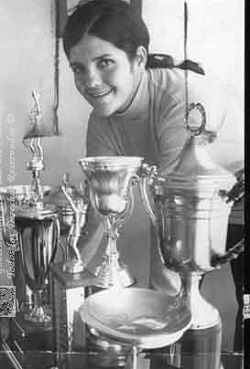 Posting Rules

You may not post new threads

You may post replies

You may not post attachments

You may not edit your posts

---

HTML code is Off

---