Old
May 21st, 2017, 08:46 PM
Re: Kiki Articles/Press release
---
Allez! On croise les doigts!
---
Old
May 22nd, 2017, 05:42 PM
Thread Starter
Re: Kiki Articles/Press release
---
on y croit et de toutes façons superbe challenge pour elle
---
French tennis Federation President, Bernard Giudicelli 20/04/2017
:
"We do organize a SLAM not a CASTING"
Result
: No Wild Card to
Maria Sharapova.
Old
Jun 1st, 2017, 01:07 PM
Thread Starter
Re: Kiki Articles/Press release
---
Kristina interview with Paris Match, splendid photos
Kristina Mladenovic : "A nous deux Roland-Garros"
---
French tennis Federation President, Bernard Giudicelli 20/04/2017
:
"We do organize a SLAM not a CASTING"
Result
: No Wild Card to
Maria Sharapova.
Old
Dec 25th, 2017, 11:25 AM
Thread Starter
Re: Kiki Articles/Press release
---
Kiki gave a great intv on l'Equipe, she's talking about her 2nd part of the year, reasons of her losing streak, her off season preparation, her partnership with Janko Tipsarevic, Fed Cup, Doubles and Serena
Mladenovic : «Pas peur de reperdre»
...
Tennis
Kristina Mladenovic :
«Je n'avais pas peur de perdre et reperdre»
Publié le samedi 23 décembre 2017 à 19:16 | Mis à jour le 23/12/2017 à 19:18
De sa fin de saison difficile, elle a tiré les leçons pour rebondir. Entre Paris et Dubaï, la 11e mondiale s'impose six semaines de préparation intensive et voit 2018 avec sérénité.
Sophie Dorgan
Avant de s'envoler jeudi pour Dubaï, Kristina Mladenovic a pris le temps de se poser pendant une heure et demie pour évoquer de nombreux sujets. Sereine et détendue, la 11e mondiale n'a écarté aucune question. Avec sa franchise habituelle, elle est revenue sur sa fin de saison très compliquée et les leçons qu'elle en a tirées, a détaillé sa préparation avec Janko Tipsarevic comme conseiller, évoqué ses objectifs et répondu aux interrogations sur la Fed Cup avec ou sans Caroline Garcia.
Les leçons de l'échec
Toute la deuxième partie de saison, elle a vécu un long calvaire. Revenue trop tôt à la compétition après une blessure au genou à Wimbledon qui l'a contrainte à dix jours d'arrêt total, elle n'a jamais pu rattraper son retard et a enregistré douze défaites d'affilée. «Aujourd'hui, c'est bon parce que j'ai compris et appris. Ce qui m'est arrivé cette année est une preuve que je ne peux pas lâcher mon mode de fonctionnement. Cette blessure au genou m'a fait réaliser cela. Après dix jours, le ligament interne était nickel mais j'avais perdu le tonus de ma jambe. Je n'avais jamais coupé ainsi depuis cinq ans. Je ne peux pas faire ça, sinon je repars de trop loin. Derrière, il faut repasser par des semaines de travail pour que je sois prête. Là, j'ai suivi mon calendrier de base. Il aurait fallu que je ne joue que New York (US Open). On ne pouvait pas savoir. Une fois que le train est lancé à 100 km/h, tu ne peux plus le rattraper. C'est pour ça que certains mecs arrêtent leur saison. C'est peut-être ce que j'aurais dû faire.
En même temps, ça aurait été trop simple d'arrêter. Je me suis ''fièrement'' exposée à l'échec, je n'avais pas peur de perdre, reperdre et reperdre. Je ne dis pas que c'était facile. Arrêter, ça m'aurait permis quoi ? De me protéger ? Je n'en ai rien à faire du regard des autres et du jugement. J'avais envie de comprendre. On apprend plus de l'échec, j'ai appris sur mon mental, mon physique, ma santé, etc. Quand tu es en grande difficulté et que tu essaies d'y arriver, je suis sûre que ça te sert et que ça va faire monter mon niveau d'un cran. Quand on est en confiance, c'est facile mais ce n'est pas dans ces matches qu'on acquiert de l'expérience.»
Le conseiller Tipsarevic
Forte de cette expérience, Kristina Mladenovic n'a vraiment coupé que six jours à l'intersaison avant d'enchaîner sur six semaines de préparation foncière dont trois entièrement consacrées au physique. Les tests réalisés avec Xavier Moreau à Marcoussis lui ont donné le sourire. «J'ai encore progressé sur tous les plans musculaires et monté d'un palier ma VO2 max. Je pars de très loin mais je commence à avoir des données qui sont en corrélation avec mon niveau de tennis. Xav' a eu le privilège de tester quelques grandes joueuses et je m'en rapproche fortement voire je les dépasse dans certains secteurs. C'est une grande satisfaction. Mon genou est nickel, tout a été checké.»
Sur le court, il y a aussi du neuf. Sans entraîneur, elle a opté pour un conseiller. Née d'une discussion tennis à 's-Hertogenbosch en juin, sa collaboration avec le Serbe Janko Tipsarevic, ancien 8e mondial, est devenue concrète à Paris la semaine dernière. «Il ne me coache pas car il joue encore mais l'idée est d'avoir un conseiller, un œil extérieur. Pourquoi lui ? On a un peu le même profil, c'est un gros bosseur. J'aime bien ce qu'il fait en revers (sourire), c'est assez naturel et fluide et c'est un point sur lequel j'ai envie de progresser. Il m'a donné quelques astuces. Au service et en revers, c'était très enrichissant. Il y a eu quelques déclics techniques, sur mon lancer au service, mon revers, mon jeu de jambes ou mon retour. Il a vraiment pris à cœur son rôle de conseiller, ça lui plaît bien. On reste en contact, il va suivre un maximum de matches et sera avec moi sur certains tournois. Mes parents vont filmer et lui envoyer les images. C'est vraiment très naturel.»
L'équipe de France avec ou sans Garcia
Peut-on espérer un léger dégel des relations entre Kristina Mladenovic et Caroline Garcia après le froid polaire de ces derniers mois ? Si la Lyonnaise ne s'est pas encore positionnée sur sa décision de jouer ou pas en équipe de France, la Nordiste a clairement coché la campagne 2018 de Fed Cup dans son calendrier.
Dès la victoire en Coupe Davis, elle a envoyé un message à Yannick Noah et le capitaine lui a tout de suite répondu : «Nous sommes les prochains», avec deux émoticones, un bras musclé et un cœur.
Mais les deux meilleures joueuses françaises peuvent-elles encore partager le même maillot pour soulever le trophée ? «Je ne vais pas dire : ''si elle vient, je ne joue pas !'' Je suis très professionnelle. Après, c'est son choix. Je n'ai aucun problème avec Caroline, c'est elle qui a décidé de ne plus jouer. Désolée mais on a tous notre fierté et on ne va pas aller courir derrière elle. Ce n'est pas à nous de dire : ''s'il te plaît, pitié viens jouer''. Aujourd'hui, il y a zéro barrière. Si elle veut revenir, elle revient, les portes ne sont pas fermées, il y a zéro condition. La règle chez Yannick (Noah), c'est tout le monde sur la même ligne. Moi je fais mon job, je suis là, je joue. Yannick tient à ce qu'on fasse toute la campagne. Il n'y a pas à se pointer en barrages, en finale ou au premier tour et pas après. C'est un vrai projet. Il faut être très honnête, c'est simple : oui ou non.»
Le top 10, le double, Serena...
Gagner un Grand Chelem, devenir numéro 1 mondiale ? Kristina Mladenovic préfère parler de «consolider [s]a place dans le top 10» et de «continuer à progresser». Pour accomplir sa mission, elle a choisi de reprendre le double avec sa «meilleure pote» la Hongroise Timea Babos sans se fixer d'objectif et avec un calendrier resserré aux grands événements mais avec la volonté de parfaire certains secteurs de son jeu. «J'ai moins joué en double cette année et je me suis trouvée moins bien à la volée et dans mon petit jeu. Ça me permettra de travailler un peu plus.» Car la concurrence s'annonce rude : «La compétition est méga serrée. C'est très dense. Il y a une bonne quinzaine de filles qui peuvent gagner un Grand Chelem.»
Dans le lot, elle n'oublie pas Serena Williams. «C'est la meilleure joueuse du monde. Je suis persuadée qu'elle va revenir. Elle est maman, elle est heureuse, elle a coché une nouvelle case dans sa check-list (rire). Je suis très contente de jouer en même temps que cette championne. C'est bien pour le tennis qu'elle revienne.»
---
French tennis Federation President, Bernard Giudicelli 20/04/2017
:
"We do organize a SLAM not a CASTING"
Result
: No Wild Card to
Maria Sharapova.
---
Last edited by améliemomo; Dec 25th, 2017 at

12:14 PM

.
Old
Dec 25th, 2017, 01:10 PM
Thread Starter
Re: Kiki Articles/Press release
---
The english translation here
(google help)
Mladenovic: "Not afraid to fall back"

...
Tennis
Kristina Mladenovic:
"I was not afraid to lose and lose again"
Posted on Saturday, December 23rd 2017 at 19:16 | Updated on 23/12/2017 at 19:18
From her difficult end of the season, she learned lessons to bounce back. Between Paris and Dubai, the World n° 11 imposes six weeks of intensive preparation and sees 2018 with serenity.
Sophie Dorgan
Before flying to Dubai on Thursday, Kristina Mladenovic took the time to land for an hour and a half to discuss many topics. Serene and relaxed, the world n°11 has not dismissed any question. With her usual frankness, she returned to her very complicated end of the season and the lessons she learned from it, detailed her preparation with Janko Tipsarevic as an advisor, talked about her goals and answered questions about the Fed Cup with or without Caroline Garcia.
Lessons of failure
All the second part of the season, she lived a long ordeal. Returning too early to the competition after a knee injury at Wimbledon, which forced her to a 10-day break, she was never able to catch up and had 12 straight losses. "Today is good because I understood and learned. What happened to me this year is a proof that I can not let go of my mode of operation. This knee injury made me realize that. After ten days, the inner ligament was nickel but I had lost the tone of my leg. I had never cut like this for five years. I can not do that, otherwise I'm leaving too far. Behind, you have to go back through weeks of work so that I am ready. There, I followed my basic calendar. I would have to play only New York (US Open). We could not know. Once the train is launched at 100 km / h, you can not catch it. That's why some guys stop their season. That may be what I should have done.
At the same time, it would have been too easy to stop. I 'proudly' exposed myself to failure, I was not afraid to lose, lose and lose. I do not say it was easy. Stop, what would it have allowed me? To protect me? I have nothing to do with others ' eye and their judgment. I wanted to understand. We learn more about failure, I learned about my mind, my physique, my health, etc. When you're in big trouble and you're trying to make it happen, I'm sure it will serve me and it's going to get me up a notch. When you're confident, it's easy, but it's not in those matches that you gain experience. "
Advisor Tipsarevic
With this experience, Kristina Mladenovic really cut only six days in the offseason before going on for six weeks of intense preparation including three entirely devoted to Fitness. The tests with Xavier Moreau in Marcoussis gave her a smile. "I still progressed on all muscular levels and mounted a stage my VO2 max. I'm starting from a very far behind, but I'm starting to have data that correlates with my level of tennis. Xav 'has had the privilege of testing some great players and I get close to it or even exceed in some areas. It is a great satisfaction. My knee is nickel, everything has been checked. "
On the court, there is also new. Without a coach, she opted for an advisor. Born from a tennis discussion at 's-Hertogenbosch in June, his collaboration with Serbian Janko Tipsarevic, former world n°8, became concrete in Paris last week. "He does not coach me because he is still playing but the idea is to have a consultant, an outside eye. Why him ? We have the same profile, he's a hard worker. I like what he does with his backhand (smile), it's quite natural and fluid and it's a point on which I want to progress. He gave me some tips. On my serve, my backhand, it was very rewarding. There were some technical clicks, on my ball toss, my backhand, my footwork or my return of serve. He really took to heart his role of adviser, it pleases him. We stay in touch, he will follow a maximum of matches and will be with me on some tournaments. My parents will film and send him the pictures. It's really very natural. "
The France team with or without Garcia
Can we expect a slight thaw between Kristina Mladenovic and Caroline Garcia after the Pole weather of recent months? If the Lyonnaise has not yet positioned herself about her decision to play or not in the French team, the Northerner has clearly ticked the 2018 Fed Cup campaign in her calendar.
As soon as the Davis Cup was won, she sent a message to Yannick Noah and the captain immediately replied, "We're next," with two emoticons, a muscular arm and a heart.
But can the two best French players still share the same jersey to lift the trophy? "I'm not going to say, '' If she comes, I do not play! '' I am very professional. After, it's her choice. I have no problem with Caroline, it is her who decided not to play anymore. Sorry but we all have our pride and we are not going to run behind her. It's not up to us to say, "Please, please come and play." Today, there is zero barrier. If she wants to come back, she comes back, the doors are not closed, there is zero condition. The rule with Yannick (Noah) is everyone on the same line. I'm doing my job, I'm here, I'm playing. Yannick wants us to do the whole campaign. There is no point dams, the final or the first round and not after. It's a real project. You have to be very honest, it's simple: yes or no. "
The top 10, the double, Serena ...
Win a Grand Slam, become world number 1? Kristina Mladenovic prefers to talk about "consolidating herself in the top 10" and "continuing to progress". To accomplish her mission, she chose to get back to double with her "best friend" Hungarian Timea Babos without setting a goal and with a tight schedule for major events but with the desire to perfect some areas of her game. "I played less doubles this year and I found myself less well on my volleys and my net game. It will allow me to work a little more. "Because the competition looks tough:" The competition is mega tight. It's very dense. There are a good fifteen girls who can win a Grand Slam. "
In the lot, she does not forget Serena Williams. "She's the best player in the world. I am sure she will come back. She is mom, she is happy, she checked a new box in her checklist (laugh). I am very happy to play at the same time as this champion. It's good for tennis to see her back. "
---
French tennis Federation President, Bernard Giudicelli 20/04/2017
:
"We do organize a SLAM not a CASTING"
Result
: No Wild Card to
Maria Sharapova.
Old
Jan 4th, 2018, 10:37 AM
Thread Starter
Re: Kiki Articles/Press release
---
Kiki is in Sydney and gave an intv so here it is
:
Sydney Q&A:
Kristina Mladenovic
World No.11 Kristina Mladenovic sat down with sydneyinternational.com.au to discuss her off-season, her start to 2018 and romance with ATP star Dominic Thiem.
13 hours ago, by Matt Trollope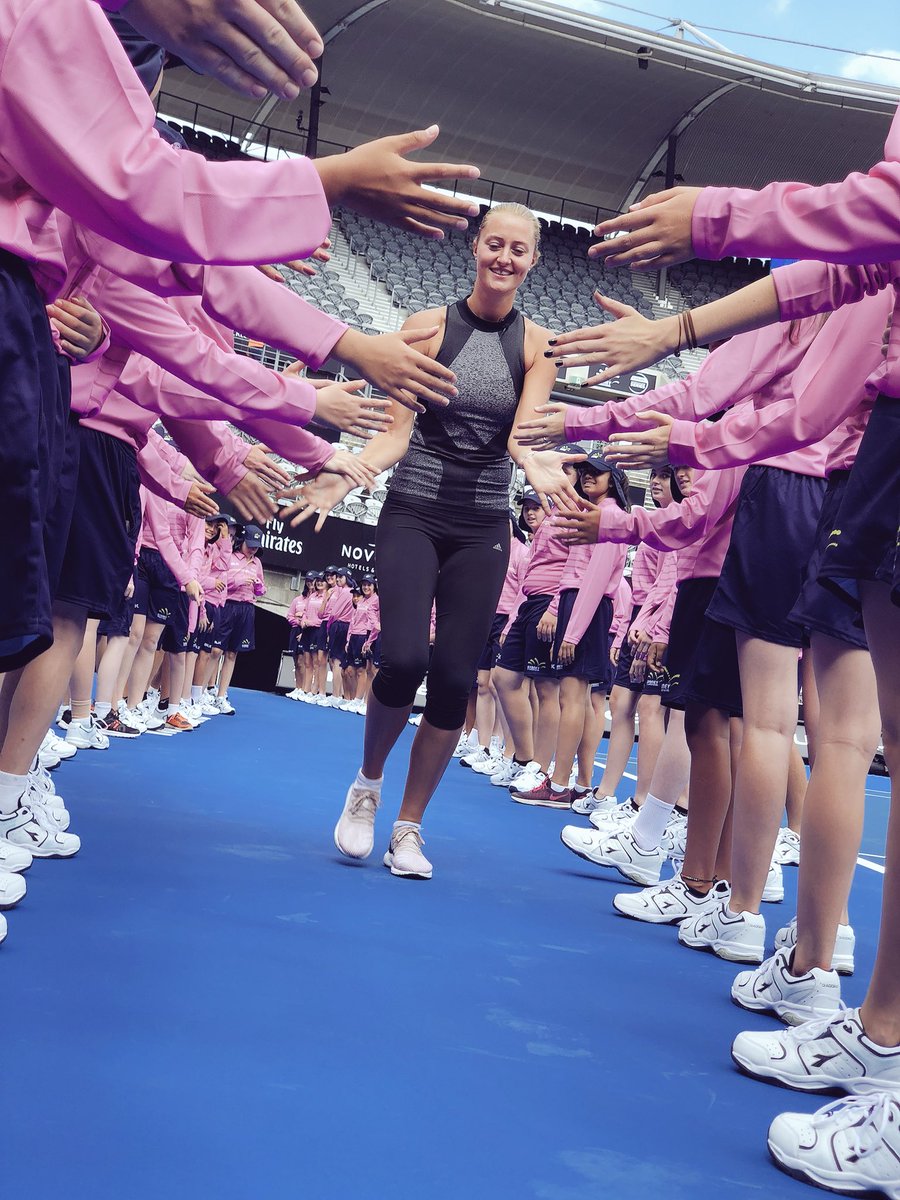 Kristina Mladenovic was one of the form players in the first half of 2017, reaching four WTA finals; among them was her first career title in St. Petersburg. She also enjoyed her best Grand Slam result with a quarterfinal on home soil at Roland Garros.
Yet a knee injury at Wimbledon robbed her of momentum. Although she continued to compete she became mired in a losing streak that extended to 13 matches when she fell in the opening round round of the Brisbane International earlier this week.
Nevertheless, the Frenchwoman remains on the cusp of the top 10. Feeling physically healthy and positive after a productive pre-season, she's ready to reclaim the form that saw her become one of the game's hottest prospects last year.
SYDNEY INTERNATIONAL
: How would you assess your first match of the 2018 season in Brisbane?
KRISTINA MLADENOVIC:
"It was a very interesting match. It's always tricky the first week of the year – you don't know actually anyone, their form to see how it looks … Conditions were pretty tough. We could see some retirements and also some girls who struggled with humidity and got cramps and everything. Unfortunately for me it was a short trip in Brisbane, losing to (Aliaksandra) Sasnovich, but I thought there were lots of positives. It was a long match and physically I felt good, so that was a very positive point coming out of a tough pre-season. And also game-wise I think there were lots of positive things I could take out of this match. It was a close one; I thought she somehow had some more adjustments at the very end of the match."
Tell us more about your pre-season. What was your focus?

"I tried to copy the previous one I had in 2016 because I thought it was great, it helped me to have a very good few months (early in 2017). I'm based in Dubai … I really love it there for my off-season. It's a similar climate to here and it helps when you come over to Australia and you don't feel completely 'out'. You're already used to playing outdoors in the heat. And then it's just one direct flight from Dubai. It was great – I was really satisfied with how I improved. Everyone in my team was pleased with some improvements."
Is your team the same as last year?

"Slightly some changes. I still stick with my parents – my Mum helps me, she doesn't have a title like really my tennis coach, but she's there, she's really trying to help. I consider as my tennis coach, let's say, also myself as coach. But the difference was during the off-season I had some outside help from Janko Tipsarevic. He's not retired yet – he's doing rehab and planning to comeback on the ATP (tour). He was there for a week and a half … we spent some time on the court. He was not hitting with me, he was there more as a, we can say like as a coach, just to see what he could bring to me, his opinion, his view on my tennis. It's interesting for me to have also another voice, someone who knows tennis really well – he's a former top 10 player. It was very interesting. We worked on some things during the pre-season on my game. And hopefully it will pay off."
So what brings you to Sydney, and what are your goals for the tournament?
"I've been coming to Sydney a couple of times, and I always enjoyed the place, they city. Just overall, Australia, I love it. At night you go to bed and you still go on Channel 7 and you watch the tennis all the time (smiles). That's so good, I still watched Hopman Cup last night. The atmosphere feels goods (in Sydney) and of course tennis-wise it's very interesting to have such a tough draw, even if it's before the Australian Open. Somehow if you can get some matches and you for sure get some rhythm, then in Melbourne the draw is bigger so normally maybe the first few rounds are not as difficult as it could be here."
What can you tell us about your relationship with Dominic Thiem? There's obviously lots of interest in this among tennis fans, after everyone saw the social media posts. Is it nice to be dating someone who understands life as a pro tennis player?

"It's true. At the beginning I was never inside of this environment – I'm someone who is very private and don't like to share my personal life on social media and I've never done this before actually (laughter). But I think it's very nice to be honest. And he's also a very top player obviously, and we really help each other. We understand each other perfectly, we know what the other is going through, we know the way the other one can feel. Also on tour for travelling it also makes it easier because we have such a crazy busy schedule. So it's always nice when you have your better half that can easily travel with you and also support you, see your match and understand what you're doing."
Did he consider coming to Sydney as well so you could compete here together?

"That is also not the point. We are both very professional so there is rules, let's say. Even if we are together doesn't mean we are all the time going to commit to the same tournaments because the other one is playing, of course. It's very nice, and given that he's at the top of the game, for me, as the woman, it's very interesting because I can still practice with him – I have more benefits than he actually has (laughter). We only officalised this on social media very recently.
When did you begin dating?

"(We've been together) quite a long time – pretty much beginning of 2017. But yeah, people didn't really realise. I'm a WTA player so it's obvious I'm also at tournaments and you could think that we are friends. When I was next to him in London at the ATP Finals, it was obvious then that a WTA player shouldn't be there (laughter). So we though let's not play with our fans and be honest. Since we are both (in the spotlight) there is no point to hide it, we have nothing to hide really."
Do you hit together much? And how do you handle his power?

"We already done that before. Madrid was cool, we could warm up with each other many times and it brought us good luck. So hopefully we can do that more often in future. When we practice without movement, if we play just cross court, he likes it because I can really handle his pace, no problem. Of course if we open up the court and I have to run and play a rally with him, there is absolutely no chance for me (laughter). It's a challenge for him because he's not allowed to miss before me so when it happens it puts him in a furious mood (laughter). But it's obviously very nice."
you can find the intv on the sydney tournament official website :
https://www.sydneyinternational.com....na-mladenovic/
---
French tennis Federation President, Bernard Giudicelli 20/04/2017
:
"We do organize a SLAM not a CASTING"
Result
: No Wild Card to
Maria Sharapova.
Old
May 5th, 2019, 09:50 PM
Re: Kiki Articles/Press release
---
---
Serena: "We have great personalities like Jelena (Jankovic) on the tour."
Jelena: "If I had to pick someone after me, I'd pick Serena."

Serena Williams Maria Sharapova Jelena Jankovic
A. Radwanska V. Zvonareva C. Wozniacki P. Kvitova
N. Petrova A. Chakvetadze A. Myskina L. Davenport M. Hingis
A. Kournikova T. Paszek K. Sprem J. Dokic I. Tulyaganova
Backstreet Boys NSYNC Britney Spears Shania Twain Bryan Adams forever
Old
May 5th, 2019, 09:51 PM
Re: Kiki Articles/Press release
---
https://metro.co.uk/2019/05/04/sasch...split-9413059/
Quote:
A former top-10 player, the 25-year-old's career has stagnated in recent times and she is currently ranked at No. 64 in the world. So why her?

'I don't want to sound like I'm cocky or something but I don't start working with players if I don't truly believe that they can beat anybody they play with,' he added.

'Given this time that it is on the WTA Tour when you had 18 tournaments, 18 winners, Kiki could be more than one of them. For me, I don't want to say we're going to win this, we're going to win that, but knowing now what I've seen with her in practice, I told her, "look we go to tournaments, I want you to understand that we go pre-book our flights for Sunday".

'I don't want her to even think about maybe quarters or something, no. We go there to win, we take one round at a time, we respect every opponent but at the same time there is nobody she needs to fear.

'When I started with Naomi she was also the same rank – she was 67, 68 in the world. So she didn't have that mindset back then. That's what I'm trying to create now with Kiki. I just want her to understand what I want to bring to the table. Thankfully, we agree on everything almost.'
High goals. And that is good !
Play a tournament to win the title, and not only to reach a QF.
Seemed to help Osaka, brought her a lot of success.
The problem of many players is that they have low goals or don't believe in themselves.
They are happy to win 1 or 2 matches at a tournament or reach a QF, not more.
Sascha gives his players the belief in themselves and to have high goals.
I remember Kiki played impressive tennis in 2017 !
- She won Premier St. Petersburg (wins over Mertens, Venus, Putintseva, Vinci).
- She then reached the SF at Indian Wells (wins over Beck, Halep, Davis and Wozniacki).
- At Premier Stuttgart she reached the final, only losing 6-7 in 3rd set to Siegemund (and she beat Lucic, Kerber, Navarro and Sharapova on the way to the final).
- Kiki reached the final at Premier Mandatory Madrid, only losing in 3 sets to Halep (wins over Konjuh, Davis, Cirstea and Kuznetsova).
- She reached the QF of French Open (wins over Brady, Errani, Rogers, Muguruza).
https://www.itftennis.com/procircuit...erid=100090843
These strong results and wins show she has a lot of potential.
Kiki can do almost everything well, play smart, is amazing at the net and dropshots.
If she gets her serve under control, she can rise the ranking again !
---
Serena: "We have great personalities like Jelena (Jankovic) on the tour."
Jelena: "If I had to pick someone after me, I'd pick Serena."

Serena Williams Maria Sharapova Jelena Jankovic
A. Radwanska V. Zvonareva C. Wozniacki P. Kvitova
N. Petrova A. Chakvetadze A. Myskina L. Davenport M. Hingis
A. Kournikova T. Paszek K. Sprem J. Dokic I. Tulyaganova
Backstreet Boys NSYNC Britney Spears Shania Twain Bryan Adams forever
Old
May 5th, 2019, 10:10 PM
Re: Kiki Articles/Press release
---
https://www.tennisnet.com/news/ich-h...ls-sie-von-mir
Quote:
05.05.2019

"Ich habe von Spielerinnen immer mehr gelernt als sie von mir"

Seit Mitte April betreut Sascha Bajin die Französin Kristina Mladenovic. Während einer Presserunde gibt der Deutsche Einblicke in seine Entscheidungsfindung, philosophiert über den Stellenwert der Eltern und erklärt, warum Teamsportarten für ihn nichts sind.

Wie läuft es bislang mit Kristina Mladenovic?

So weit, so gut. Ich bin sehr glücklich. Sie ist eine sehr harte Arbeiterin. Die Familie hat mich mit offenen Armen empfangen. Ich kenne sie schon seit einiger Zeit, bin aber über viele Dinge positiv überrascht.

Mladenovic hat erwähnt, dass Sie bereits nach der Trennung von Serena (Williams, Anm.) kurz vor einer Zusammenarbeit standen. Was hat sich seither verändert?

Um ehrlich zu sein, weiß ich das nicht so genau. Das ist schon eine Weile her, aber es stimmt: Wir haben schon damals gesprochen. Ich hatte dieses Mal glücklicherweise einige Optionen – auch von der ATP-Tour –, habe aber gefühlt, dass ich Kiki von allen am meisten weiterhelfen kann. Es ging nicht um das Geld, da hätte ich bei anderen viel mehr bekommen. Ich habe einfach geschaut und gedacht: Wem kann ich mit meinem Wissen am meisten weiterhelfen und was fordert mich heraus? Ich habe nämlich noch nie mit so einer Spielerin zusammengearbeitet. Sie unterscheidet sich sehr von Naomi (Osaka, Anm.), Serena und sogar Caroline (Wozniacki, Anm.). Das war mein gedanklicher Vorgang.

Mladenovic hat oft betont, dass sie keinen Coach braucht, der sie rund um die Uhr betreut. Wie konnten Sie sie überzeugen, dass sie so jemanden doch braucht?

Ich habe sie von nichts überzeugt! Ich fühle mich einfach geehrt, da sie in den vergangenen zwei bis drei Jahren keinen Trainer hatte. Das war für mich sehr interessant. Wenn sie mir dann sagt "Ich will dich wirklich" und es bereits einmal den Wunsch gab, mit mir zu arbeiten, ehrt mich das. Ich weiß nicht, warum sie vorher keinen hatte. Ich bin glücklich, dass ich es jetzt bin.

Die neue Aufgabe ist eine große Herausforderung, da Mladenovic bereits in den Top Ten stand und sich seither mit Verletzungen und mangelndem Selbstvertrauen plagte. Wie ist es, von Naomi Osaka zu jemandem zu wechseln, der die Siegermentalität erst wieder erlernen muss?

Als ich mit Naomi anfing, stand sie auch um Platz 67. Sie hatte damals auch nicht dieses "Mindset". Das ist, was ich jetzt mit Kiki kreieren will. Wir reden viel und ich will, dass sie versteht, was ich auf den Tisch bringen will. Dankbarerweise stimmen wir fast bei allen Sachen überein. Sie soll dem ganzen Prozess trauen und nicht über Sieg oder Niederlage nachdenken – einfach damit sie versteht, was sie machen muss. Um erfolgreich zu sein, muss sie mir vertrauen. Bislang funktioniert das sehr gut.

Was wollen Sie auf den Tisch bringen?

Ohne ihre Schwächen zu sehr verraten zu wollen, wissen ohnehin alle Spielerinnen, dass ihre Rückhand nicht der großartigste Schlag ist. Sie hat eine unglaubliche Vorhand. Ich habe mit Serena acht Jahre lang zusammengearbeitet – wenn ich etwas kann, ist es, jemandem eine Rückhand beizubringen. Das ist die eine Sache. Der Prozentsatz beim Aufschlag ist etwas niedrig. Das ist etwas, woran ich auch mit Naomi und Caroline immer gearbeitet habe. Ich habe von Spielerinnen immer so viel gelernt – mehr als sie von mir. Jetzt arbeiten wir vor allem an Aufschlag und Rückhand. Im Großen und Ganzen geht es auch um die Struktur ihres Spiels. In gewissen Match-Situationen gab es da einige unnötige Dinge und ich will ihr jetzt klarmachen, warum sie etwas zu einer bestimmten Zeit machen soll oder nicht. Das ist es eigentlich.

Können Sie erklären, warum die Zusammenarbeit mit Osaka endete? Sie gewann zwei Grand Slams und war weiterhin auf dem Weg nach oben.

Es gab ein paar Differenzen. Es war ihre Entscheidung und das respektiere ich. Wenn sie – unabhängig von Erfolg oder nicht – fühlt, dass eine Trennung besser ist, dann ist das ihre Entscheidung. Ich respektiere ihre Entscheidung und wir sind immer noch Freunde. Es war bei Caroline gleich. Wir hatten eine großartige Saison mit sieben Endspielen und hatten noch einen Deal für ein Jahr. Sie wollte nicht mehr weitermachen und das ist okay.

Ist es schwierig, im Team Mladenovic einen Platz zu finden?

Nein, absolut nicht. Ich erzähle das sehr häufig: Ich war oft in der Situation, dass ich mit jemandem zusammengearbeitet habe, bei dem die Eltern involviert waren. Mein Vater war auch mein Coach. Niemand wünscht mir mehr Glück als mein Vater und meine Mutter. Manchmal ist es der falsche Weg, aber der Zweck kommt immer aus dem Guten. Ich schätze die Meinung der Mutter sehr. Sie hat ihre Tochter auf Platz zehn der Weltrangliste gebracht, das Gleiche gilt für den Vater. Sie verstehen Sport, sind Athleten und niemand versteht Kiki besser als ihre eigenen Eltern. Ich nehme das Feedback ernst. Ich bin kein Coach, der Mutter und Vater nicht dabeihaben will. Ich will sie inkludieren, weil ich denke, dass sie in ihrem Leben sehr wichtig sind. Besonders bei Leuten, die so lange an ihrer Seite waren, kann ich so viel über Kiki lernen.

Mladenovic hat im Winter ihre Aufschlagbewegung geändert. Werden Sie diese verändern oder beibehalten?

Die Aufschlagbewegung ist gut. Wir haben viel darüber geredet. Ich weiß nicht, wie viele Videos ich auf meinem Handy habe – es ist beinahe schon voll. Im Leben geht es um Timing. Die Saison ist zur Hälfte um, da kann ich nicht dies und das verändern. Das Schöne an Kiki ist, dass uns beiden klar ist, woran wir arbeiten müssen, um uns zu verbessern. Das ist ein gutes Problem. Es geht jetzt darum, dass ich jetzt die richtigen Felder auswähle und gewisse Dinge für später speichere. Beim Service verändern wir aber nichts. Es wurde schon viel besser – dank der Mutter.

Mladenovic ist auch eine großartige Doppelspielerin. Das könnte ein Problem sein, wenn sie auch eine Spitzenspielerin im Einzel werden will. Sollte sie weniger Doppel spielen?

Warum ist das ein Problem? Ich denke, dass das eine persönliche Sache ist. Ich habe mit Kiki darüber geredet und fühle, dass uns das Turnier in Istanbul perfekt auf jenes hier vorbereitet hat. Es geht wie gesagt um das Timing. Es muss zur richtigen Zeit passieren. Sie wird nicht in jedem Turnier Einzel, Doppel und Mixed spielen. Ich denke aber, dass man vom Doppel viel profitieren kann. Man trainiert bereits im Wettkampf das, was man im Training geübt hat – allerdings etwas entspannter. Istanbul haben wir jetzt sogar mit einem Titel verlassen – das ist ein wunderbares Gefühl. Egal, ob Doppel oder Einzel. Ich sehe da kein Problem.

Sie haben gesagt, dass Sie Struktur in ihr Spiel bringen und die Rückhand verbessern wollen. Sollten Sie das schaffen: Was ist möglich für Mladenovic?

Ich will nicht eingebildet klingen, aber ich beginne nicht mit Spielerinnen zu arbeiten, wenn ich nicht wahrlich daran glaube, dass sie jede Gegnerin schlagen können. In diesem Jahr gab es bei den ersten 18 Turnieren 18 verschiedene Siegerinnen. Kiki könnte mehr als nur eine davon sein. Ich sage nicht, dass sie jetzt dies und das gewinnen wird. Ich habe ihr gesagt, dass wir zu Turnieren fahren und ich unsere Flüge für Sonntag vorbuche. Ich will nicht, dass sie über das Viertelfinale nachdenkt. Wir fahren dorthin, um zu gewinnen. Wir nehmen es Runde für Runde, respektieren jede Gegnerin, aber gleichzeitig denke ich, dass sie sich vor niemanden fürchten muss.

Sie haben erwähnt, dass Wozniacki ebenfalls nach einer großartigen Saison die Partnerschaft beendete. Das scheint des Öfteren zu passieren. Woran liegt das Ihrer Meinung nach?

Ich weiß es nicht. Wir hatten einen guten Lauf und es ist nichts passiert. Vielleicht wollte sie frischen Wind oder etwas anderes. Ich kann das für sie nicht beantworten. Es ist nicht so, dass ich mich nach eineinhalb Jahren langweile.

In vielen Teamsportarten ist es so, dass der Trainer die Spieler kontrolliert. Da gibt es im Einzelsport eine ganz andere Dynamik. Finden Sie das Coaching im Tennis schwierig?

Nein. Ich liebe diesen Teil unseres Sports. Ich liebe das "One-on-one". Ich liebe es, Veränderungen zu sehen oder dass eine Person für Niederlagen verantwortlich ist. Teamsportarten haben mich nie fasziniert. Ich habe zwar Fußball gespielt, weil ich aus Deutschland komme. Aber wenn mein Freund einen schlechten Tag hatte, ich einen großartigen und wir verloren, war ich sauer. Umgekehrt gilt das auch. Ich mag es, wenn jemand Verantwortung für jemanden übernimmt und ich nehme diese Verantwortung ernst. Für mich ist es einfacher, mit einer Person zu arbeiten als zehn oder elf Menschen zu kontrollieren.
- Sascha Bajin says that Kristina is a very hard worker.
- He praises/talks very well and respectful about Kiki and her parents.
- Says Osaka also was around WTA ranking #67 when he began working with her.
- Bajin says that Kiki has a great forehand.
- He says that Kiki's weakness is her backhand (all the WTA players know that).
And he wants to improve it. He says "I worked 8 years with Serena, and if I can do one thing, that is to get a player to develop a good backhand."
- Also he says that Kiki's serve percentage is too low. That is something he always worked on with Osaka and Wozniacki.
- They will mainly work on improving the serve and the backhand.
- Doubles a problem ? No. He says that doubles can help a singles player, that it helps Kiki. But that she should not play doubles in every tournament.
---
Serena: "We have great personalities like Jelena (Jankovic) on the tour."
Jelena: "If I had to pick someone after me, I'd pick Serena."

Serena Williams Maria Sharapova Jelena Jankovic
A. Radwanska V. Zvonareva C. Wozniacki P. Kvitova
N. Petrova A. Chakvetadze A. Myskina L. Davenport M. Hingis
A. Kournikova T. Paszek K. Sprem J. Dokic I. Tulyaganova
Backstreet Boys NSYNC Britney Spears Shania Twain Bryan Adams forever
Old
May 16th, 2019, 10:50 PM
Re: Kiki Articles/Press release
---
---
Serena: "We have great personalities like Jelena (Jankovic) on the tour."
Jelena: "If I had to pick someone after me, I'd pick Serena."

Serena Williams Maria Sharapova Jelena Jankovic
A. Radwanska V. Zvonareva C. Wozniacki P. Kvitova
N. Petrova A. Chakvetadze A. Myskina L. Davenport M. Hingis
A. Kournikova T. Paszek K. Sprem J. Dokic I. Tulyaganova
Backstreet Boys NSYNC Britney Spears Shania Twain Bryan Adams forever
Old
Jun 11th, 2019, 05:54 PM
Re: Kiki Articles/Press release
---
---
Serena: "We have great personalities like Jelena (Jankovic) on the tour."
Jelena: "If I had to pick someone after me, I'd pick Serena."

Serena Williams Maria Sharapova Jelena Jankovic
A. Radwanska V. Zvonareva C. Wozniacki P. Kvitova
N. Petrova A. Chakvetadze A. Myskina L. Davenport M. Hingis
A. Kournikova T. Paszek K. Sprem J. Dokic I. Tulyaganova
Backstreet Boys NSYNC Britney Spears Shania Twain Bryan Adams forever