Francesca Di Lorenzo
---
Francesca Di Lorenzo just finished her 2nd year at Ohio State.
She won the last
2 NCAA Indoor Singles titles
and last month took home the
NCAA Doubles title
.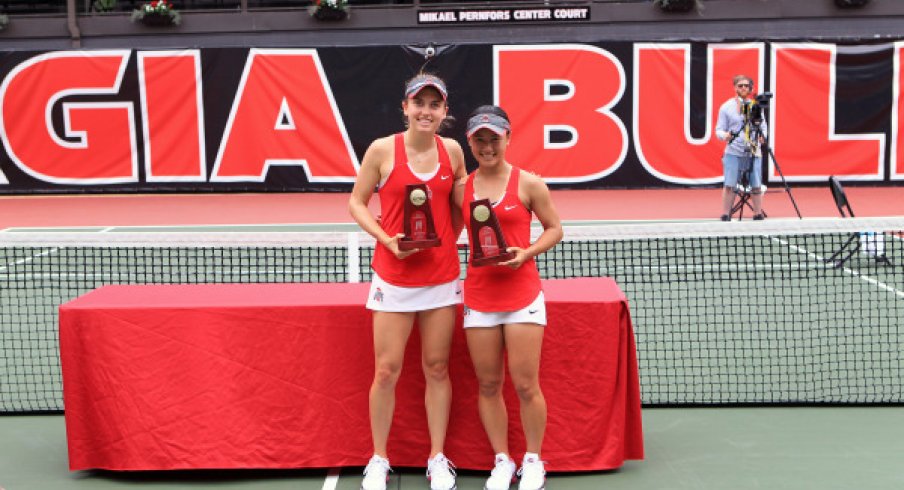 She helped Ohio State finished ranked #3, while at singles, she finished at #1 and at doubles, she finished at #3.
At this moment, she's playing at
Baton Rouge 25k
, where she's currently playing in the
doubles final
with Julia Elbaba. Tomorrow, she'll be playing in the
singles final against #1-Nicole Gibbs
. Actually this will be her second consecutive 25k final. She lost to Ashley Lahey in Sumter in last weeks final.
Although 5 years younger than Nicole, both were raised in Ohio, although Gibbsy moved to Cali, while in High School.
Francesca is basically a left-handed Nicole Gibbs, very consistent player, opportunistic, and comes up on the winning end on big points.
Due to college, she's playing limited number of matches on the tour. This month she's managed 7 match wins and I suspect she'll be playing the next 2 months before reporting back to Ohio State. If she beats Nicole in tomorrow's final, I think she might be looking at career in tennis after college or perhaps leaving Ohio State after next year, her junior year, just like Nicole did.
---
Last edited by tie_breaker; Jun 24th, 2017 at

08:06 PM

.
Re: Francesca Di Lorenzo
---
She's playing in the $60k in Stockton, CA.
She beat
Allie Will
in the 1st round, 7-5, 6-3.
In today's 2nd round, she defeated Usue Maitane ARCONADA (seeded #7) 7-6(5), 6-4.
Schedule to play against Sofia Kenin (seeded #4) in tomorrows QF.
Ok, still a bit early to see where she's headed, as most likely she's back to Ohio State Buckeyes after this summer.
Glad to see her busy on the ITF circuit, getting some needed exposure and playing in her 15th match over the 5 weeks.
Re: Francesca Di Lorenzo
---
Well, with her run to the SF so far this week in ITF $80K Dothan, Fran has now broken the Top 200. She is definitely a fighter, but her game does seem a little lightweight. Curious how far she can go...
---
Proud supporter of my American girls
Re: Francesca Di Lorenzo
---
---
Re: Francesca Di Lorenzo
---
---
Serena: "We have great personalities like Jelena (Jankovic) on the tour."
Jelena: "If I had to pick someone after me, I'd pick Serena."

Serena Williams Maria Sharapova Jelena Jankovic
A. Radwanska V. Zvonareva C. Wozniacki P. Kvitova
N. Petrova A. Chakvetadze A. Myskina L. Davenport M. Hingis
A. Kournikova T. Paszek K. Sprem J. Dokic I. Tulyaganova
Backstreet Boys NSYNC Britney Spears Shania Twain Bryan Adams forever
Re: Francesca Di Lorenzo
---
Huge win for Francesca today!


---
Re: Francesca Di Lorenzo
---
---
Serena: "We have great personalities like Jelena (Jankovic) on the tour."
Jelena: "If I had to pick someone after me, I'd pick Serena."

Serena Williams Maria Sharapova Jelena Jankovic
A. Radwanska V. Zvonareva C. Wozniacki P. Kvitova
N. Petrova A. Chakvetadze A. Myskina L. Davenport M. Hingis
A. Kournikova T. Paszek K. Sprem J. Dokic I. Tulyaganova
Backstreet Boys NSYNC Britney Spears Shania Twain Bryan Adams forever
Posting Rules

You may not post new threads

You may post replies

You may not post attachments

You may not edit your posts

---

HTML code is Off

---