View Poll Results

: Who will win ?

Slovakia
1
50.00%
Netherlands
1
50.00%
Voters: 2. You may not vote on this poll
Fed Cup 2017, World Group 1 Play-off: Slovakia v Netherlands
---
http://www.fedcup.com/en/draws-resul...-PO-NED-SVK-01
Quote:
Slovakia

#85 Kristina Kucova
#99 Jana Cepelova
#126 Rebecca Sramkova
#226 Daniela Hantuchova
Captain: Matej Liptak

Netherlands

#20 Kiki Bertens
#136 Richel Hogenkamp
#157 Cindy Burger
#184 Arantxa Rus
Captain: Paul Haarhuis
Quote:
Date: 22 Apr - 23 Apr 2017

Venue: AEGON Arena, Bratislava, Slovakia

Surface: Clay, Indoor

Start times:
Day 1: 1300 hrs (1100 hrs GMT)
Day 2: 1300 hrs (1100 hrs GMT)
---
Serena: "We have great personalities like Jelena (Jankovic) on the tour."
Jelena: "If I had to pick someone after me, I'd pick Serena."

Serena Williams Maria Sharapova Jelena Jankovic
A. Radwanska V. Zvonareva C. Wozniacki P. Kvitova
N. Petrova A. Chakvetadze A. Myskina L. Davenport M. Hingis
A. Kournikova T. Paszek K. Sprem J. Dokic I. Tulyaganova
Backstreet Boys NSYNC Britney Spears Shania Twain Bryan Adams forever
Re: Fed Cup 2017, World Group 1 Play-off: Slovakia v Netherlands
---
Dominika Cibulkova withdrew because of injury
Daniela Hantuchova replaced Domi !
---
Serena: "We have great personalities like Jelena (Jankovic) on the tour."
Jelena: "If I had to pick someone after me, I'd pick Serena."

Serena Williams Maria Sharapova Jelena Jankovic
A. Radwanska V. Zvonareva C. Wozniacki P. Kvitova
N. Petrova A. Chakvetadze A. Myskina L. Davenport M. Hingis
A. Kournikova T. Paszek K. Sprem J. Dokic I. Tulyaganova
Backstreet Boys NSYNC Britney Spears Shania Twain Bryan Adams forever
Re: Fed Cup 2017, World Group 1 Play-off: Slovakia v Netherlands
---
https://twitter.com/FedCup/status/855351380307050496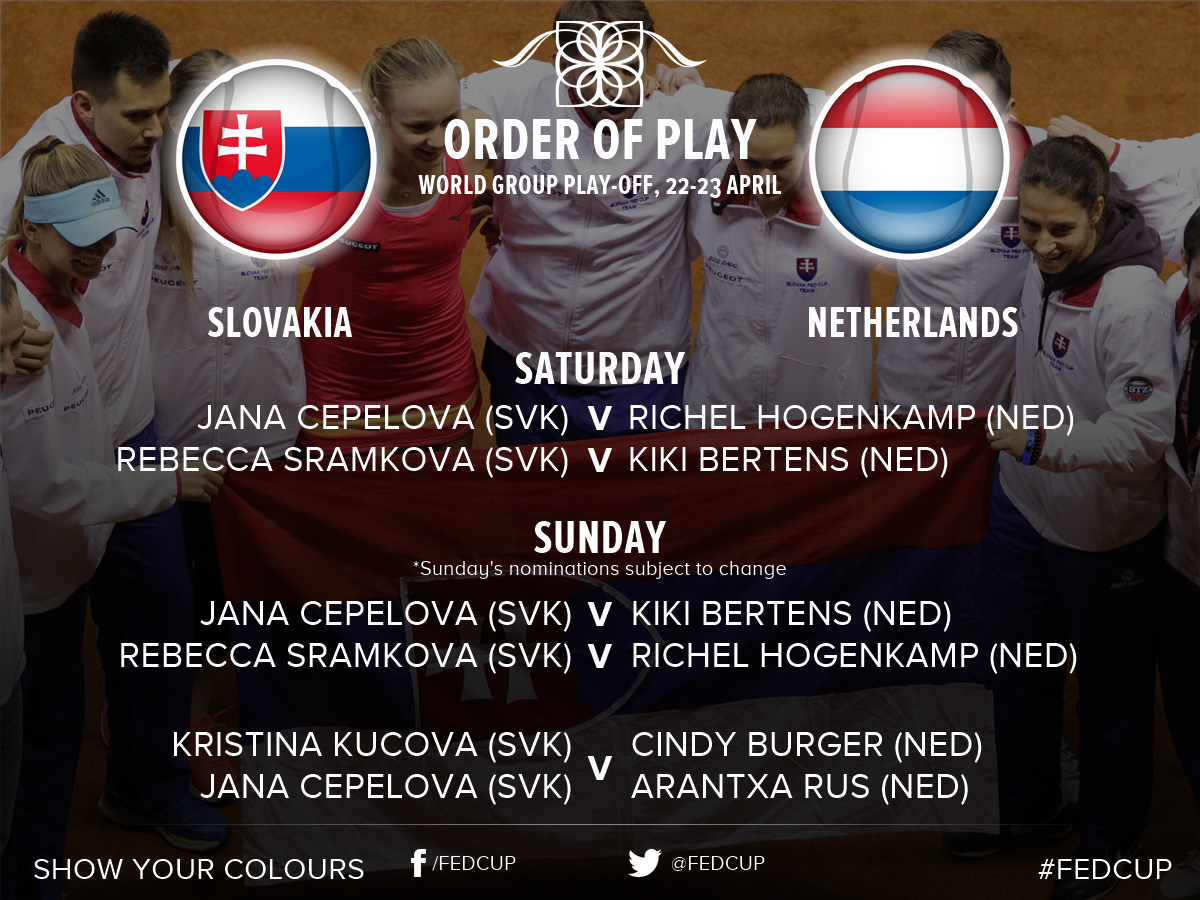 In my opinon Netherlands will win. Slovakia is too weak without Cibulkova
---
Serena: "We have great personalities like Jelena (Jankovic) on the tour."
Jelena: "If I had to pick someone after me, I'd pick Serena."

Serena Williams Maria Sharapova Jelena Jankovic
A. Radwanska V. Zvonareva C. Wozniacki P. Kvitova
N. Petrova A. Chakvetadze A. Myskina L. Davenport M. Hingis
A. Kournikova T. Paszek K. Sprem J. Dokic I. Tulyaganova
Backstreet Boys NSYNC Britney Spears Shania Twain Bryan Adams forever
Re: Fed Cup 2017, World Group 1 Play-off: Slovakia v Netherlands
---
Team Slovakia
---
Serena: "We have great personalities like Jelena (Jankovic) on the tour."
Jelena: "If I had to pick someone after me, I'd pick Serena."

Serena Williams Maria Sharapova Jelena Jankovic
A. Radwanska V. Zvonareva C. Wozniacki P. Kvitova
N. Petrova A. Chakvetadze A. Myskina L. Davenport M. Hingis
A. Kournikova T. Paszek K. Sprem J. Dokic I. Tulyaganova
Backstreet Boys NSYNC Britney Spears Shania Twain Bryan Adams forever
Re: Fed Cup 2017, World Group 1 Play-off: Slovakia v Netherlands
---
Team Netherlands and Team Slovakia
---
Serena: "We have great personalities like Jelena (Jankovic) on the tour."
Jelena: "If I had to pick someone after me, I'd pick Serena."

Serena Williams Maria Sharapova Jelena Jankovic
A. Radwanska V. Zvonareva C. Wozniacki P. Kvitova
N. Petrova A. Chakvetadze A. Myskina L. Davenport M. Hingis
A. Kournikova T. Paszek K. Sprem J. Dokic I. Tulyaganova
Backstreet Boys NSYNC Britney Spears Shania Twain Bryan Adams forever
Posting Rules

You may not post new threads

You may post replies

You may not post attachments

You may not edit your posts

---

HTML code is Off

---