View Poll Results

: Who will win ?

Spain
13
59.09%
Italy
9
40.91%
Voters: 22. You may not vote on this poll
Fed Cup 2016, World Group 1 Play-off: Spain v Italy
---
http://www.fedcup.com/en/draws-resul...ieId=100033744
Quote:
Spain

Garbine Muguruza
Carla Suarez Navarro
Sara Sorribes Tormo
Anabel Medina Garrigues

Italy

Roberta Vinci
Sara Errani
Karin Knapp
Francesca Schiavone
Quote:
Date: 16 Apr - 17 Apr 2016

Venue: Club de Tennis Lleida, Lleida, Spain

Start times:
Day 1: 1300 hrs (1100 hrs GMT)
Day 2: 1200 hrs (1000 hrs GMT)

Surface: Clay (Red Clay), Outdoor

Ball: Dunlop Fort Clay Court
---
Serena: "We have great personalities like Jelena (Jankovic) on the tour."
Jelena: "If I had to pick someone after me, I'd pick Serena."

Serena Williams Maria Sharapova Jelena Jankovic
A. Radwanska V. Zvonareva C. Wozniacki P. Kvitova
N. Petrova A. Chakvetadze A. Myskina L. Davenport M. Hingis
A. Kournikova T. Paszek K. Sprem J. Dokic I. Tulyaganova
Backstreet Boys NSYNC Britney Spears Shania Twain Bryan Adams forever
Re: Fed Cup 2016, World Group 1 Play-off: Spain v Italy
---
https://twitter.com/FedCup/status/717665099612295168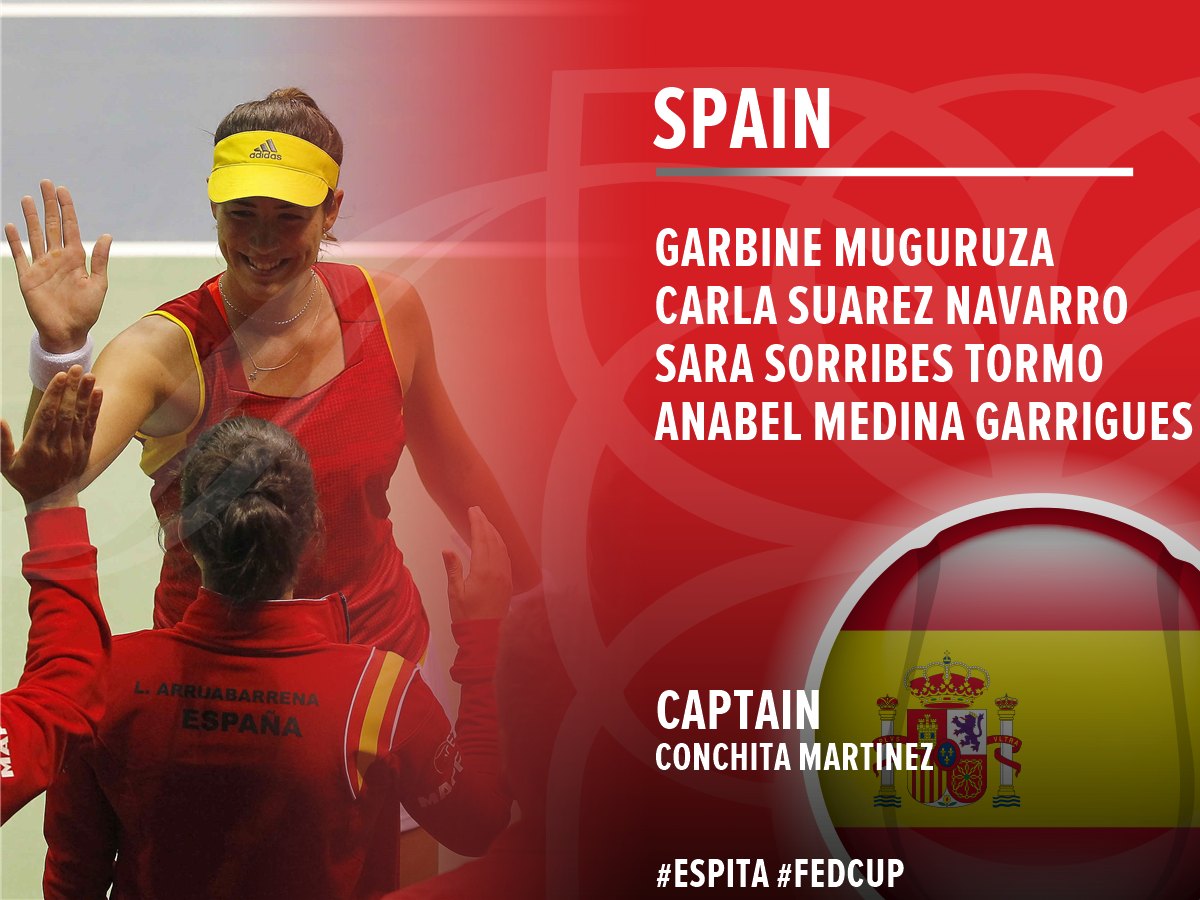 https://twitter.com/FedCup/status/717715039965331457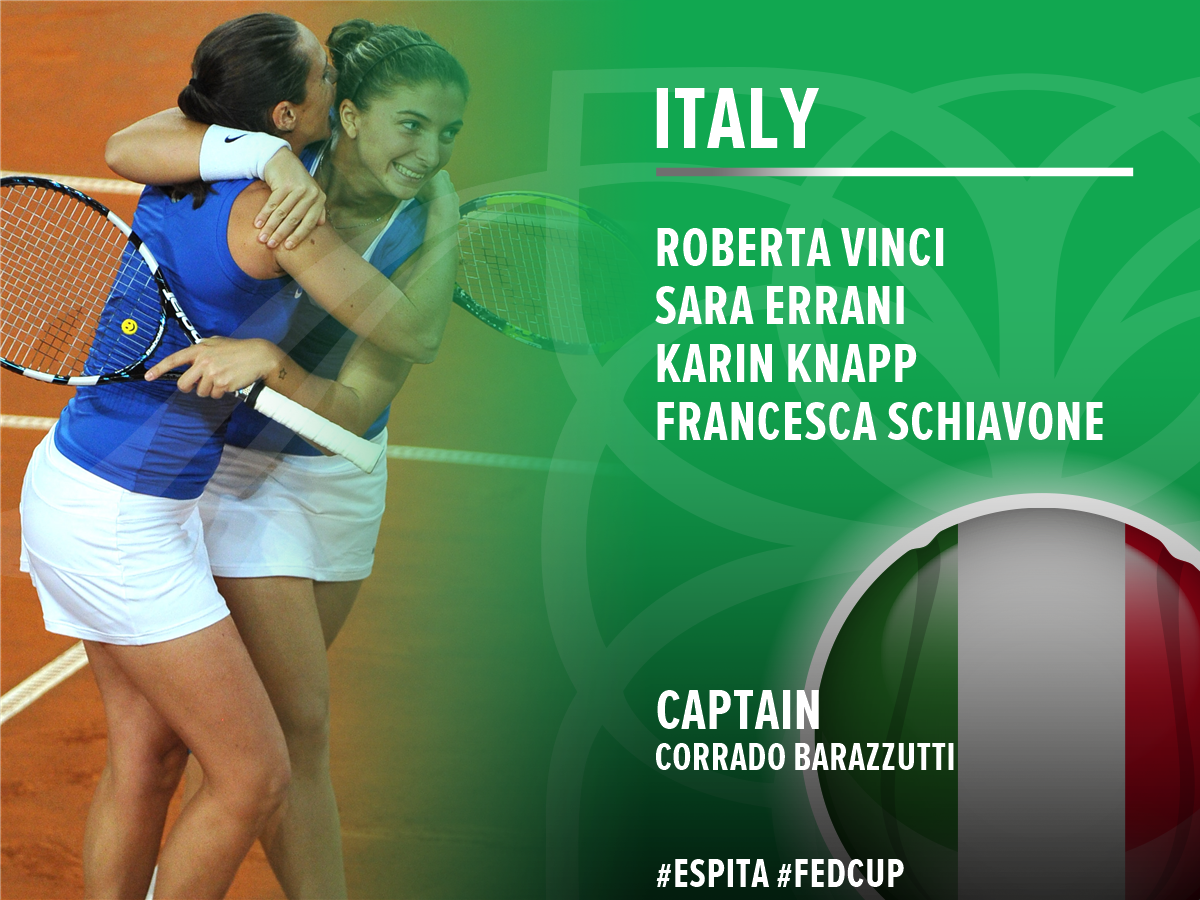 No Giorgi as expected ...
---
Serena: "We have great personalities like Jelena (Jankovic) on the tour."
Jelena: "If I had to pick someone after me, I'd pick Serena."

Serena Williams Maria Sharapova Jelena Jankovic
A. Radwanska V. Zvonareva C. Wozniacki P. Kvitova
N. Petrova A. Chakvetadze A. Myskina L. Davenport M. Hingis
A. Kournikova T. Paszek K. Sprem J. Dokic I. Tulyaganova
Backstreet Boys NSYNC Britney Spears Shania Twain Bryan Adams forever
Re: Fed Cup 2016, World Group 1 Play-off: Spain v Italy
---
https://twitter.com/FedCup/status/720932563037130752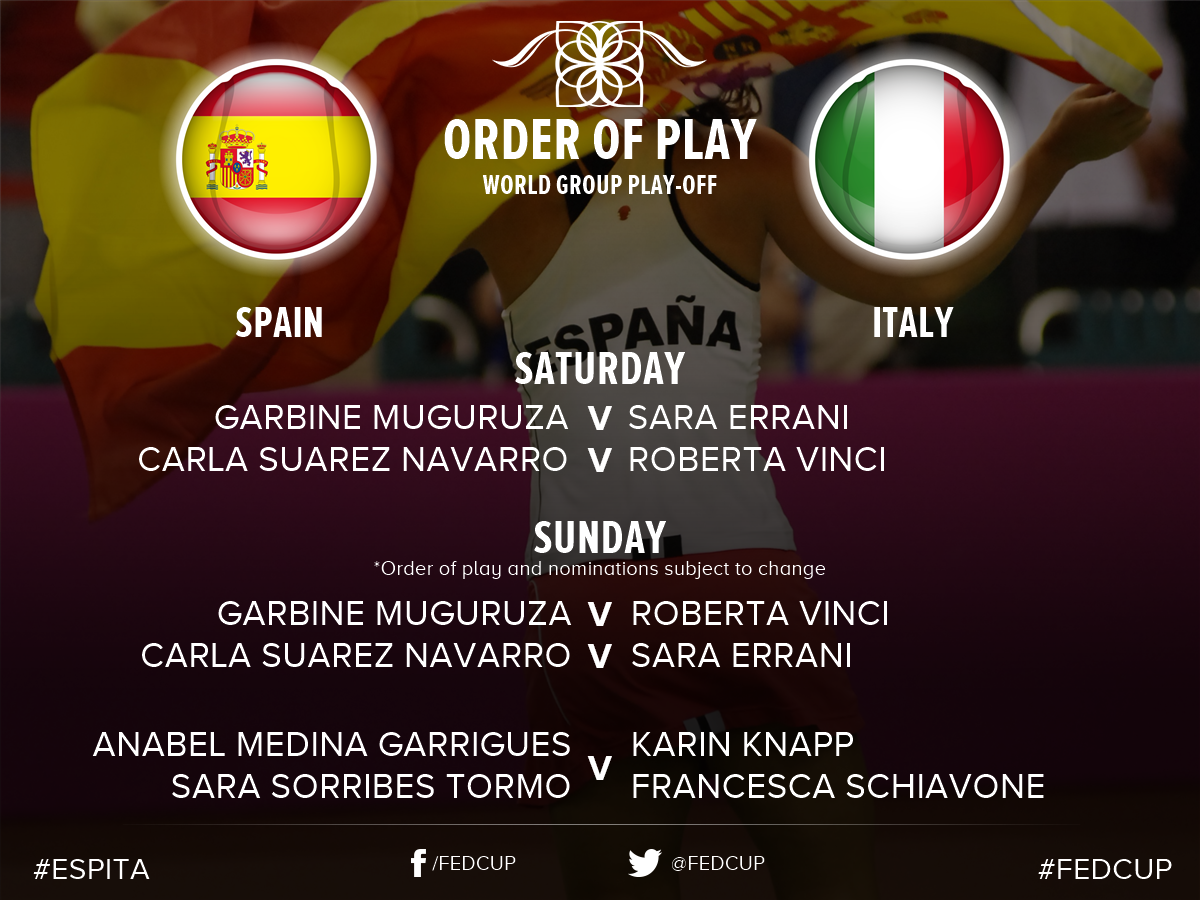 I see Spain as the favourite
---
Serena: "We have great personalities like Jelena (Jankovic) on the tour."
Jelena: "If I had to pick someone after me, I'd pick Serena."

Serena Williams Maria Sharapova Jelena Jankovic
A. Radwanska V. Zvonareva C. Wozniacki P. Kvitova
N. Petrova A. Chakvetadze A. Myskina L. Davenport M. Hingis
A. Kournikova T. Paszek K. Sprem J. Dokic I. Tulyaganova
Backstreet Boys NSYNC Britney Spears Shania Twain Bryan Adams forever
Re: Fed Cup 2016, World Group 1 Play-off: Spain v Italy
---
Spain leads 2-0 after day 1
Garbine Muguruza (ESP) def. Francesca Schiavone (ITA) 7-6 6-0
Carla Suarez Navarro (ESP) def. Roberta Vinci (ITA) 6-1 6-1
---
Serena: "We have great personalities like Jelena (Jankovic) on the tour."
Jelena: "If I had to pick someone after me, I'd pick Serena."

Serena Williams Maria Sharapova Jelena Jankovic
A. Radwanska V. Zvonareva C. Wozniacki P. Kvitova
N. Petrova A. Chakvetadze A. Myskina L. Davenport M. Hingis
A. Kournikova T. Paszek K. Sprem J. Dokic I. Tulyaganova
Backstreet Boys NSYNC Britney Spears Shania Twain Bryan Adams forever
Posting Rules

You may not post new threads

You may post replies

You may not post attachments

You may not edit your posts

---

HTML code is Off

---