2012 PYW Chinese Championships
Welcome to the Nanjing, China.
Its time for the national championships now, China is yet to kick off another year. The last few years have just been players from China, this year will include players from Taiwan. The top 32 players from China, Chinese Taipei and Hong Kong were asked to participate. The last three years have been dominated by Zheng Jie, will a new face come? Who will emerge and become the PYW Chinese Champion?
Vote now as the tournament kicks off!
Code:
---
Previous Finals:
Chinese Champs:
2011: Zheng Jie beat Yan Zi | 6-1 6-3
2010: Zheng Jie beat Li Na | 1-6 6-3 6-3
2009: Zheng Jie beat Yan Zi | 6-0 6-1
2008: Zheng Jie beat Li Na | 7-6 7-5
2007: Li Na beat Peng Shuai | 6-2 6-3
---
Entry List:
1. Li Na [1]
2. Hsieh Su-Wei [TPE] [2]
3. Zheng Jie [3]
4. Peng Shuai [4]
5. Chang Kai-Chen [TPE] [5]
6. Chan Yung-Jan [TPE] [6]
7. Zhang Shuai [7]
8. Duan Ying-Ying [8]
9. Zheng Saisai
10. Zhou Yi-Miao
11. Wang Qiang
12. Zhang Ling [HKG]
13. Xu Yi-Fan
14. Sun Sheng-Nan
15. Chan Chin-Wei [TPE]
16. Han Xinyun
17. Hu Yue-Yue
18. Lu Jia-Jing
19. Liu Chang
20. Chan Wing-Yau [HKG]
21. Zhang Yuxuan
22. Hsu Wen-Hsin
23. Zhao Yi-Jing
24. Zhang Kai-Lin
25. Liang Chen
26. Wen Xin
27. Lee Hua-Chen [TPE]
28. Yang Zi
29. Tang Hao Chen
30. Wang Yafan
31. Juan Ting-Fei [TPE]
32. Zhu Lin
SEEDS (with biggest trophy)
SEED 1
SEED 2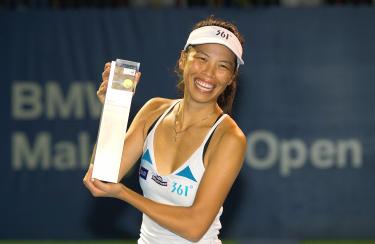 SEED 3
SEED 4
SEED 5
SEED 6
SEED 7
SEED 8
2012 Chinese PYW Championships | Round One
Li Na [1]
beat Xu Yi-Fan |
6-1 6-2
Sun Sheng-Nan lost to Zhou Yi-Miao |
5-7 1-6
Hsu Wen-Hsin [TPE] beat Chan Wing-Yau [HKG] |
6-3 1-6 6-1
Liu Chang lost to
Zhang Shuai [7]
|
1-6 1-6
Peng Shuai [4]
beat Han Xinyun |
6-1 6-4
Wen Xin lost to Zhao Yi-Jing |
4-6 1-6
Wang Qiang lost to Zheng Saisai |
6-3 5-7 3-6
Zhang Ling [HKG] beat
Duan Ying-Ying [8]
|
6-4 6-3
Chang Kai-Chen [TPE] [5]
beat Hu Yue-Yue |
6-1 6-3
Zhu Lin beat Zhang Yuxuan |
6-4 7-5
Wang Yafan beat Lee Hua-Chen [TPE] |
6-3 6-0
Chan Chin-Wei [TPE] lost to
Zheng Jie [3]
|
2-6 1-6
Chan Yung-Jan [TPE] [6]
beat Liang Chen |
6-0 6-4
Yang Zi beat Tang Hao Chen |
6-3 6-4
Lu Jia-Jing beat Juan Ting-Fei [TPE] |
6-2 6-1
Zhang Kai-Lin lost to
Hsieh Su-Wei [TPE] [2]
|
0-6 3-6
2012 Chinese PYW Championships | Round Two
Li Na [1]
beat Zhou Yi-Miao |
6-1 6-3
Hsu Wen-Hsin [TPE] lost to
Zhang Shuai [7]
|
0-6 3-6
Peng Shuai [4]
beat Zhao Yi-Jing |
6-1 6-3
Zheng Saisai lost to Zhang Ling [HKG] |
3-6 4-6
Chang Kai-Chen [TPE] [5]
beat Zhu Lin |
6-1 6-1
Wang Yafan lost to
Zheng Jie [3]
|
1-6 1-6
Chan Yung-Jan [TPE] [6]
beat Yang Zi |
6-1 6-2
Lu Jia-Jing lost to
Hsieh Su-Wei [TPE] [2]
|
1-6 1-6
2012 Chinese PYW Championships | Quarterfinals
Li Na [1]
beat
Zhang Shuai [7]
|
6-2 6-2
Peng Shuai [4]
beat Zhang Ling [HKG] |
6-3 6-1
Chang Kai-Chen [TPE] [5]
lost to
Zheng Jie [3]
|
4-6 3-6
Chan Yung-Jan [TPE] [6]
lost to
Hsieh Su-Wei [TPE] [2]
|
0-6 1-6
2012 Chinese PYW Championships | Semifinals
Li Na [1]
beat
Peng Shuai [4]
|
6-0 7-5
Zheng Jie [3]
lost to
Hsieh Su-Wei [TPE] [2]
|
4-6 1-6
2012 Chinese PYW Championships | Final
Li Na [1]
lost to
Hsieh Su-Wei [TPE] [2]
|
2-6 7-5 4-6