-
JUNIORS
(
http://www.tennisforum.com/forumdisplay.php?f=17
)
| | |
| --- | --- |
| juki | Sep 25th, 2012 06:02 PM |
---
China Junior 16 - Beijing, G2

Main Draw

(1)Katherine Ip (HKG) v Ziyue Sun (CHN)
(Q)Yujia Wang (CHN) v Rongrong Leenabanchong (THA)
Yuanyi Yu (CHN) v Miki Kobayashi (JPN)
(6)Yan Wang (CHN) v (Q)Xiao Xuan Guo (CHN)

(4)Qiu Yu Ye (CHN) v (LL)Jingyan Zhao (CHN)
(Q)Yijia Shao (CHN) v Xu Liu Sun (CHN)
(wc)Zhou Ma Ge Rong (CHN) v Xiaodi You (CHN)
(8)Caroline Kallberg (SWE) v (wc)Duzhima Duzhima (CHN)

(5)Fangzhou Liu (CHN) v Huijie Li (CHN)
Sara Tomic (AUS) v Jiahui Chen (CHN)
(LL)Pei-Wen Kao (TPE) v Xiao Ou Zhou (CHN)
(3)Kamonwan Buayam (THA) v Jiayuan Xue (CHN)

(7)Fang Ying Xun (CHN) v Teertha Iska (IND)
(wc)Siqi Cao (CHN) v Yukun Zhang (CHN)
(Q)Zhirou Liu (CHN) v Ka Man Carina Ma (HKG)
(2)Ruyu Yan (CHN) v Shilin Xu (CHN)
| | |
| --- | --- |
| juki | Sep 26th, 2012 03:24 PM |
---
Re: China Junior 16 - Beijing, G2

R1

Ziyue Sun (CHN) d. (1)Katherine Ip (HKG) 61 63
(Q)Yujia Wang (CHN) d. Rongrong Leenabanchong (THA) 63 76(5)
Yuanyi Yu (CHN) d. Miki Kobayashi (JPN) 63 64
(Q)Xiao Xuan Guo (CHN) d. (6)Yan Wang (CHN) 63 64

(4)Qiu Yu Ye (CHN) d. (LL)Jingyan Zhao (CHN) 75 63
Xu Liu Sun (CHN) d. (Q)Yijia Shao (CHN) 63 76(4)
Xiaodi You (CHN) d. (wc)Zhou Ma Ge Rong (CHN) 61 61
(8)Caroline Kallberg (SWE) d. (wc)Duzhima Duzhima (CHN) 61 64

(5)Fangzhou Liu (CHN) d. Huijie Li (CHN) 64 64
Jiahui Chen (CHN) d. Sara Tomic (AUS) 62 62
Xiao Ou Zhou (CHN) d. (LL)Pei-Wen Kao (TPE) 62 61
(3)Kamonwan Buayam (THA) v Jiayuan Xue (CHN) 46 76(9) 20 Ret.

(7)Fang Ying Xun (CHN) d. Teertha Iska (IND) 61 62
(wc)Siqi Cao (CHN) d. Yukun Zhang (CHN) 62 63
Ka Man Carina Ma (HKG) d. (Q)Zhirou Liu (CHN) 63 64
Shilin Xu (CHN) d. (2)Ruyu Yan (CHN) 76(4) 62

R2

Ziyue Sun (CHN) d. (Q)Yujia Wang (CHN) 64 64
(Q)Xiao Xuan Guo (CHN) d. Yuanyi Yu (CHN) 62 26 61
(4)Qiu Yu Ye (CHN) d. Xu Liu Sun (CHN) 64 64
Xiaodi You (CHN) d. (8)Caroline Kallberg (SWE) 63 26 62

(5)Fangzhou Liu (CHN) d. Jiahui Chen (CHN) 64 62
(3)Kamonwan Buayam (THA) d. Xiao Ou Zhou (CHN) 75 62
(7)Fang Ying Xun (CHN) d. (wc)Siqi Cao (CHN) 64 64
Shilin Xu (CHN) d. Ka Man Carina Ma (HKG) 60 60
| | |
| --- | --- |
| jisung | Oct 1st, 2012 03:09 AM |
---
Re: China Junior 16 - Beijing, G2

Shilin Xu is a big surprise this year, won over Yan RunYu/Liu Fangzhou/Sun Ziyue to get a G2 title is really something for her.
the ranking probably can get into 2013 AO after her busy schedule HK G2/JPN G2/JPN GA, come on~~~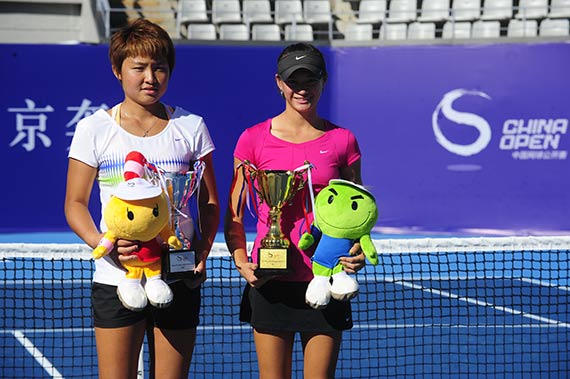 All times are GMT. The time now is

07:02 AM

.
Powered by vBulletin® Version 3.6.8
Copyright ©2000 - 2015, Jelsoft Enterprises Ltd.