OK I'm back, so here are my reports :).
General report of the day:
I didn't get there until almost 12 :o and it was absolutely sweltering hot. I went to watch Lena D right away, but I had to stand, which made my back hurt, so I wanted to sit down when it was over. None of the matches I had been interested in were on, but I saw Dushevina and Alona Bondarenko were deep in the third so I went to see that. Afterwards I wandered around the grounds, bought a hat and then tried to watch Soderling. It was completely full though and I didn't want to wait to get in, so I tried to see Monfils instead, however that was crammed full as well. I saw Sally Peers and Wozniak warming up (match before Ági) so I knew I had time to watch something else, so I went to see LDL and Mirza. After five games I left to find out Peers had already won, so I got some fries and went to watch Ágnes play. That went fast, so I tried Soderling again and snuck in through an exit and found a seat on the stairs. I only saw the fifth set, so next I went to see Pironkova play. This as hardly full at all, which was a nice change from the crowded Robin match. It is pretty clear at that point that the men's matches there are better-attended. Once that ended I went to see Azarenka-Niculescu and ironically that was completely full, so it took me a while to get a seat. I enjoyed that match most probably, watching the whole second and third sets, so once it was finished I got my dinner then went to watch The Fistpump play on Grandstand. I watched most of that match and left around 8:00. I took pictures of matches that were on non-televised courts with my phone. They aren't the best quality, but hopefully people will enjoy them since these matches weren't televised so there might not be any other pictures from them.
Dementieva - Govortsova
No pictures from this match, because it was on a televised court.
O arrived right after the first set and my first impression is that Lena is basically a better version of Olga. They have similar power, but Lena misses left and can defend and put away shots better, so that gives her most points. Even in this early routine match, Lena was talking away to Mommy Vera the whole time, who was sitting right behind her chair. Apparently Mommy Vera is scared of the sun, as she had long sleeves on and a big white hat, I could barely recognize her :p. The crowd was very kind to Lena, you could they appreciate what she has done and her being on a smaller court today (Court 11), so that was nice. Lena's dress was nice (especially for Yonex) and looked good on her, but on closer glance it doesn't fit her quite right, and stuck out awkwardly at the top in her back and the bottom at the front. Govortsova seemed to be okay, but she had some tape on her knee, so she is injured I guess. Most points ultimately ended in unforced errors (usually by Olga), but Lena was focused and played well, and led Olga to missing I would say. However, at 5-1, Lena seemed to want the match to be over and got out of the heat and this crowded outside court, so she rushed a bit. She lost that game and made a big mess out of the last game. Down 0-40 serving for the match at 5-2, Lena hit the same serve she had at 5-6 (0-40) against Wozniacki in New Haven and it was an ace again, so I thought she might come back again, and sure enough she did, although it took much longer this time. After the match, Olga seemed to take it well, but she left the court very quickly. Despite having rushed to finish the match, Lena was adorable to the fans, and literally signed every single autograph request.
Dushevina - Alona Bondarenko
I took some pictures here, so they are below. Basically, I arrived at *4-3 Dushevina in the third and both players looked hot and tired. Vera looked like Pushevina at that point, they were having long rallies, but Vera was just pushing it back, while Alona was hitting it a little bit more. The crowd was for Alona and she broke to level the match as soon as I got there by just having stronger shots. Alona could be injured though as she had an ankle brace. The last two games were both long, but Vera looked exhausted and kept pushing, and Alona attacked enough to win, but not exactly amazing tennis. Vera was pissed and upset afterwards and took off quickly, while Alona stayed around for a while. She signed tons of autographs (everyone who asked) and also took pictures and shook hands with several people. She seems like a cool cat. Kateryna was waiting at the edge of the court to congratulate her and looked very bored waiting for Alona with all the fans. She was wearing practice gear, but wasn't sweaty or anything, so I guess she was practicing later. Finally as Kateryna was about to leave, Alona finished with the fans and handed her racquet bag to someone then walked back to the locker room with her sister. I stalked them and got a picture.
Alona's forehand
Alona's serve
Vera's serve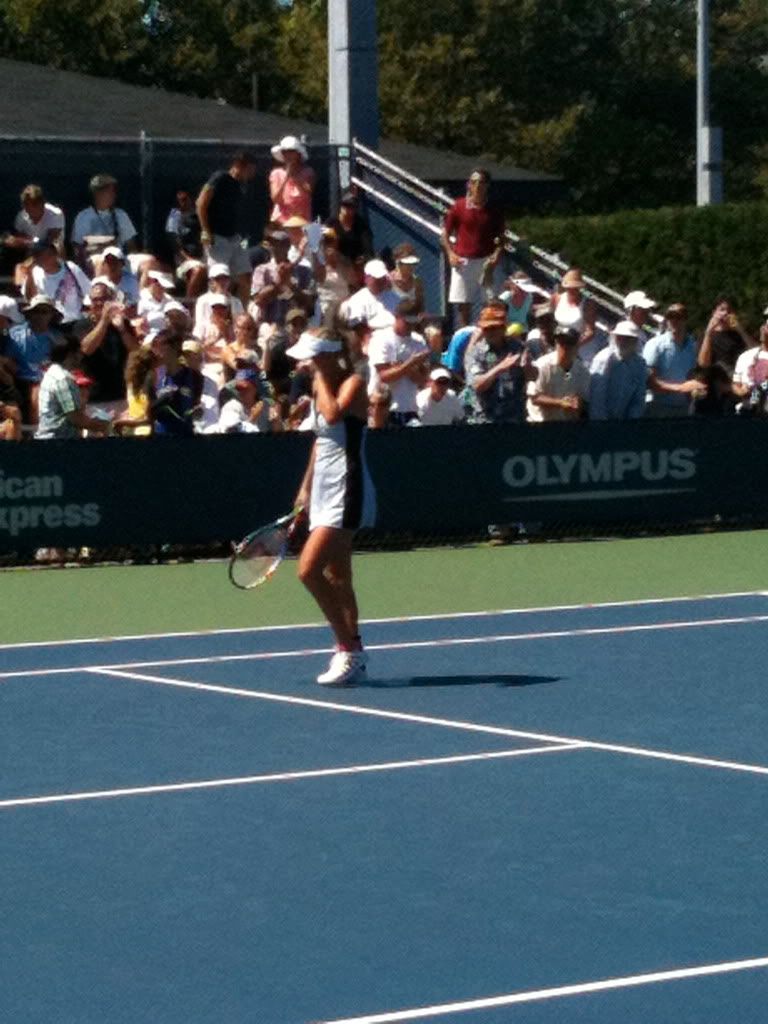 Alona after match point
Alona and Vera's handshake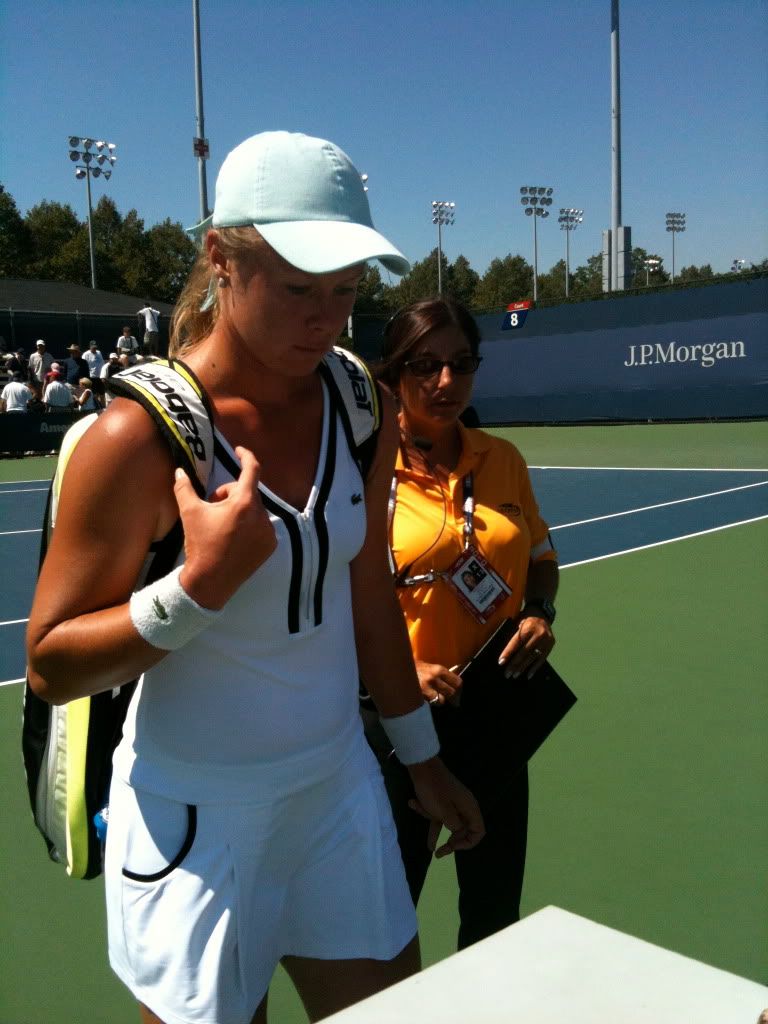 Vera reflects as she leaves the court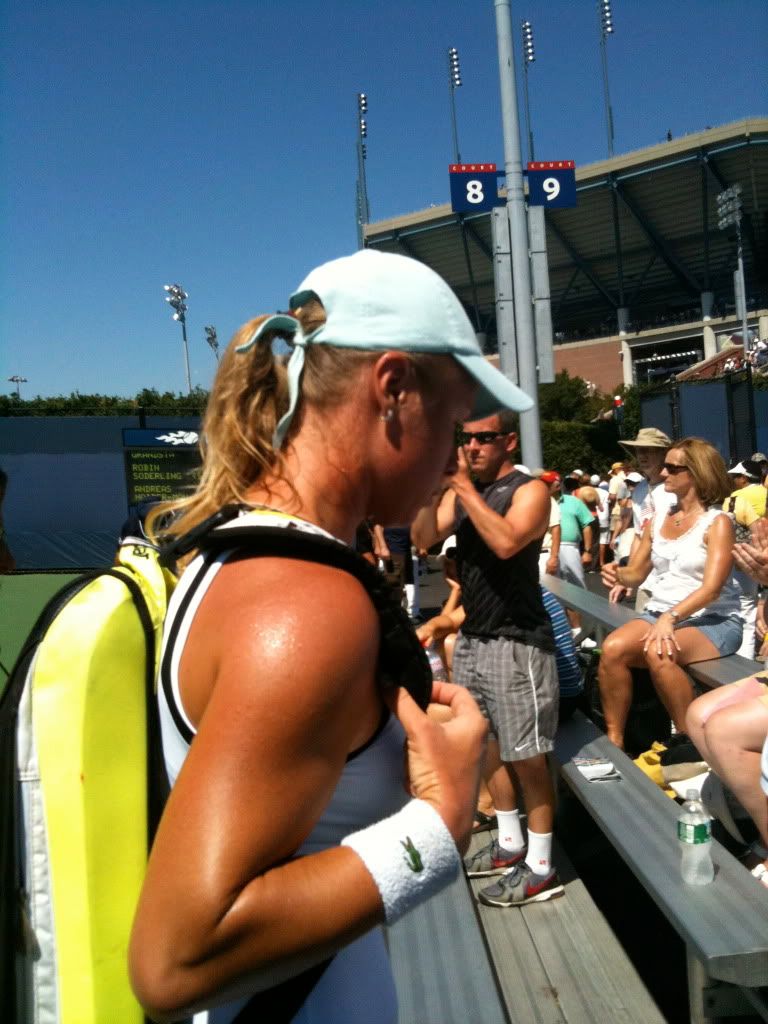 Vera leaving in disappointment
Alona and Kateryna walking to the locker room
I will continue in the next post so I don't exceed the picture limit.