Hi alize fans,
as you know, alize had a very bad year in 2009,dropping far in the ranking(50) and losing what made her succesful: The Rythme and Consistency.
I think she must ake the lessons of her 2009 experience to try change her game and make it evolve in the right way. She must improve her net game so she has to play double.
OK she must play double but with who?

here are the confirmed one for 2010:
Black/Huber
Williams/Williams
Llagostera Vives/Martinez Sanchez
Kleybanova/Schiavone
Peschke/Srebotnik
Domachowska/Pin
Coin/Pelletier
Groenefeld/Schnyder
Safarova/Wozniak
Raymond/Stubbs
Medina Garrigues/Wozniacki
I have some names in mind but dont know if alize will chose one of them:p
#Anastasia Pavlyuchenkova
Ranked: 41. Alize already played in Beijing 2008 with her.They reached he quarter finale.
#Yaroslava Shvedova
Ranked: 53. She's a good double player. Powerful serve and strokes.
#Iveta Benesova
Ranked: 39
She s a good double player and a lefty.Good to be with an experienced player.
#Agnes Szavay
Ranked: 40
she's very talented player who likes playing doubles. I think she's actually a friend of her on the tour.
#Sabine Lisicki
Ranked: 23. She's very talented newcomer, I think her powerful groudstrokes can suit to alize more "spined" game.
#Carla Suarez Navarro
Ranked: 34
I just love her game,especially her one handed backhand,she's got talent at the net too.
#Melinda Czink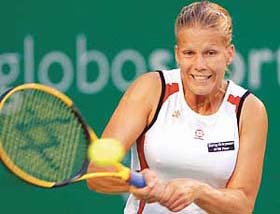 Ranked: 38
she improved a lot in 2009,she's also a lefty so its an advantage imo to mix it up.
#Vera Dushevina
Ranked: 44. She's good and talented too.
#Roberta Vinci
Ranked: 64
I appreciae this player cause she's special. Just :hearts: her slice backhand. She should teach it to alize lol.
Well the best would be to play with big server such as Sam Stosur but I m sure the australian will pair up another one. Lisicki is a great partner too imo.Always very positive so it could be a good thing for alize.