:) So after i patched up with Ros, i decided to make a JJ voodoo doll
instead
, but then i decided to give JJ another chance and made a "JJ t-shirt..".Maybe she would surprise me in Cincy and make it to the QF. Nah, to hell with it.. i decided to go to her 2nd rd match, 'cos i wasn't very confident if i would ever see her again in Cincy this year.
I wanted to make a really cool T-shirt, but realized that making it at the last minute was a pain.. i ended up using this pic on my t-shirt,:
Next, i managed to get out of the hospital for the rest of the day...I rushed home and went with a friend up to Mason. The tournament is actually held in Mason, Ohio, not Cincy which is in a different county.:tape::lol:.
This is the skyline of Cincinnati: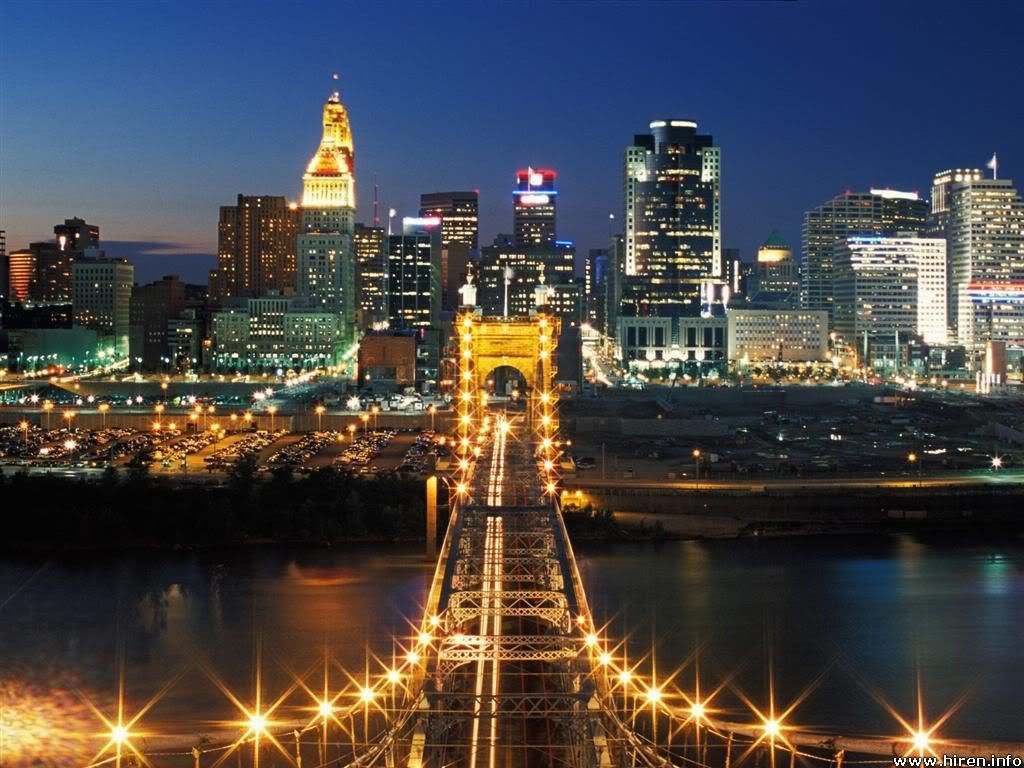 Anyway, the tournament is held close to "King's island" which is one of the biggest amusement parks in the US.
We parked on a grass field and walked up to the ticket counter.. on the way i saw someone practicing on a outside court,.. Oh, it was
just Venus
.. since i couldn't be bothered with her, i ran up and frantically asked the lady at the counter " are there any tickets available for today's match?" Yes,plenty .. any seat of choice that you want, she said.... And here i was worried that tickets would be sold out...:rolleyes:
Since box seats were $60 a piece.., we decided to get some mid level seats and entered the stadium...There was JJ in all her glory struggling against Maria K.. the score was 5-5 in the first set...:) JJ made a correct challenge just as i entered the stadium.. but eventually lost the game..I expected a very low turnout, but was pleasantly surprised to see that there were at least a 1000 people in the stadium...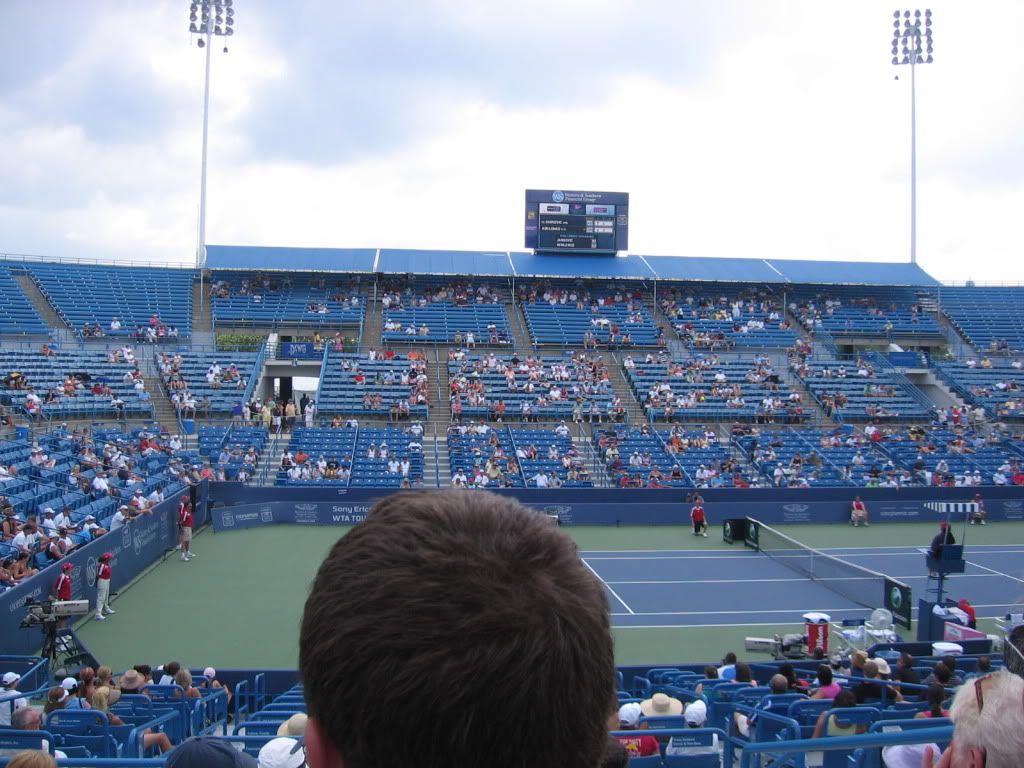 (Who's head is that, and why is it blocking JJ's view....:mad:)
Match #1: CC : JJ vs Maria K
Anyway, my friend started taking JJ's pics, while i started biting my nails in earnest..
JJ forced a TB, but then commited some horrible UEs to go down a break .. down 3-4, she played some superb defense to win the point.. but then hit some crap shots to go down 4-6... The JJ of '08 returned just in time to hit a FH CC winner and force an error from Maria K, along with an Ajde to set up SP.. she won the 1st set, and from there, she never looked to be in trouble. She may have been hitting a lot of 2nd serves, but at least she was going for it on her 1st serves..:). Not too bad, not too sloppy, she was solid and her BH was firing on and off as she raced to a 5-3 lead in set 2. She then served something like 2 aces in that last game to shut out Kirilenko...:drool:. I was surpised to see so many people out there calling out her name..:hearts:.. she is a popular champion wherever she goes, it seems.
(sorry, my camcorder pics didn't come out very well,,:o)
JJ was asked during the interview how she felt playing her first match here, and she said " Well, i had to get up a 7:00 am today.." :lol:
The crowd absolutely loved her and tons of kids swarmed around her for an autograph... there was no way i could get an autograph now.. right? wrong...:p
JJ was so gracious, she was standing for quite a while, signing autographs...i snuck in behind her... i meekly yelled "JJ".. but got so tongue-tied.My friend then yelled "JJ sign my T-shirt".. JJ looked up and smiled at me when she saw her pretty face on my t-shirt staring back at her..OMG, she is simply gorgeous in person, she had so many "freckles". She signed my t-shirt and put a little heart ♥ at the end..