I Dream Of Flavia Thread
---
I had a dream of Flavia last night and thought it would be a good to create a thread where we can post our dreams of Flavia and laugh at them. Here is my dream:
The dream started with me catching the wrong train for work. I ended up at some random train station. I got off the train and for some reason Flavia was waiting for me in a car. I got in the car and we started driving around and Flavia was teaching me to speak italian. Flavia then drove me to her house and guess who was her next door neighbour......Gisela. She was stretching outside on her porch, in some very compromising positions.
Just as we were going into the house my alarm for work went off and ruined my perfect dream. I pushed snooze and tried to get back to the dream but it didn't work
So shattered it seemed like I was getting to the best part of the dream
There is my dream. Feel free to post some of your ones!!!
---
Flavia Pennetta
Re: I Dream Of Flavia Thread
---
so you were like
when you woke up?
TBH, Flavia is not my no.1 dreaming object, especiialy not her current tennis.
OT:
In another forum I described my dream of a certain smartphone - I'm a real fanatic for smartphones. They of course advised me to see a doctor.
---
Welcome, Flavia, to the "Great Champion" club
With her "Step out of the way, boys" strut and her intemperate mid-match gesticulating, this woman is a natural solo act.
Re: I Dream Of Flavia Thread
---
oh, my
I've had a few dreams about Flavia, all quite weird
Once I dreamt she was playing the RG final (played at some very small stadium), against Esther Vergeer
---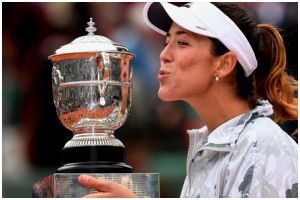 What would you say if we could make
something amazing
Senior Member
Join Date: Sep 2006
Posts: 95,135
Re: I Dream Of Flavia Thread
---
oh my
Re: I Dream Of Flavia Thread
---
Re: I Dream Of Flavia Thread
---
i can't believe this thread exist, i dreamed about flavia few nights ago... have you ever heard about drinkopoly game? well in my dream we played it and she had to kiss me but she had hairy legs and I said no please god no, but eventualy we kissed and it was best kiss ever. and im not lying this was really true dream.. and im so drunk right now and everything but that was best dream ever. love you flavia.. and sorry bout my english, my croatian or italian would probably be better at the moment but only sucketta would understand it sou, Im strugling with english.. also I really love you scuketa if you are a girl.. peace out
---
GOLOVIN
PENNETTA
GIORGI
Re: I Dream Of Flavia Thread
---
Senior Member
Join Date: Sep 2006
Posts: 95,135
Re: I Dream Of Flavia Thread
---
Sucketta take out the worst part of us
Senior Member
Join Date: Jan 2002
Posts: 14,934
Re: I Dream Of Flavia Thread
---
Quote:
i can't believe this thread exist, i dreamed about flavia few nights ago... have you ever heard about drinkopoly game? well in my dream we played it and she had to kiss me but she had hairy legs and I said no please god no, but eventualy we kissed and it was best kiss ever. and im not lying this was really true dream.. and im so drunk right now and everything but that was best dream ever. love you flavia.. and sorry bout my english, my croatian or italian would probably be better at the moment but only sucketta would understand it sou, Im strugling with english.. also I really love you scuketa if you are a girl.. peace out
Re: I Dream Of Flavia Thread
---
I dreamt of her while sleeping in the van yesterday...she won olympics defeating Masha in the final and then she said that would have been her last match
Senior Member
Join Date: Sep 2006
Posts: 95,135
Re: I Dream Of Flavia Thread
---
i don't get how you can dream about a tennis match
Re: I Dream Of Flavia Thread
---
Quote:
Originally Posted by
FORZA SUCKETTA
View Post
i don't get how you can dream about a tennis match
I always dream I play soccer with my team
and once i dreamt I was watching Roger in Basel and I took a photo with him
---
FlaPen SaraErr FraSch NastyBurn MartCare CamiGior KariKnapp FedeDiSarra RomOpra
PetrMart PetrKvit
PAW(best rank: #1): '13 Dubai, Strarbourg - '11 YEC, Eastbourne, Budapest
FITD(best rank: #2): '11 Eastbourne & Wimbledon
Twitter
Re: I Dream Of Flavia Thread
---
Quote:
But I also won 1000 euro bet today vs Sharapova so you can laugh az me if you want to
---
GOLOVIN
PENNETTA
GIORGI
Re: I Dream Of Flavia Thread
---
Quote:
Originally Posted by
FORZA SUCKETTA
View Post
Sucketta take out the worst part of us
---
GOLOVIN
PENNETTA
GIORGI
Posting Rules

You may not post new threads

You may post replies

You may not post attachments

You may not edit your posts

---

HTML code is Off

---