Blonde Bombshell: Eleanor Purdy Cushingham
---
PURDY, ELEANOR
United States
Born 1920 in Portland, Oregon
Married (1) Jack Cushingham
Married (2) Warren Harbula (died of cancer in 1963)
Won Ojai and La Jolla in 1939 ; St Petersburg in 1946. Round of 16 at the US Nationals in 1945 and 1946A noted beauty in her day. This native Californian was best on hard courts.
Her best victory wasover Pauline Betz at the Pacific Southwest in 1945.
I want to thank Bionaxal for reminding me about Eleanor via his blog at:
http://archivesdutennisfeminin.over-blog.com/
Her Blast Biography is at:
Biographies of Female Tennis Players
---
Last edited by Rollo; Apr 11th, 2013 at

10:46 PM

.
Re: Blonde Bombshell: Eleanor Purdy Cushingham
---
Some photos of Eleanor: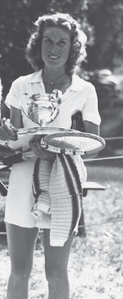 A famous pose of Eleanor sunbathing. This was used in a 1947 ad for a solarium
Re: Blonde Bombshell: Eleanor Purdy Cushingham
---
A 1993 article from the Los Angeles Times:
http://articles.latimes.com/1993-02-..._senior-tennis
Long Love Affair : Harbula, 72, Remains at Top of Tennis Game on the Senior Circuit
February 11, 1993
|FERNANDO DOMINGUEZ | TIMES STAFF WRITER
Eleanor Harbula looked at the ceiling of her Sylmar home, one hand over her mouth, and tried to unleash the memories.
"Let's see," she said. "That must have been back in 1943. Or maybe it was '44."
Or maybe both.
In a tennis career spanning 60 years, it's difficult for Harbula to pinpoint events of decades ago. The recent ones are something else.
Now 72, Harbula is one of the leading senior tennis players in the country. In 1991, she was ranked first by the Southern California Tennis Assn. in the women's under-70 division and second nationally by the United States Tennis Assn. behind senior legend Dodo Cheney. (Senior players may compete in a younger age division.)
The 1992 final rankings, derived from competition during the calendar year, will not be announced until March, but Harbula undoubtedly will be near the top again. She and Cheney, who lives in Santa Monica, generally battle for those honors.
"She's very steady and her short angles are her best shots," Cheney said. "She covers the court very well and she's very, very fast on the court. We're very closely matched."
In December, Harbula showed how close by pressing Cheney in the final of the Senior Grand Prix Masters championships at Rancho Bernardo in San Diego County before losing, 7-6, 6-7, 7-5.
"Do you know that I was winning, 5-2, in the last set and I still managed to find a way to lose?" Harbula said, laughing.
That didn't happen often to Harbula after she started playing tennis at the height of the Great Depression.
Born in Portland, Ore., Harbula moved to Hollywood with her family when she was about 1 year old. Her parents, Stanley and Jessie Purdy, were a shoe salesman and a schoolteacher eager to find prosperity for themselves and their three children in economically booming California.
A few years later, Harbula began spending time at the Poinsettia Recreation Center in Los Angeles and became involved with tennis. Soon, she was being coached by Dick Skeen, who at one time coached tennis great Jack Kramer and several other champions.
"I started playing when I was 11," Harbula said. "The first tournament I played in was a paddle tennis tournament and I won it. . . . It used to cost $5 a month to take the lessons and (Skeen) would give us shoes and a racket."
Back then, $5 was a good chunk of cash for a working family. Harbula figures her parents could have used the money for more pressing things but says they never hesitated if it kept her playing tennis.
"It probably was a (financial) hardship for them, but they went along with it," Harbula said.
They had to, if they were serious about letting Harbula stay with the sport, because there were no interscholastic high school tennis teams for girls in those days. Harbula played basketball at Fairfax High but was on her own when it came to tennis.
By the early '40s, Harbula had gained prominence and become one of the top U.S. women's players. Then married to Jack Cushingham, also a talented player, she was ranked as high as 13th nationally in 1943 and played in the U.S. Open at Forest Hills that year and in 1944. Unfortunately for Harbula, she met powerful Pauline Betz of Los Angeles in the first round both times and was eliminated. Betz won the title from 1942-44 and in 1946.
Harbula, however, turned the tables on Betz in 1945 in the Pacific Southwest tournament at the Los Angeles Tennis Club with a 6-4, 6-1 victory. The playing surfaces were different--Forest Hills was grass, L.A. hardcourt--but the accomplishment had its merit.
"That was my best victory ever," Harbula said.
During World War II, Harbula and Cushingham lived for a while at the U.S. naval base in Pensacola, Fla., where he had been stationed. Both continued to play during the war and until 1946, when they went to work at the Palm Springs Racquet Club. Cushingham was the teaching pro and Harbula a tennis hostess who entertained on the courts the many Hollywood celebrities who escaped to the desert for R&R. The list, Harbula said, included Desi Arnaz, David Niven, Errol Flynn, Tony Martin, Rita Hayworth, Spencer Tracy, Dinah Shore, Paul Lukas and Cary Grant.
Most, Harbula said, were decent players who didn't get too serious on the court--"I liked Spencer Tracy. He played doubles and loved to clown around and had a wonderful sense of humor."
The pair stayed in Palm Springs for a year, then took their trade to the Beverly Hills Tennis Club. That lasted until their marriage collapsed in 1951. It was Harbula's last major involvement in tennis for many years.
Three years later, after marrying Warren Harbula and moving to San Fernando, she turned to the business of being a wife and mother to their son, Patrick, and adopted daughter, Catherine. Harbula had little association with tennis until her husband died of cancer in 1963. Suddenly, she was forced to find work. The way to go, Harbula figured, was obvious.
"At first I said, 'What am I going to do?' " she said. "Then I thought I'd just teach tennis. It worked out beautifully."
Harbula landed a job at an L.A. City park and then coached privately after making a deal with a woman she taught there.
"She lived in Studio City and had a court in her property," Harbula said. "She wanted me to teach her and her four boys. I ended up doing it for 13 years. I did that in exchange for teaching other people on their court."
(Page 2 of 2)
Long Love Affair : Harbula, 72, Remains at Top of Tennis Game on the Senior Circuit
Harbula landed a job at an L.A. City park and then coached privately after making a deal with a woman she taught there.
"She lived in Studio City and had a court in her property," Harbula said. "She wanted me to teach her and her four boys. I ended up doing it for 13 years. I did that in exchange for teaching other people on their court."
When the arrangement ended, Harbula taught at other private courts and returned to the Beverly Hills Tennis Club for two years before working eight years at a now-defunct Sylmar club. While working in Sylmar, friends encouraged her to join the senior tennis circuit. Initially, she had reservations.
"I said, 'Isn't that kind of silly, older people running around playing tennis?' Harbula said. "I thought it was ridiculous. But, of course, once I started playing, I found out it was pretty good."
She has been at it since.
"The tournaments are a lot of fun," said Harbula, who, because of her ranking, receives equipment gratis from a sporting goods company. "I get to see old friends at tournaments that I've known for 40 years. It's just a delight."
Especially when you still play as well as she does.
"She's fantastic. She always gives Dodo a tough match," said Pat Yeomans, another leading senior player and one of those friends with whom Harbula is reunited at tournaments. "I've played against her many times over the years and played doubles with her. . . . In 1939 she beat me in the finals in Ojai."
Although she enjoys the tournaments, Harbula said she has been playing in only four or five a year, mostly in California. But this year she hopes to increase the number--and her travel.
"I'm going to play more. It'll be better for me to be tournament tough," said Harbula, who still teaches tennis. "I'll probably go to two or three national tournaments. There's one in Cincinnati (indoors) and one in Baton Rouge (clay court) I'd like to play in."
And not only possibly win but add to her collection of memories.
---
Last edited by Rollo; Apr 11th, 2013 at

02:33 PM

.
Re: Blonde Bombshell: Eleanor Purdy Cushingham
---
This is from Eleanor's web site in 2004:
http://www.tennis-lessons-instructor...Instructor.htm
Eleanor Harbula, Tennis Instructor
Eleanor Purdy grew up in Hollywood California learning tennis at the age of 12 under the tutelage of the great pro of champions Dick Skeen at the Poinsettia Tennis Courts. She learned and practiced with other greats including Jack Kramer.
In her twenties, she enjoyed a top ranking on the women's open tour and defeated the #1 woman player in the world here in L.A. At 28 she and her first husband, Jack Cushingham (also a top ranked player), were the resident pros at the prestigious Beverly Hills Tennis Club. She played and coached such notable personalities as Kirk Douglas, Burt Lancaster, Gilbert Roland, Tony Randal, Jack Clugman, Gary Marshall, Sandra Dee, the golden boy boxer Art Aragon and many others.
She divorced and later remaried Warren Harbula at age 33. She gave up her tennis life for a time to raise a family. After giving birth to her son Patrick, who has become a well known spiritual teacher and author of the acclaimed book The Magic of the Soul . Eleanor and Warren also adopted a daughter, Cathy 3 years later who's claim to fame is that she got 3 games off of Tracy Austin when she 9 years old. Tracy was 6.
She lost her husband to Cancer when she was 43 years old. To support her two children, she returned to the the sport and life that she loved and had give her so much. She has been offering private and group lessons ever since. She also enjoyed a second tenure at the Beverly Hills Club during the 1980s.
She now lives in Sylmar and continues to play professionally. She has been ranked number 1 in her division for the last 4 years. She also continues to provide the most educated and effective instruction at the most reasonable prices around
Re: Blonde Bombshell: Eleanor Purdy Cushingham
---
Eleanor recently passed away after a long life:
http://www.legacy.com/obituaries/whi...?pid=162049194
ELEANOR HARBULA
Eleanor Harbula made her transition on Christmas eve, at 8:30 p.m. surrounded by family and friends after suffering a stroke a week earlier.
Elly was a champion tennis player in her prime - 13th in the country - and a teaching pro by trade through most of her life. She was still teaching at 90. As many people have commented since her passing, to be around Elly was to be around laughter.
The memorial service will be held at the Sepulveda Unitarian Universalist Society at 9550 Haskell Ave., North Hills, CA 91343. on January 6th, 2013 at 12:30 p.m. People are encouraged to dress colorfully - no black please. For more information contact Patrick Harbula at 805-469-9847 or
Patrick@magicofthesoul.com
.
Published in Los Angeles Daily News on December 30, 2012
Re: Blonde Bombshell: Eleanor Purdy Cushingham
---
An article on Palm Springs racquet club with many quotes from Eleanor:
http://www.utsandiego.com/uniontrib/...z1s10palm.html
TENNIS
Stars had sun, fun
Palm Springs' renowned Racquet Club is history,but fond memories of celebrities' playground linger Tennis
By Jerry Magee
STAFF WRITER
January 10, 2006
There was a Palm Springs before the Racquet Club's founding in 1935. Problem was, not a lot of people were aware of it.
The Racquet Club and its famous clientele would give the community an identity, changing it from a sleepy desert outpost to "the playground of the stars," where the Hollywood elite frolicked about, tennis rackets in hand.
Nothing, however, is forever. The Racquet Club long ago ceased having its onetime cache and now the property on Palm Springs' northern fringe is being used as the site of condominiums.
Ah, but the memories. Eleanor Harbula has hers. She is 85, residing in the San Fernando Valley community of Sylmar, but when the Racquet Club was attracting the rich and famous of this world, she was serving as a tennis hostess there.
The prettiest sight she ever saw, she said, was Cary Grant, walking around the Racquet Club's swimming pool.
"Gorgeous," Harbula said, "drop-dead gorgeous."
In the club's heyday, Harbula, a ranking senior player who continues to show up for senior events at the La Jolla Beach and Tennis Club, was married to Jack Cushingham, a tennis instructor at the Racquet Club. It had been founded by Charlie Farrell, a leading man of Hollywood's silent-film era, and two of his cronies, Ralph Bellamy and Paul Lucas.
"He lost his career when Hollywood changed to the talkies," Harbula said of Farrell. "He didn't have the voice."
But according to Harbula, Farrell never lost his love of movie people. "A person could be a billionaire, and Charlie wouldn't have cared less," she said, "but he couldn't do enough for people from Hollywood, and all the celebrities came to the club."
How Farrell came to be involved with the club is part of Palm Springs lore. One day, Farrell and Bellamy, his tennis buddy, had to surrender a court at El Mirador to Marlene Dietrich. It occurred to the displaced men that they should buy some property and build their own courts. They had friends at Lake Arrowhead, where it was cooler. They would build there.
Before leaving for Arrowhead, however, they stopped at the Desert Inn to see Janet Gaynor, with whom Farrell had made a movie, "Seventh Heaven," in 1927, the same year Buddy Rogers starred in "Wings." Gaynor didn't think much of their plan. They should remain in Palm Springs.
By the end of the day, they had purchased 200 acres just two miles down a sandy road from the El Mirador. This would become the site of the Racquet Club.
In the early 1960s, when I was tagging around after the then-Los Angeles Angels, who were encamped in Palm Springs for spring training, I played at the Racquet Club with the late Irv Kaze, then the Angels' publicist. Nothing fancy about it. One thing I remember was that the playing surface of the courts was brown.
The place's appeal was that celebrities seemingly like to rub elbows with other celebrities. Harbula found herself sharing courts with Spencer Tracy ("who just fooled around"), Rita Hayworth ("a beginner"), Desi Arnaz and others.
Heady stuff for somebody whose introduction to tennis was being picked out of a group of youngsters at a Los Angeles park and offered lessons when she was 11. Her patron was Dick Skeen, who by Harbula's account had a role in the development of Jack Kramer, Louise Brough and Pauline Betz. "He was a very famous teacher and he took 10 or 11 of us and told us he would give us rackets, shoes and one lesson a week for $5 a month," Harbula said.
Had Skeen not handed over that racket and those shoes, Harbula said she could not have taken up tennis. She did, and she learned.
Ted Schroeder, the La Jolla tennis savant, said there was a time in the late 1940s and 1950s when he could accommodate Farrell. "Play exhibitions and that sort of thing," Schroeder said. "Later, there wasn't a year when he didn't call me and say, 'Where are you? I want you to come over and be my guest.' And this was a long time after I could do anything for him."
Farrell died in May 1990 at the age of 88. By then, the population flow in the Coachella Valley was toward communities other than Palm Springs, to Palm Desert and Indian Wells and La Quinta. "And celebrities were getting private courts at their homes," Harbula said.
Now the Racquet Club is no more. Game, set and memories.
Posting Rules

You may not post new threads

You may post replies

You may not post attachments

You may not edit your posts

---

HTML code is Off

---