Re: The ONE! The ONLY - Monica Seles Thread
---
http://w.espn.go.com/espnw/more-sports/9226901/
Stabbing stole Monica Seles' career
Apr 30, 2013 9:59 AM ET | By Melissa Isaacson
Before an unemployed sicko changed tennis history and got away with it; before he walked down through the stands in Hamburg, Germany, and past a crowd distracted by a changeover; before he leaned over a 3-foot barrier and plunged a 9-inch knife between her shoulders, Monica Seles was not only the best women's tennis player in the world. She was also the toughest.
No one knew from where the toughness sprung except Seles herself, who once explained that she so dearly loved the game from such a young age that it never occurred to her to be nervous, or care about who was winning, or even understand how to keep score.
"Mentally she was just so tough, she was right up there with Chris [Evert]," Martina Navratilova said of Seles in a recent phone interview. "You couldn't crack her, you never got the feeling she was panicked or pissed off. Nothing. You could not read her body language. Up 6-4, 4-0 or down 6-4, 4-0, she was immaculate and she lost a little bit of that, not hardness, but supreme confidence. … She lost her edge."
Monica Seles lost a lot more than that.
Once a legitimate threat to break Margaret Court's record of 24 Grand Slam singles titles; once a source of constant frustration to Steffi Graf, who is No. 2 with 22 Slam wins; once one of the toughest competitors in all of sports, Seles didn't just have her career altered on that awful day 20 years ago. It was stolen from her.
"I can't say whatever was meant to be, was meant to be," Seles told me in a 2004 interview with the Chicago Tribune. "When I look back, I'm sure my career, in terms of achievement, would've been different if I hadn't been stabbed and I'll always wonder why I'm the only one in history who that ever happened to.
"But that was the course my life took, it was beyond my control and I have to let it go. I don't want to think what could have been, what would have been."
And so, short of a few pages in her 2009 book, "Getting a Grip," in which she wrote about the attack, she has slowly stopped talking about it altogether. And a publicist promoting her upcoming book, part of a teen series Seles has written for Bloomsbury Children's Publishing, politely turned down an interview on behalf of Seles because of the subject matter.
You can hardly blame her.
Ahead of her time
Turning 40 this year -- a hard fact to absorb for those of us who remember her so well at 15, the year she turned pro, and at 16, when she won her first Grand Slam title -- Seles was always ahead of her time.
Possessing the most recognized and successful double-fisted forehand in tennis, along with a top-flight two-handed backhand, she was also the original grunter -- though tame by today's standards. But that was how Seles used to be defined before becoming the only known professional athlete to be stabbed in the arena of play.
"The most shocking events in my 35 years-plus of playing tennis was the day Vitas Gerulaitis died; the day it came out that Arthur Ashe was HIV positive and the day he died; and the day Monica was stabbed," said longtime pro and Seles opponent Pam Shriver, like Navratilova a Tennis Channel analyst. "Those were all days where I very clearly remember where I was. . . . What happened to Monica was almost unthinkable."
On April 30, 1993, Seles was playing in the quarterfinals of the Citizen Cup, a tour event in Germany, on an otherwise perfect day. After winning the previous four games, Seles was leading Magdalena Maleeva 6-4, 4-3 and seemingly poised to close out the match.
At 19, Seles was the top-ranked player in the world and in the prime of her career. She had reached the finals in 33 of 34 tournaments from January 1991 to February 1993, winning 22 singles titles. More astounding? She had won eight Grand Slam tournaments from 1990 to that point, with a match record of 55-1 in Slams.
At 23, Graf had won 10 Grand Slam titles by April 1993, and until '91 had had a four-year stranglehold on the No. 1 ranking. But in '91 and '92, Seles had surged ahead, and defeated Graf in a dramatic three-setter in the '93 Australian Open final, three months before Hamburg.
With Evert having retired and Navratilova nearing the end of her career, Seles and Graf had clearly separated themselves from the rest of the pack and were primed, it seemed, to develop a rivalry on the level of Navratilova-Evert, Jimmy Connors-John McEnroe and Pete Sampras-Andre Agassi.
"We got cheated, Monica got cheated, everyone got cheated," Navratilova said.
The stabbing
Gunter Parche, an out-of-work, 38-year-old German factory worker obsessed with the German-born Graf, would have stabbed Seles a second time that day in Hamburg, but was wrestled away by fans and officials before he could inflict further damage. His motive? Parche admitted he wanted to keep Seles from playing at a high level so Graf would be No. 1.
At first, many in the crowd were unaware of what had occurred. Seles gave out a yelp as the blade plunged a full inch and a half into her upper back, but stayed on her feet for several seconds before slumping, with the help of officials, to the court.
"I remember sitting there, toweling off, and then I leaned forward to take a sip of water, our time was almost up and my mouth was dry. The cup had barely touched my lips when I felt a horrible pain in my back," Seles wrote in her book.
"My head whipped around towards where it hurt and I saw a man wearing a baseball cap, a sneer across his face. His arms were raised above his head and his hands were clutching a long knife. He started to lunge at me again. I didn't understand what was happening."
Physically, Seles was incredibly lucky, as the knife barely missed her lungs, spinal cord and other major organs. Miraculously, she needed only a few stitches to close the wound and a short hospital stay. But the pain, she said, remained for months. And the torment?
Depression in aftermath
In her book, Seles said she spiraled into a deep depression that manifested itself in an overeating disorder she had never before experienced.
Describing her attempts at rehab, Seles wrote, "Even 10 minutes of walking was torture. I just didn't want to do it. What was wrong with me? There was a problem that no CAT scan or MRI readout could diagnose. Darkness had descended into my head. No matter how many ways I analyzed the situation, I couldn't find a bright side."
Seles would end up being out of tennis for nearly 28 months. During that period, the WTA, the governing body of women's tennis, consulted with their top 25 players and refused to freeze her ranking points.
"As I remember it, in the short history of the rankings to that point, they had never been manipulated to freeze anybody's or take someone off," Shriver, then-president of the WTA Players Association, said by phone. "They were what they were. But this was a precedent-setting event and we needed to have some different thinking and consider new options."
Graf went onto win the next four Grand Slam tournaments -- the '93 French Open, Wimbledon, the U.S. Open and the '94 Australian Open – and also agreed to an endorsement deal Seles said she was close to signing before the attack and regained the No. 1 ranking five weeks after the stabbing.
Fall from glory
Seles would never be No. 1 again.
"She had won seven of eight Grand Slams [from '91 to '93] and was on her way to doing even greater things," recalled Mary Joe Fernandez, a 15-year veteran of the tour and Seles' closest friend to this day. "She was robbed. It was one of the most tragic things to happen in all of sports."
"She was dominating Steffi Graf, who, prior to Seles, dominated everyone else," Shriver said. "The sad thing about the whole thing to me was that besides the physical and emotional harm that was done to Monica, one of our great champions, is that this guy, in the end, got exactly what he wanted."
Further hindering Seles' recovery was her beloved father Karolj's cancer diagnosis (the disease led to his death in May of '98) shortly after Hamburg and, less than five months after the stabbing, the trial of Parche.
Despite Parche's confession and the hundreds of eyewitnesses who saw him stab Seles, an attempted murder charge was dismissed. He was found guilty of the lesser charge of committing grievous bodily harm and was given a suspended sentence and probation. The judge believed a psychiatrist who testified to Parche's diminished capacity and also credited Parche for his full confession and ultimate show of remorse.
Unable emotionally to attend the trial -- "How could they have expected me to go back [to Hamburg]," Seles said later. "I mean, I would have had to sit in the courtroom with my back to him." -- she instead sent a letter that was read in open court.
"I only want proper justice," it read in part. "This attack irreparably damaged my life and stopped my tennis career. . . . He has not been successful in his attempt to kill me, but he has destroyed my life."
Nineteen months later, a new judge upheld the verdict, citing Seles' refusal to testify as a determining factor. The WTA released a statement strongly condemning the German court for sending "a terrible message with wide-ranging impact." Seles collapsed in tears in front of reporters when being told of the verdict and later said she could not stop crying for days.
"I think that [got to me] more than anything, that there was no kind of punishment," Navratilova said. "The judge was like, 'Oh, he won't do it again so I'll let him go so he can really kill someone.' It was insane and so nationality driven. If someone had done that to Steffi so Monica would win, they'd have thrown away the key."
The repercussions
It was theorized at first that the crime was political in origin because of what many misidentified as Seles' Serbian roots (in fact, her family, who had lived in Florida since 1986, was Hungarian but came from a village near Bosnia, controlled by Serbs).
In the end, however, it was simply a tragic case of a deranged fan wanting to hurt his favorite's rival.
Seles never played in Germany again.
As for Graf, who has attracted her own share of crazy fans, she went to visit Seles in the hospital days after the attack and hours before winning the Citizen Cup singles title. Graf has seldom spoken of the incident publicly and did not respond to interview requests.
"The whole thing must have been, and still must be, a huge burden to carry [for Graf]," Shriver said.
Navratilova was not quite as understanding.
"I'm sure it shook [Graf] up, but she won a lot more than she would have otherwise," Navratilova said. "If it affected her that deeply, she would have forged a stronger bond with Monica instead of ignoring her. It was nice initially [for Graf to see Seles in the hospital, a visit Seles later described in her book as lasting 'a few minutes'], but after that?"
Either way, there is no denying the stabbing reverberated through the sport.
"She got stabbed in her office," former No. 1 Jim Courier said in a British documentary about the attack a decade later. "Can you imagine being in your office and someone opening the door, coming up behind you and sticking a knife in your [back]?"
Though rules changed immediately, with tighter protection around players during matches and their chairs turned to face the umpires and crowd, no one could erase what had happened. Navratilova described a lost sense of security after the attack.
"A couple times I had death threats at tournament, so I had to have bodyguards," she said, "but when you play a match, you're out there. Anyone with a rifle can get to you, so you are vulnerable. But this kind of attack would never occur to you.
"To me, the tennis court was an escape from all the good and bad things happening in my life. When things are going well, you're happy, playing the game you love. When things are going badly, it's a great escape to do the thing you love. But either way, you're in a total safe zone in the place you want to be. For this to happen was such a shock. You just felt extremely vulnerable."
Seles' return
After Seles returned to the tour, the WTA reversed its earlier decision and reinstated her No. 1 ranking, to be shared with Graf for six months. And at first, Seles appeared to have regained her old form, reaching the '95 U.S. Open final against Graf.
But Graf won in straight sets, and though Seles won one more Grand Slam title -- the '96 Australian Open -- she would never recapture what she once had. Just as alarming for those who followed her career, she would never again display the same sense of innocence coupled with a steely confidence that so dramatically set her apart.
"She would have won so much more," Navratilova lamented. "We'd be talking about Monica with the most Grand Slam titles [ahead of] Margaret Court or Steffi Graf. Steffi had 22 [Navratilova and Evert have 18 apiece], but she didn't have anyone to play against. This guy changed the course of tennis history, no doubt about that."
"People forget," Fernandez said. "If you look at [Seles'] record, she has nine Grand Slams, which is an amazing career. But she would have had double that at least. . . . She took our game to another level."
Seles' last competitive match was at the French Open in 2003, but she would not formally announce her retirement until 2008, the same year she became a contestant on "Dancing with the Stars."
In 2009, she was inducted into the International Tennis Hall of Fame.
Fernandez said today Seles is "doing great. I don't think I'd have ever played again. The fact that she returned to the court was amazing. And then to win a major again shows just how strong mentally she was to put that behind her."
The woman Fernandez describes is still charitably driven, particularly with causes involving children and animals. She is still very close to her mother, Ester, and her older brother, Zoltan, who rode with her in the ambulance that day in Hamburg and held her hand. And she is a thoughtful friend, never forgetting Fernandez's children's birthdays.
"She's a very well-adjusted woman, smart, caring, one of the best women I know," Fernandez said. "She's considerate and a really good person, which shows her character and reflects her upbringing by great parents.
"She has been able to move on and create a great life for herself. [The attack] is something that will always be there, unfortunately, but Monica is strong like she always has been."
---
FUCK YOU, SEWTA.

[/SIZE]
Re: The ONE! The ONLY - Monica Seles Thread
---
it's a terribly sad day even 20 years later...
---
Sveta
Re: The ONE! The ONLY - Monica Seles Thread
---
Quote:
t's a terribly sad day even 20 years later...
Agreed. Hopefully nothing like it ever happens again.
Junior Member
Join Date: May 2013
Posts: 32
Re: The ONE! The ONLY - Monica Seles Thread
---
Quote:
Agreed. Hopefully nothing like it ever happens again.
What is most amazing is Hamburg remained a tier 1 event for women for 10 years and for men about 15. I always thought that was wrong, and they even filed a huge lawsuit when the ATP demoted them.
Senior Member
Join Date: Sep 2001
Location: USA
Posts: 3,857
Re: The ONE! The ONLY - Monica Seles Thread
---
Monica/Hingis vs Myskina/Dementieva exhibition
https://www.youtube.com/watch?v=f16i...mbedded#at=654
Hard to watch...Monica looks extremely thin and her injury makes her movement nonexistent...but worst of all she looks pretty miserable for the first half of the match, while the other women laugh and have fun. Fortunately she seemed to relax and smile a bit more in the second half.
---
Arantxa Sanchez Vicario Always #1
Re: The ONE! The ONLY - Monica Seles Thread
---
SELES WINS AUSSIE OPEN FOR 4TH TIME
The Press of Atlantic City
January 27, 1996
Associated Press

MELBOURNE, Australia -- Still perfect Down Under, Monica Seles overcame a plethora of injuries today to win her fourth Australian Open. The victory over Anke Huber came three years after Seles won her last Grand Slam title on the same Center Court.

Seles' 6-4, 6-1 victory marked one more step in her recovery from the nightmare of the stabbing in Germany a few months after she won a third straight Australian Open.

Seles couldn't serve as fast as she had before she strained her left shoulder lifting weights a few days ago, and she couldn't cover the court the way she did before she pulled a groin muscle coming into the tournament.

She hit more lunging one-handed shots in desperation than she ever had, but once again she found a way to win - as she has in all the 28 matches she's played in this championship since 1991.

Seles' ninth Grand Slam title reaffirmed her status as co-No. 1 with Steffi Graf, absent while she recovers from foot surgery.

Huber, playing in her first major final, started out strongly, breaking Seles and grabbing a 3-2 lead, but she couldn't cope with the steady drumbeat of deep groundstrokes Seles pounded.

Seles, whose only loss in the comeback she launched last August came against Graf in the U.S. Open final, immediately evened the first set 3-3 by breaking Huber's serve and spirit after nine deuces in a 14-minute game.

Seles spotted Huber's weakness - forehands that she kept slugging long or into the net - and attacked it. Huber contributed to her own downfall, double-faulting for the third time to start the 10th game of the set, clubbing a forehand wide to go to a second break-point, and missing an easy forehand when she had an open court.

That last shot of the set by Huber clipped the net cord, popped up and fell back, and the 21-year-old German stared at it in disgust as she dropped her racket.

Seles, who won $380,000, cruised as easily through the second set as she had in nearly all her matches. The only set she lost in the tournament was in the semifinals against Chanda Rubin, a match that was more worthy of a final than this one.

"I cannot believe, still, that I'm here," Seles told the crowd as she smiled and fought back tears. Her father and coach, Karolji, wiped tears from his eyes in his courtside seat as he listened to her.

"I left this tournament in 1993 with unbelievable memories," she said. "The hardest thing for me, the time that I couldn't play, was not being able to defend my title here."

Seles' victory over Huber, her seventh without a loss going back to the 1991 Australian, was more predictable than the weather. Rain threatened with gray clouds hovering above the stadium, but held off long enough to complete the match outdoors.

A giant picture of Seles covered a wall across the Yarra River from the National Tennis Center, and the message it carried was "Two Streaks Are Better Than One." Seles had a brilliant streak going when she left tennis on April 30, 1991 after the stabbing in Hamburg, Germany, and she has started one again with a title in Sydney and one more Australian championship.

"In the U.S. Open, I came close," Seles said. "It's very good to know I can still do it. My shoulder was my main concern. Because I haven't been able to serve these last four days."

The shoulder injury, Seles said, kept her from winning "free points" on her serve.

"My shoulder just scared me so much," she said.

Winning the Australian her first time back, she said, was "very emotional."

When Seles held up the winner's trophy in 1993, she said, she thought about holding it up again the next year.

"Then things happened that were not what I wanted to happen," she said, crying when she recalled the incident and was asked about playing in Hamburg again.

It was something that no one thought would ever happen, but Seles overcame the physical and psychological scars with therapy and help from her family. And once more today she held above her head a Grand Slam trophy.
Re: The ONE! The ONLY - Monica Seles Thread
---
Seles struggles to control mind game - Tennis
The Times
London, England
January 29, 1996
Stuart Jones

SUPERFICIALLY, it seemed to be the same old story. Monica Seles, her tennis racket clutched in both hands while playing strokes on either flank, won the Australian Open, as she had done in 1991, 1992 and 1993, and, by beating Anke Huber, of Germany, preserved an enviable record at Flinders Park. In 28 matches there, Seles, now 22, has never been beaten.

Behind the triumphant facade, though, changes were evident. Her body, longer and broader, is more susceptible to stress, her mind is plainly still haunted by the traumatic memory of her stabbing in Hamburg 33 months ago and there are indications that the competition in the women's game is at last deepening.

In the past few months, Seles has been afflicted by injuries that have been working their way up her frame. She has damaged an ankle, a calf, a knee and her groin. After lifting weights in the first week of the championships, she discovered that she could barely lift her own arms.

The psychological scars, in spite of her prolonged recuperation, remain vivid. At a press conference filled with characteristic giggles, she was asked when she might consider returning to Germany to compete. The question provoked first an anguished response, then tears and finally a premature departure.

The emotional turmoil had been stirred initially by the realisation that her capacity to collect grand slam titles was undiminished. Although the favourite in the absence through injury of Steffi Graf, she seemed to harbour more doubts than anyone else that she would finish the fortnight as the champion.

She prevailed because she retains the one quality that continues to set her and Graf apart from the rest. Of the past 33 grand slam championships, they have won, between them, all but seven, primarily through their conviction in moments of crisis. They consistently play the big points with firmer hands and cooler heads than their peers.

Seles withstood a grave threat in the semi-final when she was twice on the point of falling 1-5 behind to Chanda Rubin in the final set. She also confessed to being in potentially ''deep, deep trouble" midway through the first set of the final against Anke Huber.

Both players had dug a trench along the baseline and, treating the ball with equal violence, countered each other's sound effects. Every blow was accompanied by either an explosive squeal from Huber or a full-throated roar from Seles. The top seed had been broken, to love, and was 2-3 down.

The next game was pivotal. It lasted a quarter of an hour, featuring nine deuces and six opportunities for Huber to extend her lead. Once she had been defied, her own resistance crumbled and, although she was credited with hitting more winners overall, she claimed only two more games in going down 6-4, 6-1.

The margin was deceptively wide and Huber, though yet to take a set off Seles in their seven matches, felt that she had forged ''more chances than ever before". Two months ago, in the final of the Women's Tennis Association tour championship in New York, she stretched Graf to a fifth set.

Arantxa Sanchez Vicario, with three grand slam titles, Conchita Martinez, Gabriela Sabatini and Mary Pierce, with one each, are the only women still playing to have intruded upon the dominance of the leading pair in the past eight year, but their challenge has been neither substantial nor consistent. It would be unrealistic to expect any of them to close the gap.

However, a fresh group is emerging, as confirmed by the new rankings issued today. Huber has broken into the top five, Rubin into the top ten and Martina Hingis, 15, is within two places of being seeded at the next grand slam championship, the French Open.

These players, and Lindsay Davenport, who held a match point against Seles in Sydney on the eve of the championship, do not fear the joint No1s. Physically, they can cope. Now they have to learn to reinforce their mental strength. They will not win until they genuinely believe that they can.
Re: The ONE! The ONLY - Monica Seles Thread
---
Thank you for these reports Mrs A!
A photo of Monica from 2009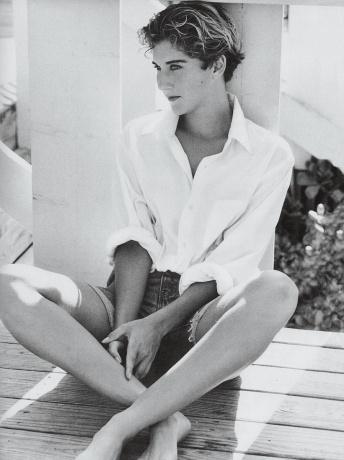 Re: The ONE! The ONLY - Monica Seles Thread
---
TENNIS; High Spirits, and Also Tears, as Seles Claims Her Prize
CHRISTOPHER CLAREY
The New York Times
January 28, 1996

Monica Seles, her eyes still red, was making faces at 9-month-old Rowan McNamee in the hallway outside the women's locker room.

"You're happy and then you're sad; you change so fast," Seles said to the infant son of the Australian Open tournament director, Paul McNamee.

Seles was talking about Rowan, but she could also have been describing herself on the day of her ninth Grand Slam singles title and first since her comeback. There had been happiness on Center Court as she imposed her ground strokes and will on eighth-seeded Anke Huber, winning by 6-4, 6-1. There had been tears at a news conference and more tears in the locker room after questions about a possible return to Germany.

It was in the German city of Hamburg on April 30, 1993, that the relatively smooth course of Seles's life was altered by a deranged man with a knife and an irresistible desire to see Steffi Graf back at No. 1. The attack came three months after Seles won the Australian Open for the third consecutive time.

"I have such a great memory of '93 here," Seles said. "I was able to find that I was happy being No. 1, and I was still really a baby and playing so well and suddenly everything happened. After I decided to come back I tried to promise myself that I want to recapture that feeling, and that's what I'm trying to do."

Seles was the dominant player in the world before the attack, but she had been particularly untouchable in Australia. She came here for the first time in 1991 to play in the Hopman Cup in Perth and, with her partner Goran Prpic, led Yugoslavia to the title. Seles won all four of her singles matches that week. Five years later, she still has not lost a match Down Under.

"She's endured something none of us can relate to," said McNamee, a former ATP Tour player who has known Seles since that first visit in 1991. "We're privileged as a tournament that this was her first victory in a major since her comeback. She has a special place in our history, and she's a special person. I'd have to say that she's the toughest competitor I've ever seen in tennis, man or woman. The question when she came back was: Would that toughness under pressure be affected? I think the evidence here shows that it hasn't been."

Seles certainly needed that combativeness because she did not play her best down the stretch. Diminished by injuries, including a strained groin and a sore left shoulder that she irritated while weight lifting, she struggled with her serve in her final two matches against Chanda Rubin and Huber, the only two matches in which she was legitimately threatened.

Although it was not readily apparent in the early rounds, she also did not move wide as well as usual or generate the same sort of consistently overpowering pace on ground strokes. In seven matches here, she hit 137 winners from the baseline and made 125 unforced errors.

Whether those unusually similar numbers were due primarily to her injuries and lack of consistent fitness training remains to be seen. Her busy schedule -- she is scheduled to play again this week in Tokyo -- certainly will tax her physically. But this much is clear: Even in diminished form, the only woman who managed to take a set off Seles in Melbourne was Rubin, the promising 19-year-old from Lafayette, La.

Iva Majoli, Seles's victim in the quarterfinals, believes that only Graf, who missed this tournament after foot surgery, is capable of consistently challenging Seles. But Rubin certainly bears watching. Though still hesitant at crucial moments and is inconsistent, she possesses some of Graf's qualities: an ability to hit forehand winners from any position on the court, good mobility and a serve with fine pace and depth. Unlike Graf, she is also willing to attack the net with regularity.

"I think right now Steffi is the best in the world," Seles said. "Obviously, she beat me at the Open, so she is. But I feel there are a lot of young players coming up."

The most successful tennis players often equal more than the sum of their parts. Seles might be heavier (an issue she spoke about honestly and admirably here) and somewhat slower than in 1993, but she still projects the aura of a champion.

"You can feel it," said Lindsay Davenport, who lost to her after holding a match point in Sydney. "I'd never really been around her. She's very professional; she's very nice, but she's really a superstar."

Nonetheless, Seles, once isolated from her fellow competitors, is trying to reach out. After her semifinal in Sydney, she sat in the locker room chatting with her opponent, Brenda Schultz-McCarthy, for more than 15 minutes. In Melbourne, she went out to two player parties during the first week, sharing a table at one with Huber and Majoli.

"Maybe when I was younger, tennis was tennis and you wouldn't think about the person," Seles said. "But I see so much more about the person and the inside of the person now, and it's just great."

Seles was less thrilled with some attempts by outsiders to see inside her soul. Some in her entourage expressed irritation that questions in news conferences here sometimes focused less on her tennis and more on her weight and ability to compete against men. But in public at least, Seles politely answered everything that was thrown at her.

On Saturday, it would be different. After being close to tears during the victory ceremony, she came into the news conference in high spirits, punctuating answers with her infectious and singular giggle.

She talked about winning her first Grand Slam title as an American: "I always felt in some way American because I moved there at age 9 1/2, but it was unfortunate how I got mingled, or whichever way I would put it, into what was going on in the former Yugoslavia."

She talked about her injuries: "My shoulder scared me so much." She even talked about the potential return to tennis of Jennifer Capriati: "I hope so; I really believe that she will. I think the tour would be very welcoming to her, but she has to do whatever she wants to do."

She talked about other things, too, but the tone changed when a reporter asked whether she would play a tournament in Germany again.

"I don't think so," she answered. "For me, what's very hard, and if you would be in my position it would be very hard, is to go where this happened in front of 8,000 people and the person who did it was not put in jail for a day. I think that's very hard to go back and feel safe again."

Seles added that she hoped one day to "be strong enough" to return. Another reporter then asked if she thought it would complete her recovery to go back to Germany.

"I don't know," said Seles, visibly shaken. "I mean, whatever happened there has been not fair. But I don't want to think about that."

Immediately after answering, Seles touched the bridge of her nose, covered her face with both hands and then pulled her ball cap low to hide the tears as cameras flashed. "Don't take pictures of this," she said in a whisper.

After trying and failing to answer one more question, she said, "There's no point in continuing this," and walked out. It was a scene reminiscent of the last United States Open when Graf was the one who ended up crying and cutting short the champion's news conference after someone asked her a question about her embattled father, Peter.

Seles walked back to the locker room, where McNamara, seeing her distress, had an idea.

"She was just so upset, and I told my wife it would be a great idea if Monica could meet Rowan," he said. "When somebody's hurting, a little kid can really cheer you up."

When Seles emerged from the locker room, ball cap still on, there was Rowan with his parents. Seles looked him in the eye. Seles poked him gently and began a one-sided conversation. Finally, she took Rowan from Lesley McNamara's arms, held him close and began spinning around in fast circles with him, shouting as she spun.

Happy to sad. Sad to happy. It was that sort of day for Seles, a Grand Slam singles champion once more.

MATCH POINTS

STEFAN EDBERG's farewell tour got off to a forgettable start here last week when he lost in the second round, but he still managed to leave Flinders Park a winner. Edberg and PETR KORDA won the men's doubles title at the Australian Open today with a 7-5, 7-5, 4-6, 6-1 victory over SEBASTIEN LAREAU of Canada and ALEX O'BRIEN of the United States.
Re: The ONE! The ONLY - Monica Seles Thread
---
UP WHERE SHE BELONGS - Aussie Victory Completes Seles' Long Journey Back
Chicago Sun-Times
January 28, 1996
DAN BICKLEY

There are moments when she bares the lingering turbulence in her soul, still imprisoned by memories that won't go away.

But for Monica Seles, order has been restored.

Her life is as normal as it's going to get. Her game is more imposing than ever. And after two weeks down under, Seles is back on top.

In the crowning moment since she returned to tennis last summer, Seles captured her fourth Australian Open title on Friday, dismissing Germany's Anke Huber 6-4, 6-1.

It is her first grand slam victory since she stood in the winner's circle at the Australian Open in 1993. And the world of women's tennis, burdened for over two years with only one star and a host of pretenders, is once again flourishing.

"A lot has happened that will never be erased," Seles said. "But it's great to be back."

Seles, 22, has again risen with the same giggle and flair that allowed her to capture the No. 1 ranking as a 16-year-old. The WTA is already abuzz in anticipation of her next showdown with rival Steffi Graf. And in the wake of the Australian finals comes word that Jennifer Capriati, America's sweetheart turned troubled teen, is ready for her comeback.

WTA sources say Capriati could return as early as March for the Lipton Championships in Key Biscayne, Fla.

"I think Jennifer has to decide that," Seles said. "I think the Tour is going to be very welcoming toward her, but she has to do whatever she wants to do.'

Seles is speaking from experience. On April 30, 1993, Seles was victimized by one of the most violent incidents ever to scar the sporting world. During a tournament in Hamburg, Germany, she was stabbed in the back as she sat during a changeover.

The wound required only two stitches. But the mental anguish that accompanied the attack forced Seles into a 28-month hiatus from the game, a self-imposed sabbatical where she rarely left her home in Sarasota, Fla.

With women's tennis withering in her absence, Seles announced her comeback last summer. First came a whipping of Martina Navratilova in an exhibition match. Then came a standing ovation from 10,000 fans when she first stepped on the court for Toronto's Canadian Open, a tournament she won without dropping a set.

She lost to Graf in a wild three-set affair in the finals of the U.S. Open, which to date remains her only loss since her return, and she won the Peters International warmup tournament in Sydney, Australia, earlier this month.

But at the Australian Open, Seles threw down the gauntlet.

Showing off her new weapon, she cruised through service games with alarming ease. Displaying her trademark resolve, she rallied from a 5-2 deficit in the third set to defeat America's Chanda Rubin in the semifinals. And against the hard-hitting Huber, who is trying desperately to emerge from the shadows of Graf, Seles was simply too much.

"The whole two weeks I think she played great tennis," Huber said.

Despite the absence of Graf, who withdrew from the tournament for the second consecutive year, Seles continued her remarkable reign at the Australian Open. She is the only player in history - male or female - to never lose a match at the Australian Open, running her record to 28-0. She earned $380,000 for the title victory.

Even more gratifying for Seles was playing through the grind. She had suffered a host of nagging injuries since her encounter with Graf, ranging from tendinitis in the knee to a sore shoulder, and brought a physiotherapist with her to Australia.

While she claimed her shoulder severely hampered her serving in the finals, holding the championship trophy did not appear to be a problem.

"I left the game in 1993 with a lot of unbelievable memories," Seles said. "The hardest thing for me not being able to play was not defending my title here."

Yet in her postgame news conference, the giggles turned to tears, proving how fragile Seles' psyche is. She was asked if she would ever play in Germany again, prompting her nerves to fray, and she walked out of the room without her trophy.

Clearly, Seles still feels victimized by the German government for its lenient treatment of her assailant, Gunther Parche, who walked away a free man after receiving a suspended two-year prison sentence for her attack.

"I think that's very hard to go back and feel safe again," Seles said. "The reality of it is still there. I just have to go on with my life."

Seles, who grew two inches during her lengthy leave, returned to the game without a drop in the rankings. She inherited the No. 1 ranking along Graf in a decision that riled many of Seles' peers.

There's no questioning the logic now, but Seles still feels she has to beat Graf to earn the top ranking.

"I think right now Steffi is the best," Seles said. "(But) I think we'll play a lot in the future.'

Regardless, Seles is unbeaten in 1996. She now has nine grand slams and 35 titles overall. She may even play - and win - Wimbledon someday.

But for now, the Australian is once again hers.

"I'm doing what I love to do, playing tennis, and my life is moving forward again," Seles said. "The past is past. You just have to move on."
Re: The ONE! The ONLY - Monica Seles Thread
---
Quote:
Seles, who grew two inches during her lengthy leave
Never realized THAT. It makes you realize how young she was.
Thanks for posting these articles Mrs A. It's very classy of you considering your a Grafite
Re: The ONE! The ONLY - Monica Seles Thread
---
Quote:
Thanks for posting these articles Mrs A. It's very classy of you considering your a Grafite
What Monica really DID accomplish is becoming more and more overlooked as achievements in their own right, separate from all the speculative debates, and that's unfair. Of course I have more Monica-centric articles from the 1996 AO, but quite a few of them also contain some discussion about her weight, and so they might be unsuitable for this thread. Should I start a general 1996 thread, or post them here even if they might be insensitive in retrospect or offensive to the fan base? I might be a Grafite, but I don't want to unintentionally troll -- I only do that on purpose.
Re: The ONE! The ONLY - Monica Seles Thread
---
What Monica really DID accomplish is becoming more and more overlooked as achievements in their own right, separate from all the speculative debates, and that's unfair. Of course I have more Monica-centric articles from the 1996 AO, but quite a few of them also contain some discussion about her weight, and so they might be unsuitable for this thread. Should I start a general 1996 thread, or post them here even if they might be insensitive in retrospect or offensive to the fan base? I might be a Grafite, but I don't want to unintentionally troll -- I only do that on purpose.
A general 1996 thread works just fine. and I would never call you a troll.
Posting Rules

You may not post new threads

You may post replies

You may not post attachments

You may not edit your posts

---

HTML code is Off

---