Senior Member
Join Date: Jan 2004
Posts: 408
bump as they say
I spoke to Louise Brough last weekend and she shared some interesting stories on Alice.
Here's a very early pic of Alice from 1931. This is the year she and Teach Tennant first met. Alice was 17 years old and California State Junior Champion.
Re: Alice Marble
---
Found some cool pics of Alice today.
Here's her with film actress Carole Lombard. Lombard and Clark Gable were good friends of Alice and often came to watch her play ib California.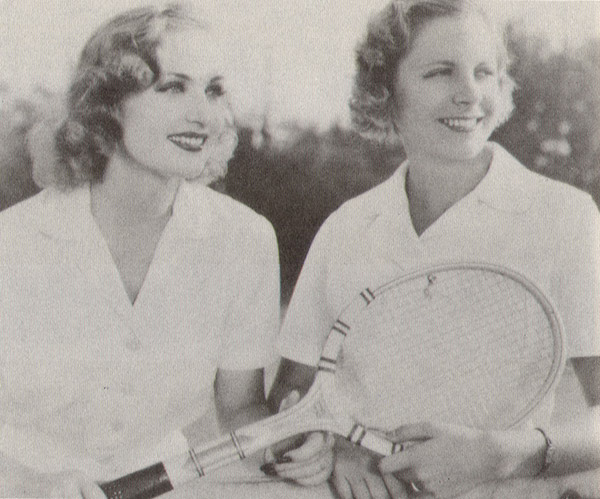 Re: Alice Marble
---
A rare pic of Alice in color serving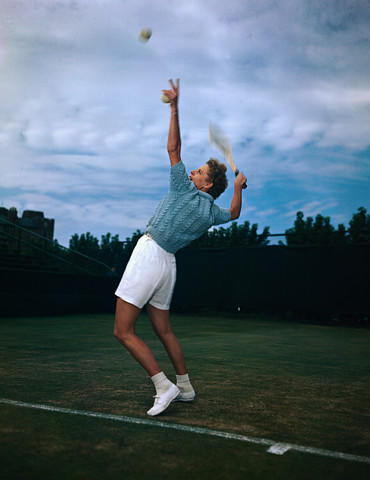 Re: Alice Marble
---
This scene from 1950 was very famous. When the USTA wouldn't let "negro" Althea Gibson enter Forest Hills because of her color Alice wrote a blistering open letter to American Lawn Tennis. Shamed at last by the spotlight of publicity,the USTA backed down and Gibson was allowed to play. Thus Alice had a hand in breaking down the color barrier.
Here we see Althea Gibson and Alice walking to the outer court where Gibson's first match was scheduled. You can sense the claustrophobia of the alleys between courts with players trying to push their way through fans.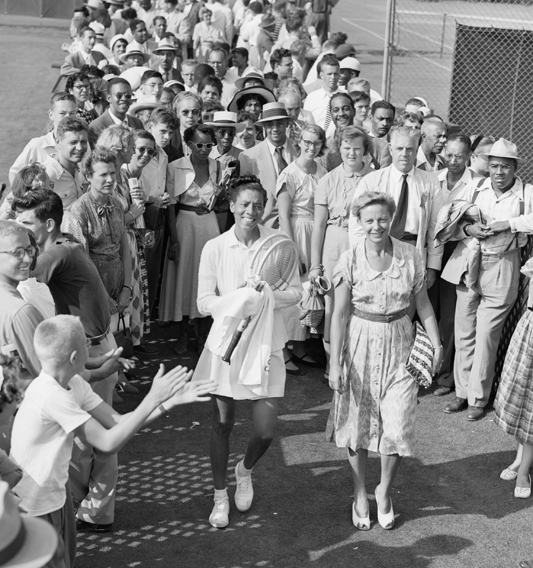 Senior Member
Join Date: Dec 2004
Posts: 3,845
Re: Alice Marble
---
Another old thread!
Here's a bit of trivia I didn't know before:
Melbourne, November 1940
But for the war, Australia's most brilliant player Nancye Wynne-Bolton would probably have joined the professional ranks.
Negotiations were in progress with an American sporting goods company but broke down because of the war. Tentative plans had already been made for Miss Wynne to tour with Alice Marble the world champion.
Marble joined the professional ranks a few days ago and is to receive $25,000 and also a percentage of the gate receipts. Mrs Peter Bolton was most interested in the proposal.

"It would have been a marvellous experience" she said "but it was difficult to arrange owing to the war and the matter was dropped. I have hopes that when peace is declared I will be able to visit America and play with Miss Marble"
Soon after this, Mary Hardwick of England was announced as Marble's rival for her first pro matches.
Re: Alice Marble
---
Alice Marble was also a war hero. She was recruited by US army intelligence to spy in the second world war to obtain lists about Nazis stolen treasures, was successful in doing so and got shot in the back by a double agent. Thank God she recovered.
---
Re: Alice Marble
---
BTW - even though it's only 182 pages, "Changing the Game" is an interesting book about Alice and Althea Gibson. I recommend it if you can find a copy for the right price.
---
Re: Alice Marble
---
Alice winning at Beckenham, Kent in 1939. She beat Lady Rowallan (nee Gwyn Grimond) 6-0 6-1 in this match.
After her defeat by Helen Jacobs at Wimbledon in 1938 Alice went unbeaten until she turned pro in 1940.
This is a Getty photo:
Posting Rules

You may not post new threads

You may post replies

You may not post attachments

You may not edit your posts

---

HTML code is Off

---