10,000$ week of July30, Entries
---
10,000$ Caracas, Venezuela
Copa FVT
Surface: Hard
Caracas
(
pron.
IPA
[ka'ɾakas]) is the
capital
and largest city of
Venezuela
. It is located in the north of the country, following the contours of a narrow mountain valley located on the
Venezuelan coastal range
(Cordillera de la Costa). The valley's temperatures are springlike, and the urbanizable terrain of the Caracas Valley lies between 2,500 and 3,000 ft (760 and 910 m)
above sea level
. The Valley is close to the
Caribbean Sea
, separated from the coast by a steep
mountain range
(
Cerro Ávila
) that rises above 7400 ft (2200 m); to the south lies further hills and mountains.
The official district of Caracas,
El Distrito Metropolitano de Caracas
(The Metropolitan District of Caracas) is the official name of the district governed as Caracas. It covers the
Distrito Capital
, and four other municipalities in
Miranda State
including
Chacao
,
Baruta
,
Sucre
, and
El Hatillo
. The city of Caracas had an estimated population of 3,140,076 as of
2005
. The population of Greater Caracas' (including neighboring cities out of the Capital District)
urban agglomeration
is approximately 4.7 million people
Previous Winners:
1998: Nelly PARDO VEN d. Kylene WONG SIMUNYOLA USA 63 16 76
1998: Natalie CAHANA ISR d. Sybille BAMMER AUT 61 36 63
1999: Maureen DRAKE CAN d. Vanessa MENGA BRA 61 62
1999: Alienor TRICERRI SUI d. Gabriela VOLEKOVA SVK 61 62
2000: Maria-Fernanda ALVES BRA d. Stephanie SCHAER VEN 63 62
2002: Jacquelyn ROSEN ISR d. Jorgelina BARRERA ARG 64 60
2003: Larissa CARVALHO BRA d.Leticia SOBRAL BRA 63 75
2004: Maria-Jose ARGERI ARG d. Soledad ESPERON ARG 64 62
2006: Amber LIU USA d. Estefania CRACIUN URU 63 64
2006: Story TWEEDIE YATES USA d. Mariana DUQUE MARINO COL 63 63
2007 ENTRY LIST
1 Marina GIRAL LORES VEN
2 Nicole CLERICO ITA
3 Nathalia ROSSI BRA
4 Martina CACIOTTI ITA
5 Angelina GABUEVA RUS
6 Karen-Emilia CASTIBLANCO DUARTE COÖ
7 Nataly YOO USA
8 Guilermina ZUKERMAN ARG
9 Angelica CHAVEZ MEX
10 Melisa MORALES GUA
11 Ingrid-Esperanza VARGAS CALVO PER
12 Lara RAFFUL BRA
13 Aleksandrina NAYDENOVA BUL
14 Lorena-Ivette ARIAS RODRIGUEZ MEX
15 Carolina MAGALHAES MALHEIROS BRA
16 Tegan EDWARDS RSA
17 Abby HEDGES AUS
18 Josymar ESCALONA VEN
19 Rocio GALAN COL
20 Karina SOUZA BRA
21 Olusola GBDAMOSI NGR
22 Osagogie IGHIEON NGR
Quali
1 Lena LITVAK USA
2 Catriona STEWART GBR
3 Manuela ESPOSITO ARG
4 Francisca SALAS CHI
5 Tamara DAY RSA
6 Anna NOVO VEN
7 Alessandra PENNESI VEN
8 Patricia CHIREA ROM
9 Andrea GAMIZ VEN
10 Marie-France LORD ANDRADE CAN
11 Maria-Andreia VARELA VEN
12 Andrea QUINTANA VEN
13 Nicole MONTEIRO NED
14 Monica PEZZOTTI COL
15 Lourdes HERRERA VEN
Re: 10,000$ week of July30, Entries
---
10,000$ Ikley, Great Britain
Ilkley Open 2007
Surface: Grass
Ilkley
is a
spa town
and
civil parish
in
West Yorkshire
, in the
north of
England
. Ilkley civil parish includes the adjacent village of
Ben Rhydding
and is a ward within the
metropolitan borough of Bradford
. It has a population of 13,828
[1]
and lies mainly on the south bank of the
River Wharfe
in
Wharfedale
, one of the
Yorkshire Dales
.
It is a prosperous town and has a thriving centre. Many of the buildings in the area are
Victorian
from a time when Ilkley was promoted as a
spa town
. Consequently it is aesthetically pleasing and the centre's two main streets, Brook Street and The Grove, are unusually wide and appear purpose-designed to enable visitors to promenade.
Ilkley Moor
(to the south of the town) is the location for a famous
Yorkshire dialect
folk song: "
On Ilkla Moor Baht'at
" ("On Ilkley Moor without a hat").
Previous Winners:
1998: Mareze JOUBERT RSA d. Claire LYTE GBR 63 64
2006: Anna FITZPATRICK GBR d. Anna SMITH GBR 64 63
2007 ENTRY LIST
1 Davinia LOBBINGER BEL
2 Olivia SCARFI GBR
3 Julia BONE GBR
4 Elizabeth THOMAS GBR
5 Jessica MOORE AUS
6 Alenka HUBACEK AUS
7 Lucy WARBURTON GBR
8 Louise DOUTRELANT FRA
9 Petra PAJALIC SLO
10 Anne-Valerie EVAIN FRA
11 Deborah ARMSTRONG GBR
12 Maddie BROOKS GBR
13 Tara MOORE GBR
14 Kirsty WOOLLEY GBR
15 Natasha HILLYER GBR
16 Sophie CORNEROTTE BEL
17 Eleonor PICOT FRA
18 Natasha MARKS GBR
Quali
1 Charlotte MARTIN GBR
2 Maja KAMBIC SLO
3 Lizaan DU PLESSIS RSA
4 Holly RICHARDS GBR
5 Philipa REAKES GBR
6 Romina SCEATS GBR
7 Samantha VICKERS GBR
8 Anastasia NEBOJANKO GBR
9 Kavitha KRISHNAMURTHY CAN
10 Emma TOMLINSON GBR
11 Amy SARGEANT GBR
12 Anna-Viktoria LIND SWE
13 Carly HOMEWOOD GBR
14 Emma FLOOD NOR
15 Mona BARTHEL GER
16 Manon VELDHORST NED
17 Lisa SUTTON GBR
18 Georgina HINGLEY GBR
19 Alize McKENZIE GBR
20 Arijeta GOXHULI GBR
21 Annabel GLEDDEN GBR
22 Laura GILBERT GBR
Alternates
1 Laura FISHER GBR
2 Kim JOHNSON GBR
3 Elizabeth ULLATHORNE GBR
4 Kate SMITH GBR
5 Leah ROBERTS GBR
6 Grace HUTSON GBR
7 Jessica COURTNELL GBR
8 Hannah TORO GBR
9 Ceara HOWEY GBR
10 Mariana LEVOVA BUL
Re: 10,000$ week of July30, Entries
---
10,000$ Tampere, Finland
Aamulehti Tampere Open
Surface: Clay
Tampere
(
Tammerfors
in
Swedish
) is a city in southern
Finland
located between two lakes,
Näsijärvi
and
Pyhäjärvi
. Since the two lakes differ in level by 18 metres, the
Tammerkoski
rapids linking them have been an important power source throughout history, most recently for generating electricity.
Railway tracks
from many parts of the nation meet at
Tampere railway station
, making it an important junction on the
VR
system.
Tampere, with about 200,000 inhabitants in the city itself, and more than 300,000 including the neighbouring municipalities, is the second most important urban centre in Finland after the
Helsinki
region and the biggest inland city in the
Nordic countries
.
In terms of population, Tampere is the third largest city in Finland, and the largest city outside the
Greater Helsinki
area.
Previous Winners:
New Tournament in 2007
2007 ENTRY LIST
1 Piia SUOMALAINEN FIN
2 Anna SMITH GBR
3 Oksana KARYSHKOVA RUS
4 Laura BSOUL GER
5 Elizaveta TOCHILOVSKAYA RUS
6 Palma KIRALYI HUN
7 Maria ZHARKOVA RUS
8 Hanne SKAK JENSEN DEN
9 Marcella KOEK NED
10 Nadezhda GORBACHKOVA RUS
11 Katariina TUOHIMAA FIN
12 Zora VLCKOVA CZE
13 Alice BELLICHA FRA
14 Eugeniya PASHKOVA RUS
15 Maya PITENINA RUS
16 Alise VAIDERE LAT
17 Naoko ETO JAP
18 Elizaveta ZAYTSEVA RUS
19 Emma-Sofia HELISTEN FIN
WC MAIN
Quali
1 Julia PAETOW GER
2 Lynn BLAU LUX
3 Hiromi OKAZAKI JAP
4 Alena NOGOLOVA CZE
5 Veronika SIGUTOVA CZE
6 Adeline GONCALVES FRA
7 Essi LAINE FIN
8 Amanda CARRERAS GBR
9 Margarita LAZAREVA RUS
10 Jennifer HOLMBERG FIN
WC MAIN
11 Franziska GÖTZ GER
12 Elena JIRNOVA UKR
13 Trina SLAPEKA LAT
14 Tetyana AREFEYEVA UKR
15 Veronika OVCACIKOVA CZE
16 Melinda AKREBRANDT BENGTSSON SWE
17 Rebecka PERSSON SWE
18 Maria TONCHEVA BUL
19 Monika WAWRCZYKOVA CZE
20 Annie GORANSSON SWE
21 Ina KAUPPILA FIN
WC MAIN
22 Anette AKSDAL NOR
23 Miia LIIMATAINEN FIN
24 Anna RAPOPORT RUS
25 Jessica GARDEFJORD SWE
26 Saana SAARTEINEN FIN
WCQ
---
Last edited by Xian; Jul 25th, 2007 at

03:53 PM

.
Re: 10,000$ week of July30, Entries
---
10,000$ St.Joseph, Missouri, USA
Car City Hyundai Women´s Classic
Surface: Hard
Saint Joseph
(informally,
St. Joe
) is the largest city in Northwest
Missouri
, and seventh largest city in the state, serving as the
county seat
for
Buchanan County
. As of the
2000
census, the city had a total population of 72,651
[1]
. The St. Joseph Metropolitan Statistical Area, which includes Buchanan,
Andrew
, and
DeKalb
counties in Missouri and
Doniphan County, Kansas
, has an estimated population of 122,934 in the year
2003
. Saint Joseph is also home to
Missouri Western State University
Previous Winners:
2004: Nicole MELCH AUT d. Jessica ROLAND ROSARIO PUR 64 63
2005: Wynne PRAKUSYA INA d. Sarah RISKE USA 62 64
2006: Anne YELSEY USA d. Stacey TAN USA 63 63
2007 ENTRY LIST
1 Nicole KRIZ AUS
2 Nicole LEIMBACH USA
3 Stacia FONSECA USA
4 Sofia MELIKISHVILI GEO
5 Jelena PANDZIC CRO
6 Stacey TAN USA
7 Tiya ROLLE USA
8 Shona LEE NZL
9 Gabriela PAZ VEN
10 Anne YELSEY USA
11 Helena BESOVIC BIH
12 Kit CARSON USA
13 Tori KINARD USA
14 Courtney VERNON USA
15 Maria-Fernanda ALVAREZ TERAN BOL
16 Melissa BERRY GBR
17 Samantha POWERS USA
18 Nina MÜNCH SÖGAARD NOR
Quali
1 Whitney JONES USA
2 Marlene RYAN USA
3 Yasmin CLARKE GBR
4 Marilyn BAKER USA
5 Phoebe DI LEO USA
6 Sarah BENAD AUS
7 Michelle LARCHER DE BRITO POR
8 Whitney DEASON USA
9 Anamika BHARGAVA USA
10 Laurianne HENRY USA
11 Bo VERHULSDONK NED
12 Connie HSU USA
13 Alexandra ANGHELESCU USA
14 Sasha KHABIBULINA BLR
15 Emily FRASER USA
16 Janki GUNUGANTI IND
17 Marine NIZRI USA
18 Elizabeth LUMPKIN USA
19 Cammie GRAY USA
20 Claire SOPER USA
21 Anna LUBINSKY USA
22 Lauren MEGALE USA
23 Roxana ALEXANDRU CAN
24 Erin LIEFELD AUS
25 Katie McGLENNEN USA
26 Liina SUURVARIK EST
27 Urska JURIC SLO
28 Aimee GIBSON GBR
29 Amanda CRADDOCK GBR
30 Yuliana MOTYL CAN
31 Bianca CHIDRAWI AUS
32 Christina KEESEY USA
33 Beatrice CAPRA USA
34 Dewonder DAVIS USA
35 Kimberly KEETHLER USA
36 Elizabeth VLACHKIS USA
37 Nicole GRUNWALD USA
38 Shanavia BRANNAM USA
39 Bria HITT USA
40 Christina AMO USA
41 Kelly TAYLOR USA
42 Samantha SMITH USA
43 Tayo BAILEY USA
44 Kristina DOERR USA
45 Jacqueline WU USA
46 Kara LEONHARD USA
47 Noel SCOTT USA
48 Amal BASHA EGY
49 Jovana VASIC USA
50 Whitney McCRAY USA
Re: 10,000$ week of July30, Entries
---
10,000$ Gardone Val Trompia
Gardone Open 2007
Surface: Clay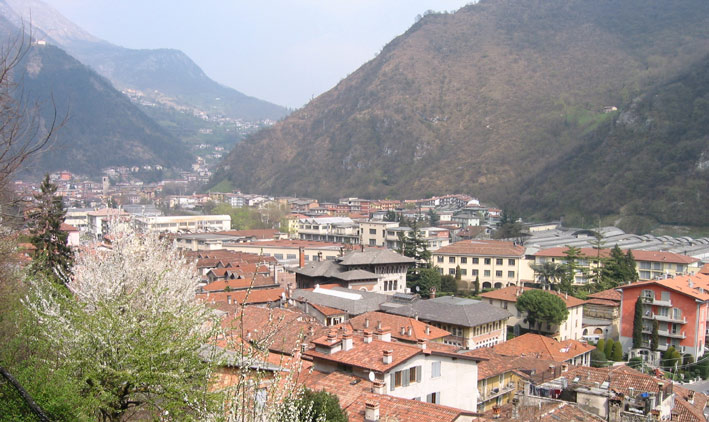 Gardone Val Trompia
is a town and
comune
in the
province of Brescia
, in
Lombardy
. It is bounded by other communes of
Marcheno
and
Sarezzo
. It is located in the
Trompia
valley. It is well-known for being the base of the major small arms manufacturer Fabbrica d'Armi Pietro
Beretta
.
Previous Winners:
2002: Dominika NOCIAROVA SVK d. Oana-Elena GOLIMBIOSCHI ROM 60 63
2003: Alice CANEPA ITA d. Sandra KLEMENSCHITS AUT 62 63
2005: Mandy MINELLA LUX d. Sandra ZAHLAVOVA CZE 64 63
2006: Lisa SABINO ITA d. Maria-Belen CORBALAN ARG 16 61 64
2007 ENTRY LIST
1 Verdiana VERARDI ITA
2 Lisa SABINO ITA
3 Stephanie VONGSOUTHI FRA
4 Magdalena RYBARIKOVA SVK
5 Irina BURYACHOK UKR
6 Alice BALDUCCI ITA
7 Kildine CHEVALIER FRA
8 Lisa TOGNETTI ITA
9 Anna-Giulia REMONDINA ITA
10 Evelyn MAYR ITA
11 Alexia VIRGILI ITA
12 Martina BALOGOVA SVK
13 Melisa CABRERA HANDT ESP
14 Gabriella POLITO ITA
15 Benedetta DAVATO ITA
16 Agnese ZUCCHINI ITA
17 Diana BRUNEL FRA
18 Paola SPROVIERI GER
19 Alessandra FERRAZZI ITA WC MAIN
20 Susanna MUSSI ITA WC MAIN
Quali
1 Constance SIBILLE FRA
2 Carolina GAGO FUENTES ESP
3 Paulina JORQUERA CHI
4 Alexandra POPA ROM
5 Annalisa BONA ITA
6 Tina PIEGER GER
7 Gabriela ROUX CHI
8 Julia MATOJAN EST
9 Sheila SOLSONA CARCASONA ESP
10 Anja-Vanessa PETER PHI
11 Emilia DESIDERIO ITA
12 Alessia BERTOIA ITA
13 Linda AGAZZI ITA
14 Lara MECCICO ITA
15 Martina FRATINI ITA
16 Cristina GRECO NACCARATO ITA
17 Goele LEMMENS BEL
18 Federica GRAZIOSO ITA
19 Nuria PARRIZAS DIAZ ESP
20 Sonia IACOVACCI ITA
21 Anna MYDLOWSKA POL
22 Benedetta SABATINI ITA
23 Appollonia MELZANI BEL
24 Giulia GARDANI ITA WCQ
25 Elisa BELLERI ITA WCQ
26 Michela SALA ITA WCQ
27 Laura GAMBARINI ITA WCQ
Alternates
1 Paola CIGUI ITA
2 Federica DENTI ITA
3 Marine SORG FRA
4 Giorgia SAMPIETRO ITA
5 Unnati PURUSHOTHAM IND
6 Oana ARCHIP ROM
7 Micaela MORONI ITA
8 Tracy CASTILLO GER
9 Marisa GIANOTTI AUS
10 Klara HLADKA CZE
11 Aleksandra MARKOVIC SRB
12 Marija DZAKOVIC SRB
13 Simona SYNKOVA SVK
14 Irene SANTOS BRAVO ESP
15 Valeria SAVINYKH RUS
Posting Rules

You may not post new threads

You may post replies

You may not post attachments

You may not edit your posts

---

HTML code is Off

---