10,000$ week of July16, Entries
---
10,000$ Khon Kaen, Thailand
SAT ITF Women´s Circuit II
Surface: Hard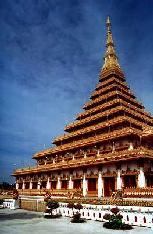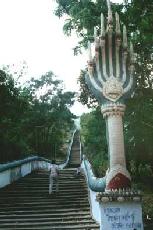 Khon Kaen
(
Thai
ขอนแก่น) is the second-largest of the
north-eastern
provinces
(
changwat
) of
Thailand
. Neighboring provinces are (from north clockwise)
Nongbua Lamphu
,
Udon Thani
,
Kalasin
,
Maha Sarakham
,
Buriram
,
Nakhon Ratchasima
,
Chaiyaphum
,
Phetchabun
and
Loei
.
Khon Kaen is located in the heart of the
Khorat Plateau
. The
Chi River
flows through this province
The first city of the area was established in
1783
when Rajakruluang settled there with 330 people. King
Rama I
made Rajakruluang the first governor of the area when establishing tighter connections with the
Isan
area. The main city was moved six times until in
1879
it reached its modern location at Nuang Kaw. Khon Kaen became the administrative centre in the beginning of the
20th century
2007 ENTRY LIST
1 Napaporn TONGSALEE THA
2 Rushmi CHAKRAVARTHI IND
3 Chen LIANG CHN
4 Yi CHEN TPE
5 Lei HUANG CHN
6 Cassandra BARR AUS
7 Sanaa BHAMBRI IND
8 Ankita BHAMBRI IND
9 Isha LAKHANI IND
10 Wing Yau Venise CHAN HKG
11 Meghha VAKHARIA IND
12 Vlada EKSHIBAROVA UZB
13 Jia-Xiang LU CHN
14 Nungnadda WANNASUK THA
15 Eriko MIZUNO JAP
16 Keren SHLOMO ISR
17 Sun-Jung KIM KOR
18 Haruka FUJISHIRO JAP
Quali
1 Da-Jung HONG KOR
2 Luftiana Aris BUDIHARTO INA
3 Si-Si QUI CHN
4 Vivien SILVANY TONY INA
5 Varanya VIJUKSANABOON THA
6 Lucy WARBURTON GBR
7 Parija MALOO IND
8 Etsuko KITAZAKI JAP
9 Jessy ROMPIES INA
10 Maureen DIAZ USA
11 Jia-Jing LU CHN
12 Varatchaya WONGTEANCHAI THA
13 Cho-Won LEE KOR
14 Min-Hwa YOO KOR
15 Dilyara SAIDKHODJAEVA UZB
16 Joohyoung KIM KOR
17 Anna MOVSISYAN ARM
18 Shi-Tong SHAO CHN
19 Shaozhuo LIU CHN
20 Shuang WU CHN
21 Parul GOSWAMI IND
22 Kumari-Sweta SOLANKI IND
23 Jung-Eun KIM KOR
24 Ashmitha EASWARAMURTHI IND
25 Czarina-Mae AREVALO PHI
Alternates
1 Chang XU CHN
2 Daowadueng PHONKHAN THA
3 Wei-Ping LEE SIN
4 Kaoru MAEZAWA JAP
5 sasirin BOWORNCHOKCHAI THA
6 Anna WISHINK AUS
7 Sasrin BOWORNCHOKCHAI THA
8 Thuy-Dung NGUYEN VIE
9 Rie IMAI JAP
10 Viet-Ha NGO VIE
11 Denise DY PHI
12 Sophia MULSAP THA
13 Nicha LERTPITAKSINCHAI THA
14 Sae-Mi LIM KOR
15 Penporn CHANATWANNOP THA
Re: 10,000$ week of July16, Entries
---
10,000$ Craiova, Romania
Calea Bucuresti
Surface: Clay
Craiova
(/kra'jo.va/) is a
Romanian
city, the capital of the county of
Dolj
, situated near the East bank of the river
Jiu
in central
Oltenia
. It is a long time political center, and is located at approximately equal distances from the
Southern Carpathians
(north) and the
Danube
(south). Craiova is the chief commercial city west of
Bucharest
.
Craiova, which occupied the site of the
Dacian
and
Roman
city
Pelendava
, was formerly the capital of Oltenia. Its ancient
bans
, the highest ranking
boyars
of the
Wallachian
state, initially those of the
Craioveşti
family. The
bans
had the right of
minting coins
stamped with their own
effigies
- the origin of the
Romanian
word
ban
as used for coins.
In 1395 Craiova was probably the scene of a victory won by the
Wallachian Prince
Mircea I of Wallachia
over
Bayezid I
,
Sultan
of the
Ottomans
(
see Battle of Rovine
).
Frequently referred to as "a city" after the first half of the 16th century, the Craiova area was always regarded as an important economic region of Wallachia and Romania at large. During the 1718-1737
Habsburg
occupation of Oltenia, Craiova's status declined due to economic pressures and increased
centralism
, partly leading to an increase in
hajduk
actions, in parallel with protests of Craiovan boyars. In 1761, under Prince
Constantine Mavrocordatos
, the
bans
relocated to Bucharest, leaving behind
kaymakams
to represent them in Craiova
The municipality of Craiova has a population of 302,601 (Census 2002
webpage:
www.frt.ro
Previous winners:
new tournament
2007 ENTRY LIST
1 Mihaela BUZARNESCU ROM
2 Maria IRIGOYEN ARG
3 Diana ENACHE ROM
4 Varvara GALANINA RUS
5 Andrea BENITEZ ARG
6 Vanesa FURLANETTO ARG
7 Alexandra CADANTU ROM
8 Laura-Ioana ANDREI ROM
9 Marlot MEDDENS NED
10 Marie-Perrine BAUDOUIN FRA
11 Biljana PAVLOVA BUL
12 Antonia-Xenia TOUT ROM
13 Mailen AUROUX ARG
14 Melisa CABRERA HANDT ESP
15 Nicole ROTTMANN AUT
16 Ionela-Andreea IOVA ROM
17 Carolina GAGO FUENTES ESP
18 Raluca CIULEI ROM
Quali
1 Diana-Andreea GAE ROM
2 Christine SPERLING GER
3 Chayenne EWIJK NED
4 Oana-Alexandra STANICA ROM
5 Natalie PIQUION FRA
6 Veronika KOLAROVA CZE
7 Alice BELLICHA FRA
8 Elora DABIJA ROM
9 Beatris SIMION ROM
10 Eylül BENLI TUR
11 Nevena SELAKOVIC SRB
12 Dalia ZAFIROVA BUL
13 Svenja WEIDEMANN GER
14 Alice TISSET FRA
15 Camelia-Elena HRISTEA ROM
16 Alice-Andrada RADU ROM
17 Mihaela-Florina BUNEA ROM
18 Elitsa KOSTOVA BUL
19 Iuliia KIRIIENKO UKR
20 Nuria PARRIZAS DIAZ ESP
21 Alena NOGOLOVA CZE
22 Kika HOGENDOORN NED
23 Alexandra DAMASCHIN ROM
24 Anouk TIGU NED
25 Carmen LOPEZ RUEDA ESP
26 Taij-Mishma KUMAR AUS
27 Ioana-Alexandra OPREA ROM
28 Victoria-Corina MIREA ROM
29 Lenka DANIELOVA CZE
30 Ingrid-Alexandra RADU ROM
31 Olga SARLI GRE
32 Nicoleta Ana-Maria BARA ROM
33 Nives PAVLOVIC SRB
34 Nicoleta-Mihaela NEGRU ROM
35 Marta SMIECHOWSKA POL
36 Lenore LAZAROIU ROM
37 Alina PETRAS MDA
38 Laura SADRIA GER
30 Montserrat DE CASTRO SWE
40 Chloe BABET FRA
41 Ioana-Alexandra BARA ROM
42 Rita ESTEVES DE FREITAS POR
43 Aleksandra MARKOVIC SRB
44 anda OMEROVIC AUS
45 Grace HUTSON GBR
46 Paula HORS COMADIRA ESP
47 Magdalena ÖSTERLE AUT
48 Arwar SALAM NED
49 Ana PUERTO JAIMEZ ESP
50 Diana-Madalina ZAINEA ROM
51 Isabella REIBMAYR AUT
52 Frances MILLER AUS
53 Sofia KHOZINA RUS
54 Elisa SALIS ITA
55 Andra STANCULESCU ROM
Re: 10,000$ week of July16, Entries
---
10,000$ Frinton on Sea, Great Britain
Surface: Grass
Frinton-on-Sea
is a small
seaside town
in
Essex
,
England
, in the
Tendring
district. It is part of the
Frinton and Walton
parish.
Until late
Victorian times
, only a tiny hamlet existed with a church, several farms and a handful of cottages. The whole area was later purchased by a developer with a view to building an exclusive seaside town for the wealthy to holiday in.
Frinton is also of note for being the last target in England to be attacked by the
Luftwaffe
, in 1944
Frinton only has two points of entry by road, one being an unadopted road coming from
Walton-on-Naze
in the north and the other being the manually-operated railway gates at the
level crossing
of the town's
railway station
. Once geographically distinct, a series of housing estate developments now line the roads between Frinton and its neighbouring settlements: Walton-on-Naze to the North East and the villages of Kirby Cross and Kirby-Le-Soken to the West.
The town has over a mile of sandy
beach
with facilities and beach wardens in season and an area of sea zoned for
swimming
,
sailing
, and
windsurfing
. The shore is lined by a
promenade
along which are built several hundred beach huts. Landward from the promenade is a long greensward stretching from the boundary with Walton-on-Naze to the North to the Golf Club to the South.
Previous Winners:
1998: Lucie AHL GBR d. Lisa McSHEA AUS ret
1999: Kate WARNE HOLLAND GBR d. Mareze JOUBERT RSA 16 64 61
2000: Samantha SMITH GBR d. Helen CROOK GBR 63 60
2001: Kristen VAN ELDEN AUS d. Ekatarina SYSOEVA RUS 36 64 75
2002: Alberta BRIANTI ITA d. Hannah COLLIN GBR 75 36 62
2006: Irena PAVLOVIC FRA d. Georgie STOOP GBR 62 64
2007 ENTRY LIST
1 Sarah BORWELL GBR
2 Rebecca LLEWELLYN GBR
3 Alice BALDUCCI ITA
4 Emily WEBLEY SMITH GBR
5 Davinia LOBBINGER BEL
6 Olivia SCARFI GBR
7 Julia BONE GBR
8 Elizabeth THOMAS GBR
9 Jade CURTIS GBR
10 Riza ZALAMEDA USA
11 Diana BRUNEL FRA
12 Louise DOUTRELANT FRA
13 Petra PAJALIC SLO
14 Naomi BROADY GBR
15 Deborah ARMSTRONG GBR
16 Talitha DE GROOT NED
17 Aleksandra RAZUMOVA RUS
18 Kirsty WOOLLEY GBR
Quali
1 Maddie BROOKS GBR
2 Jade WINDLEY GBR
3 Tara WIGAN GBR
4 Natasha HILLYER GBR
5 Mika URBANCIC SLO
6 Eleonor PICOT FRA
7 Natasha MARKS GBR
8 Romina SCEATS GBR
9 Samantha MURRAY GBR
10 Holly RICHARDS GBR
11 Philipa REAKES GBR
12 Samantha GALINIER FRA
13 Anastasia NEBOJANKO GBR
14 Alexis PROUSIS USA
15 Jenna WEBSTER GBR
16 Amy SARGEANT GBR
17 Alina TSEPLUKHOVA RUS
18 Georgina HINGLEY GBR
19 Anna-Viktoria LIND SWE
20 Olivia HOWLETT GBR
21 Carly HOMEWOOD GBR
22 Mona BARTHEL GER
23 Monika SIRILOVA SVK
24 Valentina FAUVIAU FRA
Alternates
1 Lisa SUTTON GBR
2 Tuule TANI EST
3 Katharine BAKER GBR
4 Arijeta GOXHULI GBR
5 Aimee JARRAT GBR
6 Laura FISHER GBR
7 Zoe BAMBRIDGE GBR
8 Leah ROBERTS GBR
9 Laura WHITE GBR
10 Jenna-May OSBORNE RSA
Re: 10,000$ week of July16, Entries
---
Anna-Viktoria Lind
Re: 10,000$ week of July16, Entries
---
10,000$ Wichita, Kansas, USA
Via Christi Womens Satellite of Wichita
Surface: Hard
Wichita
, also known as the
Air Capital of the World
, is the largest
city
in the
U.S. state
of
Kansas
, as well as a major
aircraft
manufacturing hub and cultural center.
[citation needed]
In July of 2006, CNN/Money and Money magazine ranked Wichita ninth on its list of the 10 best big cities to live in the United States. The city is home to six major aircraft manufacturing companies and
McConnell Air Force Base
. Wichita is located in South Central Kansas on the
Arkansas River
, and is the
county seat
of
Sedgwick County
. It is also the home of a
National Weather Service
Forecast Office which serves portions of central, south-central, and southeast Kansas.
Wichita is the 51st largest city in the United States with an estimated population of 354,865 in the year 2005.
[1]
The Wichita
Metropolitan Statistical Area
(MSA), which encompasses Sedgwick,
Butler
,
Harvey
, and
Sumner
counties, has a 2004 estimated population of 584,671 persons residing in 245,159 households, making it the 82nd largest MSA in the United States. The Wichita-Winfield
Combined Statistical Area
also includes
Cowley County
and has an estimated population of 618,641.
Previous Winners:
1997: Fang LI CHN d. Sandra CACIC USA 62 62
2006: Lauren ALBANESE USA d. Nicole LEIMBACH USA 60 63
2007 ENTRY LIST
1 Sandy GUMULYA INA
2 Romana TEDJAKUSUMA INA
3 Tomoyo TAKAGISHI JAP
4 Ellah NZE USA
5 Lavinia TANANTA INA
6 Jennifer ELIE USA
7 Nicole LEIMBACH USA
8 Susanna LINGMAN USA
9 Chrissie SEREDNI USA
10 Sofia MELIKISHVILI GEO
11 Shona LEE NZL
12 Tiya ROLLE USA
13 Mami INOUE USA
14 Helena BESOVIC BIH
15 Cassandra CHAN AUS
16 Rebecca FONG GBR
17 Nataly YOO USA
18 Gabriela PAZ VEN
Quali
1 Amy DILLINGHAM USA
2 Melissa BERRY GBR
3 Emelyn STARR AUS
4 Samantha POWERS USA
5 Dina BAJRAMOVIC USA
6 Whitney JONES USA
7 Bo VERHULSDONK NED
8 Yasmin CLARKE GBR
9 Phoebe DI LEO USA
10 Marilyn BAKER USA
11 Sarah BENAD AUS
12 Allie WILL USA
13 Jelena PANDZIC CRO
14 Brittany AUGUSTINE USA
15 Laurianne HENRY USA
16 Ashlee BROWN AZS
17 Emily FRASER USA
18 Marine NIZRI USA
19 Janaki GUNUGANTI IND
20 Zaruhi HARUTYUNYAN ARM
21 Julia MORIARTY AUS
22 Christy STRIPLIN USA
23 Claire SOPER USA
24 Stephanie VIDOV USA
25 Cammie GRAY USA
26 Roxana ALEXANDRU CAN
27 Shannon ROBINSON USA
28 Liina SUURVARIK EST
29 Katie McGLENNEN USA
30 Erin LIEFELD AUS
31 Christina AMO USA
32 Shanavia BRANNAM USA
33 Brook BUCK USA
34 Bianca CHIDRAWI AUS
35 Amy CABATO USA
36 Cierra GAYTAN LEACH USA
37 Connor VOGEL USA
38 Ester GOLDFELD USA
39 Catriona STEWART GBR
40 Kimberly KEETHLER USA
41 Kelly TAYLOR USA
42 Macall HARKINS USA
43 Jacqueline WU USA
44 Dana HARTMAN USA
45 Nelo PHIRI USA
46 Bria HITT USA
47 Carolina HOFFMANN DUMMER BRA
48 Medha JHA IND
49 Rachel JANSSEN USA
50 Katherine LAPORTA USA
51 Wei-Na LIU CHN
52 Anna LUBINSKY USA
53 Olivia MARSHALL USA
54 Whitney McCRAY USA
55 Meloda MORALES CHI
56 Coral MORALES CHI
Re: 10,000$ week of July16, Entries
---
10,000$ Garching, Germany
Opus Cup 2007
Surface: Clay
Garching bei München
or
Garching
is a town in
Bavaria
,
Germany
near
Munich
. It is located at
48°15′N, 11°39′E
, situated near the river
Isar
and the A9 motorway. A
Munich U-Bahn
metro line terminates at the university and research facilities near the town.
Homepage
:
http://www.stk-garching.privat.t-online.de/
Previous Winners:
2003: Mariya KORYTTSEVA UKR d. Elise TAMAELA NED 26 64 62
2004: Sanda MAMIC CRO d. Maria KONDRATIEVA RUS 63 16 62
2005: Josipa BEK CRO d. Korina PERKOVIC GER 57 61 61
2006: Sandra MARTINOVIC BIH d. Anastasija SEVASTOVA LAT 67 63 62
2007 ENTRY LIST
1 Sabine KLASCHKA GER
2 Laura SIEGEMUND GER
3 Giorgia MORTELLO ITA
4 Cagla BÜYÜKAKCAY TUR
5 Lisa TOGNETTI ITA
6 Eva-Maria HOCH AUT
7 Anna KOUMANTOU GRE
8 Madlen KADUR GER
9 Noemie SCHARLE FRA
10 Evelyn MAYR ITA
11 Laura HABERKORN GER
12 Catarina FERREIRA POR
13 Sabrina JOLK GER
14 Nicole RINER SUI
15 Laura BSOUL GER
16 Nikola VAJDOVA SVK
17 Anna GEISSLER GER
18 Raffaela BINDI ITA
Quali
1 Elisa PETH GER
2 Dominice RIPOLL GER
3 Monika KOCHANOVA SVK
4 Klaudia MALENOVSKA SVK
5 Oksana KALASHNIKOVA GEO
6 Sandra SOLER SOLA ESP
7 Syna KAYSER GER
8 Katharina KILLI GER
9 Marlena METZINGER AUT
10 Barbora BOZKOVA CZE
11 Melanie OOSTERHOF GER
12 Dianne HOLLANDS NZL
13 Katariina TUOHIMAA FIN
14 Petra SUNIC CRO
15 Tina PIEGER GER
16 Janine TISZCOLCZY GER
17 Karolina PLISKOVA CZE
18 Mireia GONZALEZ BOSCH ESP
19 Anne-Valerie EVAIN FRA
20 Maria-Eugenia ROCA RECAREY URU
21 Franziska KLOTZ AUT
22 Kinnie LAISNE FRA
23 Hana BIRNEROVA CZE
24 Alise VAIDERE LAT
25 Mariana LOPEZ TERRIBILE ARG
26 Eva PIGOVA CZE
27 Sophie CORNEROTTE BEL
28 Kristyna PLISKOVA CZE
29 Patricia VERESOVA SVK
30 Linda AGAZZI ITA
31 Ute SCHNOY GER
32 Pavlina GLOSOVA CZE
33 Lynn BLAU LUX
34 Alessia BERTOIA ITA
35 Zorica PETROV SRB
36 Andrea BERKOVA CZE
37 Maja KAMBIC SLO
38 Martina ONDRACKOVA CZE
39 Julia LANDAUER GER
40 Sabrina ALLAUT GER
Alternates
1 Klaudia BOCZOVA SVK
2 Michaela POCHABOVA SVK
3 Jana JANDOVA CZE
4 Farah ABOUGEIB SELO ESP
5 Kim STIERLI SUI
6 Vroni HINTERSEER GER
7 Kveta HAJKOVA SVK
8 Barbora BACHMANOVA CZE
9 Kristyna KUCIANOVA SVK
10 Ellen LINSEBOLZ GER
11 Lena-Marie HOFMANN GER
12 Lisa HÄGELE GER
13 Maja PETROVIC AUT
14 Unnati PURUSHOTHAM IND
15 Mireia RECASENS HORTA ESP
Posting Rules

You may not post new threads

You may post replies

You may not post attachments

You may not edit your posts

---

HTML code is Off

---