Senior Member
Join Date: May 2004
Posts: 379
Magazines
---
I am not sure if anyone else knows of this, but there is a little thing about Tati in Time magazine in the United states.
they've some things wrong, but at least she's getting some attention around the world
does anyone have any other magazine or article thing on tati that one will share with us all?
is it wrong? she is from russia so they r countrywomen i guess
in june or july a french mag had a foldout poster of tati
---
♥ Number ONE in my heart ♥
2004-2006 MYSKINA
2006-2011 JANKOVIC
2011- KVITOVA???

Honorable Mention: GOLOVIN, SAFAROVA, CIRSTEA
I think she was born in Russia thats why they were saying that she's Russian.
The interview of the month in tennis magazine (french version) is Tatiana.
Great interview, we feel she's mature for her age.
there was a small section about Tatiana in the US version of TENNIS magazine about 2 or 3 months ago with a photo and a bit about her jump in the rankings and the 4th round at the Aussie and Wimbledon. at least shes getting more attention.
Tati's in this month's Smash Tennis (dutch magazine), thanks to mandy7 for the translation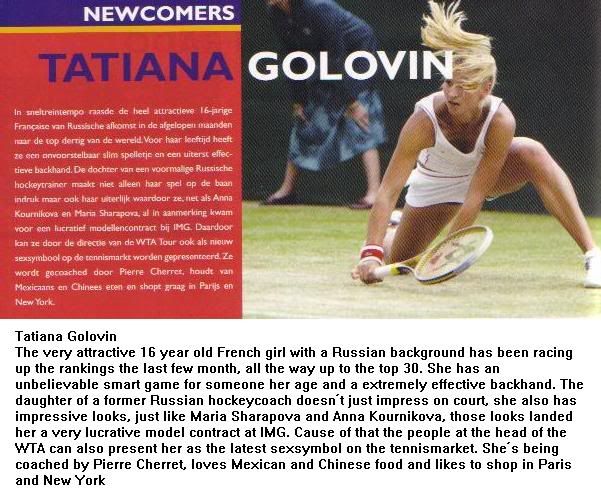 bigger pic:
---
"whoever said that money can't buy happiness, clearly didn't kno where to shop"
Quote:
Originally Posted by beauty_is_pink
Tati's in this month's Smash Tennis (dutch magazine), thanks to mandy7 for the translation
if any other dutchies can give a better translation
please do so, i won't feel offended or anythign
Posting Rules

You may not post new threads

You may post replies

You may not post attachments

You may not edit your posts

---

HTML code is Off

---