Senior Member
Join Date: Jan 2008
Posts: 15,839
Remembering Alicia..
---
A thread to post all our best memories of Alicia. Post your favourite pics, videos and stories from Alicia's terrific career here.

We'll miss you Alicia, but you gave us some memories we will never forget, and moments that will stay with you for your entire life.
Re: Remembering Alicia..
---
I am so sad right now
i really wanted to see her one last time at AO 09
---
Sammy
Federer
Senior Member
Join Date: Jan 2008
Posts: 15,839
Re: Remembering Alicia..
---
I guess I'll start.
My favourite memory is from when Alicia went on her quarterfinal run at the Australian Open in 2005. I remember watching that 4th Round night match against Venus. That one point in particular where both her and Venus were at the net, and Alicia pushed the volley cross court, just out of Venus' extended reach. That match is one that will go down as one of my favourite matches ever including an Australian. So much history in that match, I'm pretty sure it was that win that made her the first Australian woman in the Top 10 for 2 decades.
Even the quarterfinal added to the legend that was Alicia Molik's Australian Open of 2005. Her 4-6 6-4 7-9 loss to Davenport was one of the most hardfought matches I've ever seen Alicia play. It really could have gone either way, and with Dechy waiting in the semifinals something really magical could have happened, but it went Davenports way on the day. Probably one of the most heartbreaking days of her career, but I'm sure it was also one of the performances she was most proud of.
I can't find any videos from her matches against Venus or Lindsay, but here are some pics of her run at AO 05.
..and Venus after the match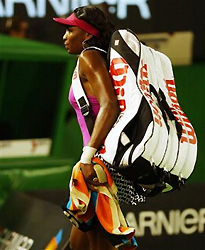 Re: Remembering Alicia..
---
shes a douch has she not heard of challengers to recapture some form?
Senior Member
Join Date: Aug 2006
Posts: 25,253
Re: Remembering Alicia..
---
Well besides the match that she played against Venus at the AO, I remember some of the years that she played Hopman Cup & she played some great tennis there beating some good Top 20 players. It was kind of like a launch pad to the start of her blossoming on the tour as an established player.
And I remember when she won the bronze medal in Athens & her first T1 title in Zurich.
Ah such great memories to cherish
Hope she's happy with whatever she does in the future.
Re: Remembering Alicia..
---
That AO match against Lindsay was a great moment for Alicia squaring off against the worlds best. She really had that match in the bag. Lindsay was extremely tired and honestly her body language suggested that she was expecting to lose when the match got deep in the 3rd. I can recall Alicia smiling to herself in the 3rd set - she was happy just to be a part of a great slam match. She just didn't push home the advantage of the crowd support and her superior fitness over Lindsay. Lindsay just looked amazed in the after match interview, she couldn't believe she won.
Her doubles win in the fed cup playoff against Holland a few years ago was great. Her and Stubbsy tight 76 76 win and their obviously delight in winning was a great moment.
Her win in the Zurich final over Sharapova was a great moment too. Her telling off of Heinz Gunthard in the after match interview was funny. Heinz said to her that she was promising for a couple of years but then just disappeared off the tour. She said to him that she was working her butt off in those years not taking a holiday
---
There's more to life than just being happy.
Posting Rules

You may not post new threads

You may post replies

You may not post attachments

You may not edit your posts

---

HTML code is Off

---