Senior Member
Join Date: Jun 2002
Location: near my bed ;)
Posts: 17,914
Australian Open - Deutsche Quali Ergebnisse
---
1. Runde
Sandra Klösel def. Julia Schruff 6-4 6-1
Anna Lena Grönefeld def. Maria Fernanda Alves 6-7 6-4 6-3
Roberta Vinci def. Adriana Barna 6-3 4-6 7-5
Angelika Bachmann def. Kildine Chevalier 6-2 6-1
Stephanie Gehrlein def. Anne Keothavong 5-7 6-1 6-4
Kelly Liggan def. Nina Duebbers 6-3 6-1
Yuliana Fedak def. Angelika Roesch 6-4 7-6
2. Runde
Sandra Klösel def. Darija Jurak 6-1 6-3
Anna Lena Grönefeld def. Kaja Kanepi 6-3 6-4
Angelika Bachmann def. Jarmila Gajdosova 6-3 7-5
Stephanie Gehrlein def. Natalie Grandin 6-0 3-6 7-5
3. Runde
Mariana Diaz-Oliva def. Sandra Kloesel 6-3 6-2
Libuse Prusova def. Anna-Lena Grönefeld 6-2 7-6
Angelika Bachmann def. Roberta Vinci 2-6 6-2 6-2
Gisela Dulko def. Stephanie Gehrlein 6-2 5-7 6-4
Von 7 Quali-Damen eine im Hauptfeld, naja, nicht gerade berauschend. Dass es aber Angelika Bachmann ist, hätte ich nicht gedacht und freue mich umso mehr für sie. Immoment scheint Anna-Lena ein kleines Tief zu haben, anders kann ich mir ihre Ergebnisse sonst nicht erklären. Stephanie Gerlein hat einen guten Kampf geliefert.
Angelika Bachmann spielt übrigens in der ersten gegen Alicia Molik. Beide haben schon 2 mal gegeneinander gespielt, im head to head steht's 1-1.Das letzte Aufeinandertreffen gab es 2001 bei einem Challenger, was Alicia klar in zwei Sätzen gewann. In der zweiten Runde würde dann entweder Adriana Serra-Zanetti oder Daniela Hantuchova warten. In ihrer momentanen Form könnte vielleicht sogar eine dritte Runde winken.
Anca Barna trifft zum Auftakt auf Maureen Drake, auch diese beiden haben noch nie gegeneinander gespielt, was sie aber eigentlich gewinnen müsste.
In der zweiten Runde würde dann entweder die an 25. Gesetze Lisa Raymond oder Maria Sanchez Lorenzo warten. Anca führt im Head to Head mit 1-0 gegen Raymond, sie gewann 2003 bei den Australian Open in der zweiten Runde mit 6-3 6-1 gegen sie. Gegen Sanchez Lorenzo hat sie noch nie gespielt.
Marlene Weingärtner trifft in der 1. Runde auf die an 2. Gesetze Kim Clijsters. Kim ist immoment am linken Knöchel verletzt und hat ihren Start in Sydney abgesagt, doch sie ist zuversichtlich spielen zu können. Marlene hat selbst Verletzungsprobleme, eine Bauchmuskelzerrung machen ihr zu schaffen und wir wissen, wie lang sich so etwas hinzíehen kann. (siehe Venus Williams). Marlene liegt 0-1 im Head to Head zurück, ihre bislang erste Begegnung war 2003 bei den French Open, wo sie glatt mit 2-6 2-6 unterlag. Bei ihr ist es schwierig zu sagen wie sie gerade spielt, in Australien hat sie 2002 und 2003 gut gespielt (Sieg über Capriati, knappe Niederlage gegen Mauresmo 2002). Auf ihr liegt außerdem ein Hoher Druck, da sie viele Punkte zu verteidigen hat und sonst womöglich bei einer Erstrundenniederlage aus den Top 70 fällt.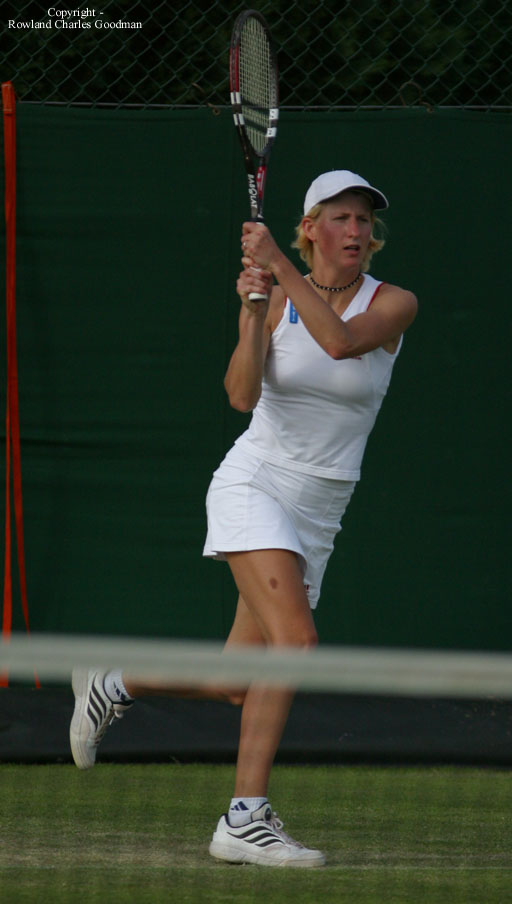 ---
Last edited by J.Capriati.Fan; Jan 17th, 2004 at

06:11 PM

.
Senior Member
Join Date: Sep 2001
Posts: 2,199
Good luck Angelika, Anca and Marlene !
Angelika hat Alicia Molik schon einmal geschlagen. Es war bei den US Open in der Quali. Das Ergebnis war 4:6,6:4,6:4. Nur welches Jahr das war, weiss ich im moment nicht. Ich glaube 1999 oder 2000.
Anca müsste eigentlich wie letztes Jahr in die 3.Runde kommen und dann wartet wohl wieder Venus Williams.
Marlene kann eigentlich nur hoffen, das Kim Clijsters nicht 100 % fit ist. Ansonsten wird es wohl ein schnelles Spiel werden, wie bei den French Open.Aber bei Marlene weiss man ja nie.Lassen wir uns überraschen.
Mein Tip ist
Molik - BACHMANN 6:4,6:4
Clijsters - WEINGÄRTNER 6:4,6:2
BARNA - Drake 6:2,6:3
Senior Member
Join Date: Jun 2002
Location: near my bed ;)
Posts: 17,914
Kleine Korrektur:

Angelika Bachmann - Alicia Molik 1-1, letztes Aufeinandertreffen hat Molik glatt gewonnen...

Barna führt mit 1-0 gegen Drake, letztes Spiel 2002 Quali Gold Coast...
Posting Rules

You may not post new threads

You may post replies

You may not post attachments

You may not edit your posts

---

HTML code is Off

---