Minneapolis 50k---RESULTS---
---
1.round
FAUTH, Evelyn (AUT) def. OBATA, Saori (JPN) 6-4,4-6,6-3
BENESOVA, Iveta (CZE) def. DEASON, Whitney (USA) 7-5,6-2
ASAGOE, Shinobu (JPN) def. CARGILL, Ansley (USA) 2-6,7-5,7-6(9)
CALLENS, Els (BEL) def. HOPMANS, Amanda (NED) 6-3,6-3
SNYDER, Tara (USA) def. SAEKI, Miho (JPN) 6-3,6-2
KOSTANIC, Jelena (CRO) def. SASSI, Valentina (ITA) 6-4,6-3
Senior Member
Join Date: Sep 2001
Posts: 11,845
Saori and Miho!
Very disappointing performances.
Well done Shinobu.
Whitney
well done Els even though it was Amanda who got beat
Tara
and go Jelena go !!!!!
Els!
Or well,
Amanda, and congrats Els
---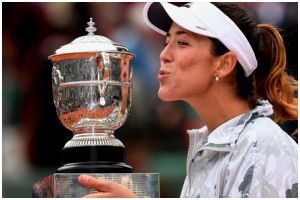 What would you say if we could make
something amazing
Team WTAworld
Senior Member
Join Date: Sep 2001
Location: Belgium
Posts: 2,456
Congrats Els!
Senior Member
Join Date: Sep 2001
Location: Mexico
Posts: 16,121
WOW! Shinobu
Congrats to Iveta, Evelyn, Jelena ...
too bad for Saori
, and Amanda
Saori!
Miho
Valentina
Congrats Evelyn, Shinobu, and Jelena!
---
Good Luck In 2005:
[Martina Hingis] [Justine Henin-Hardenne]
[Cara Black] [Nadia Petrova] [Eugenia Linetskaya] [Patty Schnyder]
[Svetlana Kuznetsova] [Ai Sugiyama] [Su-Wei Hsieh] [Gisela Dulko]
[Maja Matezvic] [Karolina Sprem] [Eleni Daniilidou] [Maria Kirilenko] [Jelena Jankovic]
[Tathiana Garbin] [Timea Bacsinszky] [Kaia Kanepi] [Na Li] [Vera Douchevina]
The Pompous Member Of The Justine Philistines' Society™
Martian 4 Life
Senior Member
Join Date: Jan 2002
Location: Chelmsford, Essex
Posts: 2,738
Also 1st round doubles

Asagoe/ Callens BEAT Harkleroad/ Pelletier 7-6, 6-2
Sassi/ B. Stewart BEAT Fokina/ Ani 4-6, 6-4, 6-4

So the day gets even better for Asagoe!
Well done Els, Shinobu and Jelena!
Too bad for Saori and Ansley...why did she have to face Shinobu in round 1?
Join Date: Jul 2001
Location: Ontario, Canada
Posts: 13,093
well done Tara and Jelena
too bad for Ansley, Amanda, and Miho
Ashley/Marie-Eve in doubles
tough draw
Posting Rules

You may not post new threads

You may post replies

You may not post attachments

You may not edit your posts

---

HTML code is Off

---