Snow owl in love with a tennis ball: Wiggly and Tennislover - rush in here!
---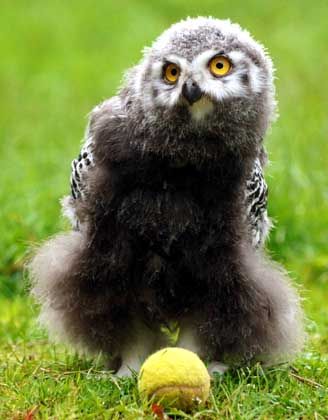 It is a German article with regard to a German wildlife park, so I just summarise the story.
Tragic liaison:
A snow owl, six weeks of age, fell in love with a tennis ball. She plays with it, keeps it under her wings and grabs it with her claws. The owl was rather tiny at birth, so it was brought up by humans and kept with mice and rats. The game wardens are clueless about what to do.
Interesting enough: neither the sex of the owl or the ball is determined yet.
Junior Member
Join Date: Aug 2006
Posts: 77
snow owls are so pretty
esp. these kind
Quote:
Originally Posted by LenaDisforMe
snow owls are so pretty
esp. these kind
(S)he is gonna look like this one in a while - give her some time
. And photoshop a tennis ball into that picture as snow owls are pretty monogamic
Posting Rules

You may not post new threads

You may post replies

You may not post attachments

You may not edit your posts

---

HTML code is Off

---