Senior Member
Join Date: May 2001
Location: Australia
Posts: 1,377
An Olympic Huh? What? When?
---
I was reading about past Olympic female figure-skating champions and I noticed that Katarina Witt won in 1984 and 1988. So what years did Kristie Yamaguchi and Oksana Baiul win? Nagano was held in 1998. That means Oksana must've won it in 1994. In which year did Kristie win? If Kristie won in 1990, that means there was only a two-year gap between Witt's Olympic win and the next Olympics. If Kristie won in 1992, that means another two-year gap between Olympics. Was the 1984 & 1988 wins of Katarina's incorrect (a typo)? Was there a decision to separate the Summer and Winter Olympics at some point during these years? Maybe I'm wrong and Kristie never won an Olympic Gold medal. What's the story? I'm confused.
---
" The more you sweat in training, the less you bleed in battle "
" When you're not training, someone else is training... TO KICK YOUR ASS! "
" It's not the size of the dog in a fight, but the size of the fight in a dog. "

You Crazy Bitches Rock 2003:
Jelena Dokic - Kim Clijsters - Anna Kournikova - Francesca Schiavone - Ashley Harkleroad - Dinara Safina - Alicia Molik

You Dirty Bastards Rule 2003:
Marat Safin - Lleyton Hewitt - Andy Roddick - Nicolas Kiefer - Olivier Rochus - Tommy Robredo - Mikhail Youzhny

7 February 2003 : Best of Luck in Retirement MARTINA HINGIS!
The Winter Games of 1994 followed the Winter Games of 1992 so the Summer Olympics and White Olympics would not happen the same year.
---
"..just knowing that as long as i choose life, there is hope."

Je ne suis pas charlie

PLAY TENNIS!
That's true. Until 1992, Summer and Winter Olympics were in the same year, but different times and places of course, and from 1994 on the Games are in different years, which is much better.

So I think Kristie must have won Albertville 1992 then.
---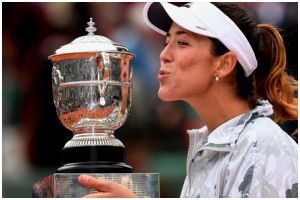 What would you say if we could make
something amazing
Posting Rules

You may not post new threads

You may post replies

You may not post attachments

You may not edit your posts

---

HTML code is Off

---