Member
Join Date: Jan 2003
Posts: 92
French Open Draw
---
The French Open Draw is now available at
www.teamwta.com
and will be following the second grand slam of the year throughout the full two weeks updating faster than anyone else
did you post this in every forum?
(1)S. Williams vs. Rittner
Widjaja
vs. Mikaelian
Morigami vs. Schett
(28)Fernandez vs. Pierce
(18)Shaughnessy vs. Kuznetsova
Callens vs. Cervanova
S. Taylor vs. Qualifier
(16)Sugiyama vs. Ruano Pascual
(9)Hantuchova vs. Jidkova
Harkleroad vs. Obata
Serna vs. Qualifier
(23)Pistolesi vs. (WC)Pin
(29)Likhovtseva vs. Loit
Tanasugarn vs. Zuluaga
Krasnoroutskaya vs. Craybas
(5)Mauresmo vs. Razzano
-------------------------------------------
(4)Henin-Hardenne vs. Wartusch
Kostanic vs. (WC)Lefevre
Foretz vs. Panova
(27)Stevenson vs. Randriantefy
(19)Schnyder vs. (WC)Pichet
Cohen Aloro vs. Qualifier
Garbin vs. (WC)Wheeler
(14)Daniilidou vs. Pratt
(11) Myskina vs. Safina
Mandula vs. Marrero
Pennetta vs. (WC)Dulon
(21)Raymond vs. Asagoe
(31)Granville vs. Tu
Cho vs. Majoli
Casanova vs. Black
(8)Rubin vs. Nagyova
================================================
(7)Capriati vs. Kruger
Neffa-de los Rios vs. Bartoli
Torrens Valero vs. Qualifier
(32)Schiavone vs. Qualifier
(17)Coetzer vs. Srebotnik
Irvin vs. Qualifier
Talaja vs. Husarova
(12)Seles vs. Petrova
(13)Dementieva vs. Sanchez Lorenzo
An. Barna vs. Matevzic
Chladkova vs. (WC)Laurendon
(22)Zvonareva vs. Muller
(26)Farina Elia vs. Martinez Granados
Ondraskova vs. Qualifier
Benesova vs. Dominikovic
(3)V. Williams vs. Qualifier
-------------------------------------------
(6)Davenport vs. Qualifier
Tulyaganova vs. Ant. Serra Zanetti
Qualifier vs. Qualifier
(25)Dechy vs. Prusova
(24)C. Martinez vs. Qualifier
Poutchek vs. Gagliardi
Koukalova vs. Pisnik
(10)Dokic vs. Roesch
(15)Maleeva vs. Molik
Koulikovskaya vs. (WC)Beigbeder
Cargill vs. Grande
(20)Bovina vs. (WC)Golovin
(30)Suarez vs. Qualifier
Bedanova vs. Morariu
Weingartner vs. Lee-Waters
(2)Clijsters vs. Frazier
Grr I hate this draw! I'm torn between Angie and Marie
---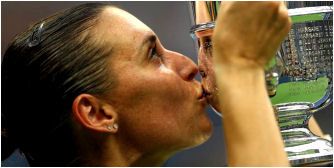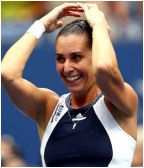 Flavia Pennetta - 2015 US Open Champion
Not every road to everywhere and everything
ends.
Posting Rules

You may not post new threads

You may post replies

You may not post attachments

You may not edit your posts

---

HTML code is Off

---